Fetch a pet: Animal shelter partners with rescue group for big adoption event June 10
During the pandemic animal shelters shut their doors to the visiting public, eventually making accommodations for potential adoptees to visit dogs and cats of interest by appointment only.
While shelters are once more fully operational, most are continuing to restrict visitation to one-on-one meetups, offering sign-up sheets and appointments by request, and allowing animals to participate in small, pop-up style adoptions events in the community.
That's the case at the Orange County Humane Society, a privately owned nonprofit shelter in Huntington Beach that takes in strays and found pets on a contract basis for the city of Garden Grove and houses up to 64 animals.
Manager Rose Gomez said appointment-based visits let people see animals of interest in a more relaxed environment and are less taxing on cats, dogs and the people who work with them.
"Some people don't want to do the extra work. They'll just stop by and say we want to look at the animals," she said, adding the facility doesn't turn away individual walk-ins. "[But] a lot of these animals don't like to see people from behind a cage. All it takes is for one dog to bark, then they're all in defensive mode."
Not offering at-large visits may improve the quality of the adoptions that take place, but it can also affect the overall number of adoptions, leading to facilities that are at capacity. Some dogs have been at the site for more than two years.
A group of volunteers at OCHS, wishing to maximize animal outcomes of the facility, formed their own nonprofit organization, Angels 4 Paws.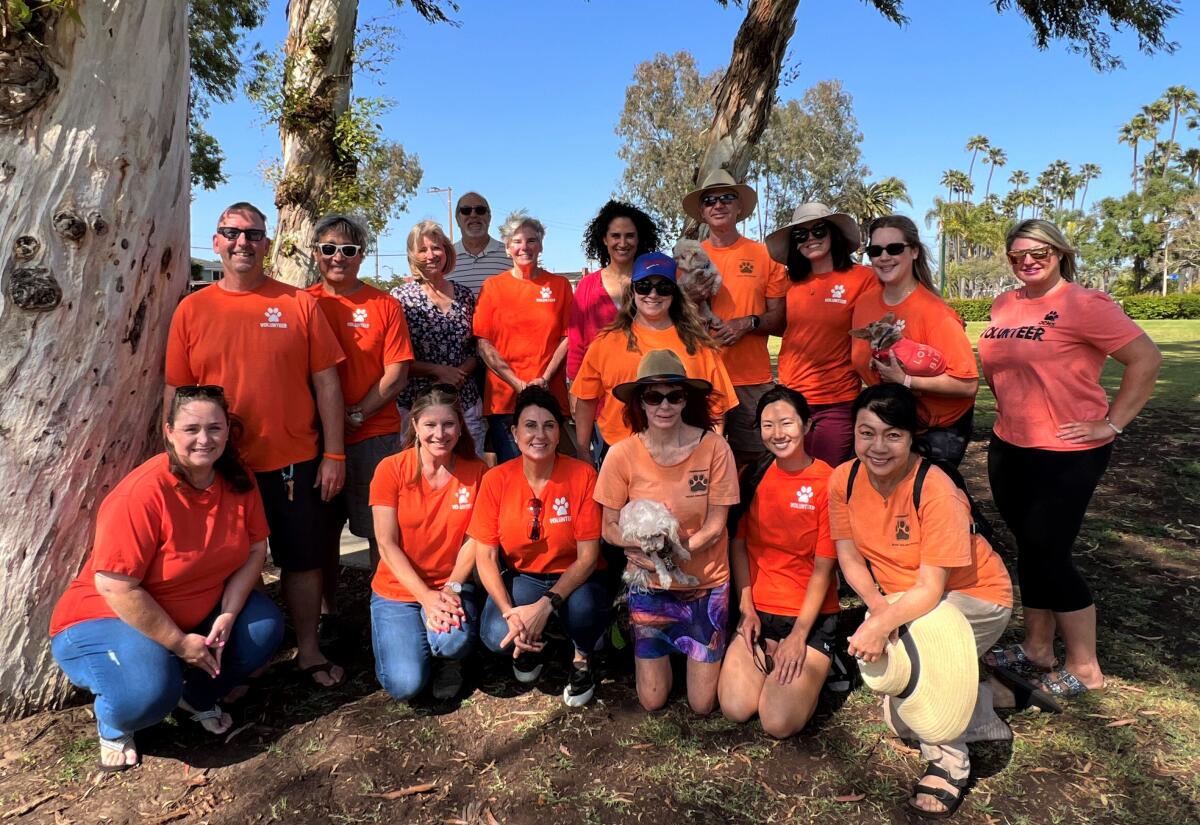 Members of its small team pull OCHS animals for fostering and work with area rescue groups, shelters in other cities and even boarding facilities to save as many dogs and cats as possible.
They recruit and train other animal lovers to be fosters for rescued pets and donate supplies to the shelter, according to co-founder Dina Keirouz.
A volunteer at the Humane Society since 2016, Keirouz walks dogs on her lunch break from work. Since the group was formed six years ago, she and other members have been rescuing and fostering at-risk pets and regularly taking OCHS animals to satellite adoption events at Pet Supply on Brookhurst Street and Kahoots on Main Street.
"We try to network the dogs more to increase their adoption rates," said Keirouz, who lives in Costa Mesa. "We're also trying to develop a network of fosters, so we can take in more dogs and cats."
On June 10, from 10 a.m. to 3 p.m., Angels 4 Paws is partnering with the Orange County Humane Society in an outdoor adoption event that will give visitors a chance to get up close and personal with the animals at the Newland Street facility. It's the first event to be held there in several years.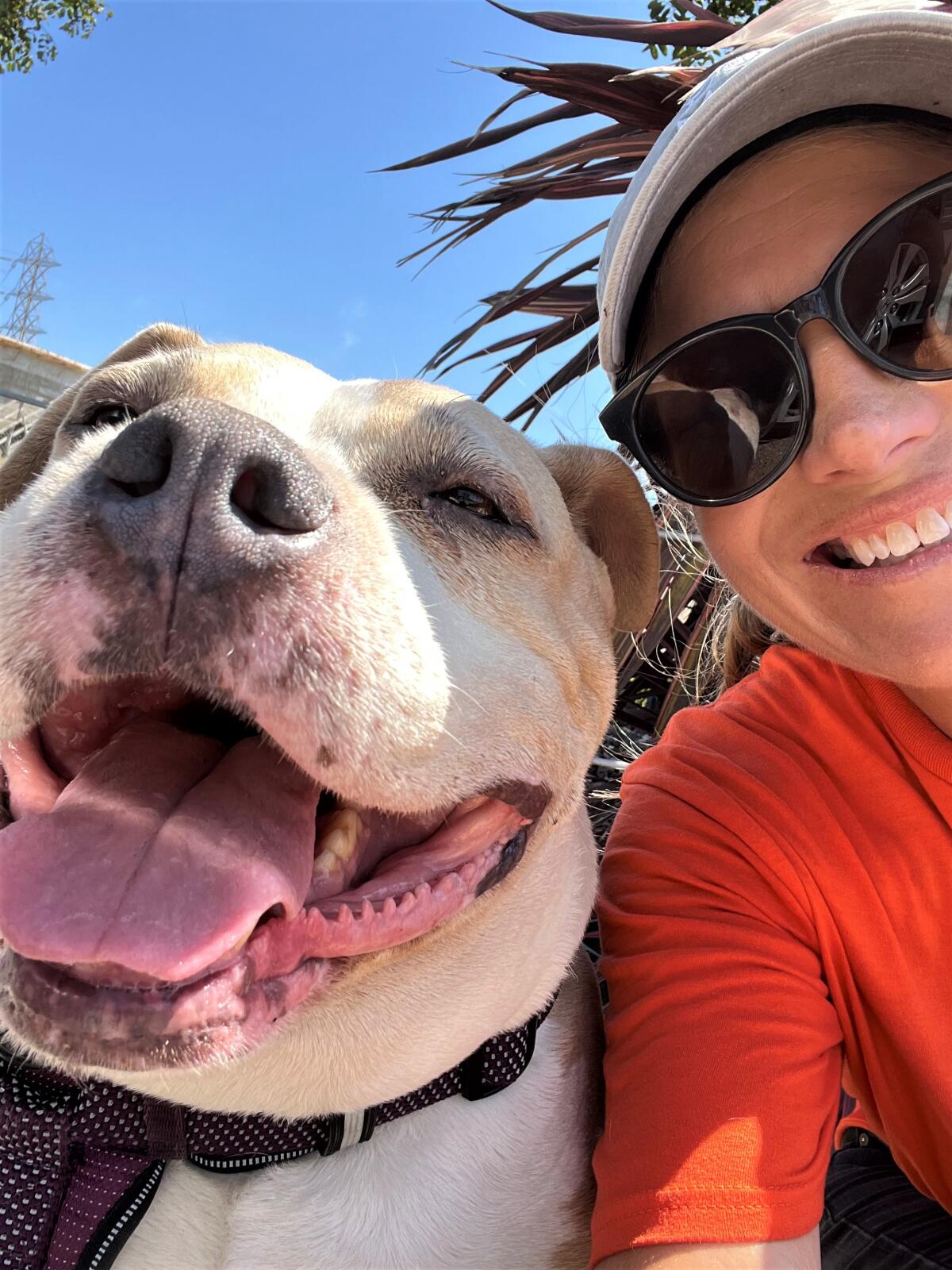 Holly Spritzer, an OCHS volunteer and president of Angels 4 Paws, said the idea is dogs will be brought out in groups, giving more than 50 pooches a chance to be seen.
Husky mixes will be on display from 10 to 11:30 a.m., with pit bulls and terrier mixes following from 11:30 a.m. to 1 p.m. Shepherd mixes go up next, from 1 to 2 p.m., while various other breeds can be seen from 2 to 3 p.m.
"Our goal is to bring every dog out that day to be seen, even for a few minutes. People can also walk through and see the cats," the Huntington Beach resident said, noting 10 shelter volunteers will be there to help.
"My vision is to parade the dogs down the walk and around the street and have hundreds of people looking at them."
The format is designed to keep animals calm, so attendees can get a better read of an individual dog's temperament and personality but also see every dog at the facility without having to make an appointment online.
"When they used to let people go in the back, the dogs would get riled up and start jumping. There wasn't a lot of space to meet with the dog and click with it," Keirouz said. "The dogs have to decompress."
Organizers hope the event not only leads to more adoptions but also draws people interested in fostering through Angels 4 Paws as well as Garden Grove residents who might have had a pet go missing and did not realize OCHS in Huntington Beach is where lost pets are taken.
Gomez said she's looking forward to the animals, and the shelter, gaining a little more exposure in the local community.
"I just hope it brings a lot of people out," she said. "We haven't had an event for a very long time, because of COVID and everything, so it's kind of exciting to do this."
For more information, contact the Orange County Humane Society at (714) 536-8480.
All the latest on Orange County from Orange County.
Get our free TimesOC newsletter.
You may occasionally receive promotional content from the Daily Pilot.