At Laguna Beach's Art-A-Fair, one of the longest-running art shows tucked into Laguna Canyon, each year can be like a family reunion.
When the five-decade-old show opens to the public Friday morning, about 115 artists and their photographs, paintings, textiles and other works will welcome a flood of visitors to the brightly colored fair.
"It's like old-home week," said board President Mike Cahill.
Cahill, a photographer now in his 23rd year of exhibiting at the fair, looks forward to seeing the familiar faces who visit and show art there every year. Most come from other parts of Orange County, he said, but some hail from other parts of the world. There's a couple from the desert who usually stop by to visit, and a lady from Chicago who almost never misses a year.
For artists Bob Ross and Laura Curtin, the Art-A-Fair property on Laguna Canyon Road will be an extra-special place this year. In October — less than two months after the summer festival's final day — the two will wed on the grounds where they met.
Ross has made a living shooting wildlife photos around the world for various companies. Photos of stoic lions and nuzzling baby elephants cover the walls of his booth. Ross said he's photographed in 143 countries and all seven continents.
"I've literally been everywhere. My passport is this thick," he said, holding up two fingers an inch apart.
Though much of his time is spent traveling, the San Juan Capistrano resident said he's always happy to return to his "favorite place in the world."
He began showing at Art-A-Fair 11 years ago alongside his now-deceased wife, Sarah, who also served on the board. After her death seven years ago, Ross kept going back to the festival she loved. Today, Art-A-Fair is the only show where he exhibits his art, which also includes oil painting.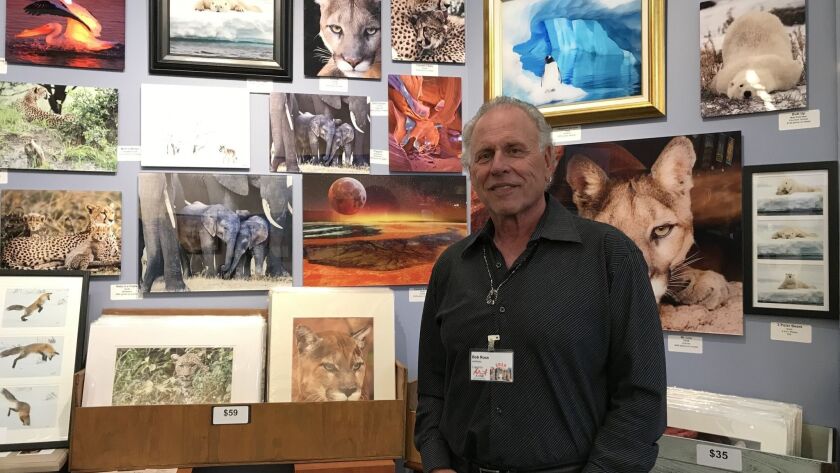 Around the corner from Ross' cheetahs, lions and elephants, another booth shows an array of animal works — with a twist. Curtin, a wildlife artist, paints pink elephants, blue rhinoceroses, standing cows and pigs adorned with jewelry and lipstick.
"Whatever makes me happy," she said.
After her first time showing at Art-A-Fair in 2014, Curtin assisted with marketing. She and Ross worked together at several board meetings. Then he kept showing up at her booth to chat while she painted. Soon the two fell in love.
"He just won me over," Curtin said. "He never thought he'd love again, ever. And then when we got together, he all of a sudden realized he was in love again."
"[Sarah] was an amazing person," Ross said. "And I met another amazing person, so I'm very lucky with my life."
Ross and Curtin recently returned from Tanzania, the first trip to earn her a passport stamp. After years of researching wildlife for her work, Curtin finally saw the animals up close.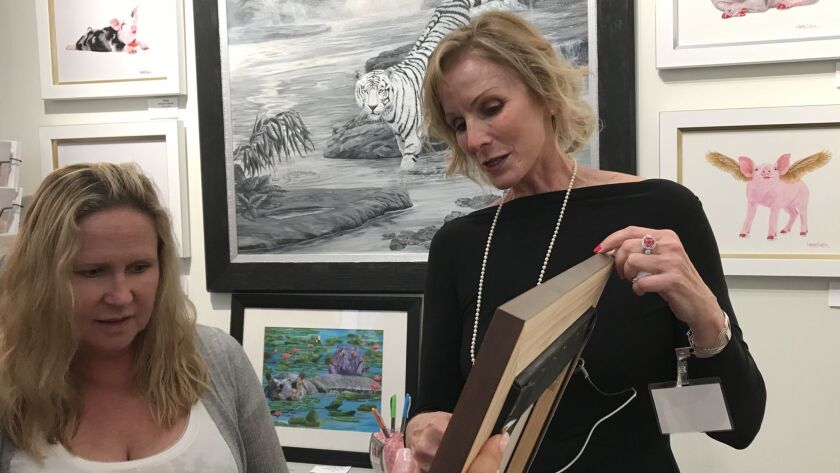 Cahill said this year's fair is adding a couple of selfie booths. The new feature comes after property owner Mo Honarkar commissioned a fresh mural of brightly colored geometric shapes from Spanish artist Okuda San Miguel. Cahill and other board members noticed how many visitors stopped to take photos in front of the colorful facade.
"[The wall] deserved to be beautified in a unique, Laguna way," said Hasty Honarkar, vice president of Laguna Creative Ventures.
The board began planning the 2019 event in September, and artists arrived in June to fashion their summer spaces with unique designs. In addition to operating their booths, artists are expected to work one shift a week for the festival, such as security or grounds management.
As usual, a different artist will teach a class each day in watercolor, collages, jewelry making or some other craft. Special workshops, including figure sculpting from clay, will be offered to children.
Alison Lane, a returning Art-A-Fair visitor from Tustin, took her friend Tara Budzyn to experience the place for the first time at Wednesday night's invitation-only preview.
"It's a lot of really good quality art," Lane said.
"[It's] for the serious art connoisseur," Budzyn said. "These artists know what they're doing."
Just down the road, the Sawdust Art & Craft Festival also is opening for the season Friday. Next weekend, the Festival of Arts and Pageant of the Masters will kick off their summer shows.
It takes a village: Laguna's Sawdust Art Festival readies for opening »
Heidi Miller, a longtime Laguna Beach resident and owner of Tight Assets and the World Newsstand, attended the Art-A-Fair preview to see the art and say hello to friends. She said she always promotes the local art shows to tourists at her downtown businesses.
"Our town comes to life," she said. "I love this time of year."
IF YOU GO
What: Laguna Art-A-Fair
Where: 777 Laguna Canyon Road, Laguna Beach
When: 10 a.m. to 9 p.m. Sundays through Thursdays, 10 a.m. to 10 p.m. Fridays and Saturdays through Sept. 1; 10 a.m. to 6 p.m. July 4
Highlights: Works of about 115 artists, art workshops, live music
Cost: $9 general admission; $7 senior citizens and students with ID; free for Laguna Beach residents with ID, active military members and children younger than 12 accompanied by an adult
Information: art-a-fair.com
---