St. James church property in Newport is under bishop's control, judge rules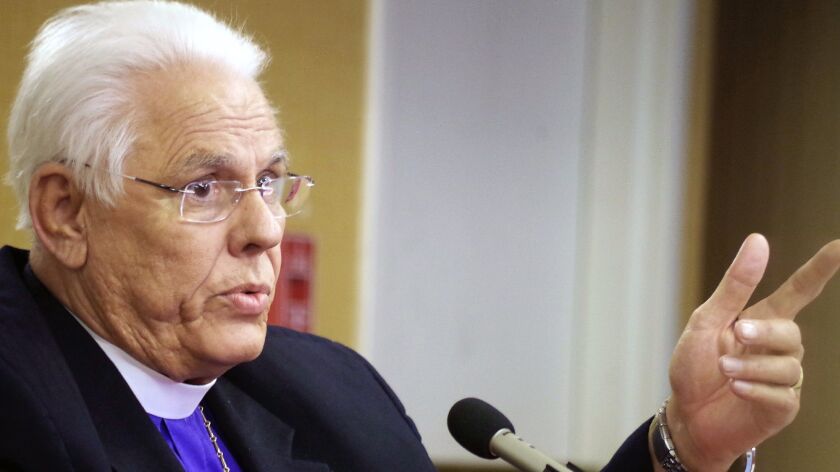 An Orange County Superior Court judge has ruled that Los Angeles Episcopal Bishop J. Jon Bruno has legal control over the St. James the Great church property in Newport Beach, nullifying a claim by the land's donor that it can only be used as a church. The decision basically clears Bruno to sell the property, which he has contracted to do twice since 2015.
The Griffith Co., which donated the land at 3209 Via Lido to the diocese in 1945, raised the deed restriction issue with Bruno in 2015 after the bishop agreed to sell the site to a developer that planned to build luxury townhomes there. Griffith acknowledged that it had dropped the deed restriction on three of the property's four lots in the 1980s to allow for parking. But it maintained that the restriction remained on the fourth lot, the central plot where the building sits.
Judge David Chaffee, however, ruled that "Griffith has no right, title, lien or interest whatsoever in the church's property or any part thereof."
In the judgment, dated Tuesday, Chaffee said, "The court further decrees that the restriction in the 1945 grant deed that the property 'shall be used for church purposes exclusively and no building other than a church and appurtenances may be erected, placed or maintained thereon' (the 'use restriction') is released and/or is otherwise unenforceable and invalid, and Griffith has no interest that is adverse to the church in the property."
The ruling in the secular court is in conflict with restrictions that an ecclesiastical disciplinary panel and the country's highest-ranking Episcopal bishop placed on Bruno in the past few weeks. Both told him not to sell the property while the panel continues deliberating misconduct allegations against him related to his attempted sale in 2015. The sale fell through, but the church gates remain locked.
The hearing panel, acting on a tip from a congregation member that Bruno was trying again to sell the site, issued its restriction not knowing whether he had entered a new sale contract. However, an attorney for Bruno eventually confirmed that he had contracted with Newport Beach-based developer Burnham-Ward Properties in May.
Another church disciplinary board rejected Bruno's appeal of the hearing panel's sanction.
The 2015 sale attempt was the focal point of a three-day hearing in March to determine whether Bruno had acted deceptively and unbecoming of a clergyman when he tried to sell the property.
The hearing panel has yet to issue a decision on the misconduct allegations.
Twitter: @Daily_PilotHD
---
All the latest on Orange County from Orange County.
Get our free TimesOC newsletter.
You may occasionally receive promotional content from the Daily Pilot.