The audience gathered on the bay-facing beach Wednesday night at Marina Park was one crowd of many that ringed Newport Harbor to take in opening night of the 110th annual Newport Beach Christmas Boat Parade.
Children watched the glittering boats glide by from the lighthouse slide, and Santa Claus — or at least, one of his good friends — watched from the sand.
The 100-plus vessels they saw cruise by were part of a signature local tradition that brings out boats in a range of sizes and décor styles, from kayaks to 70-foot luxury cruisers, a few understated strings of blue lights to a floating Atlantic City Boardwalk in stylized miniature, complete with functioning merry-go-round.
Related Gallery: Boat parade lights up the Newport night »
A palapa bar — as in, the thatched-roof, open-sided huts often seen serving drinks in tropical locales, but set on a raft — swirled past, festooned with a neon palm tree. The Grinch glowed in gleeful green. An elf-hat-topped elephant shot flames from its trunk.
George Perez dressed in cozy red sweats with Santa suit decals and unfolded a camp chair to watch the show. With a coordinating velvety stocking hat and his natural, bushy grey beard, he passed easily for a jolly, toy-making elf out for a casual evening — which was the plan.
Making appearances in Christmas gear is a kick, something Perez, 67, does to delight children throughout November and December. He'll put on just the hat to go the mall, and kids light up and ask for pictures — like about 10 did during the parade, he said.
As a short-haul trucker, he also decorates his cab to look like a freeway-traveling sleigh.
"I'm one of Santa's many helpers," said Perez, who lives in La Mirada.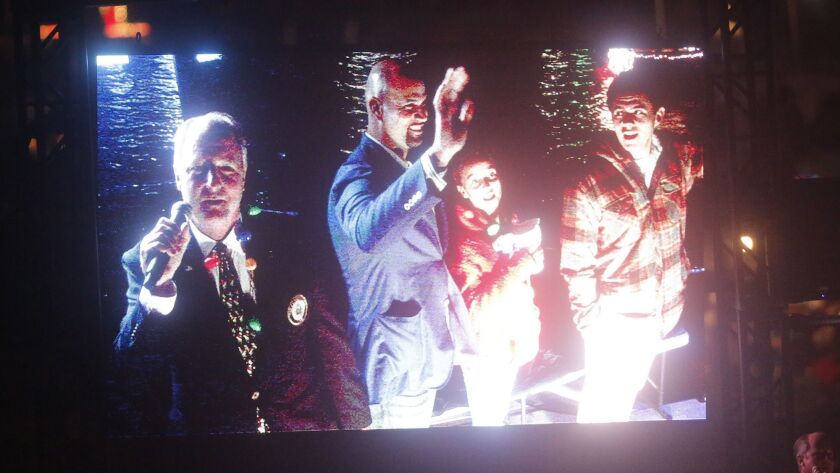 Baseball great Albert Pujols served as the parade's grand marshal Wednesday. With his wife, five children, and his pastor and pastor's family, the Angels first baseman circumnavigated the harbor in a yacht named Ohana Kai II, enjoying the family time and vivid light and décor sets.
This was Pujols' first time seeing the parade. He came into it impressed by the event's longevity and the effort put in by skippers.
"Many, many people that I asked, they're like, 'You need to do it,'" he said. "'This is a great event. You will have a great time.'"
The great times continue nightly through Sunday, starting at 6:30 at the southern tip of Lido Isle. The route heads west toward the Lido Peninsula before hanging east to complete a loop back to its starting point.
Free public viewing locations ring the harbor, with several charters and waterfront businesses offering private viewings. Thousands of spectators are expected — as is heavy traffic — each night.
Twitter: @Daily_PilotHD
---