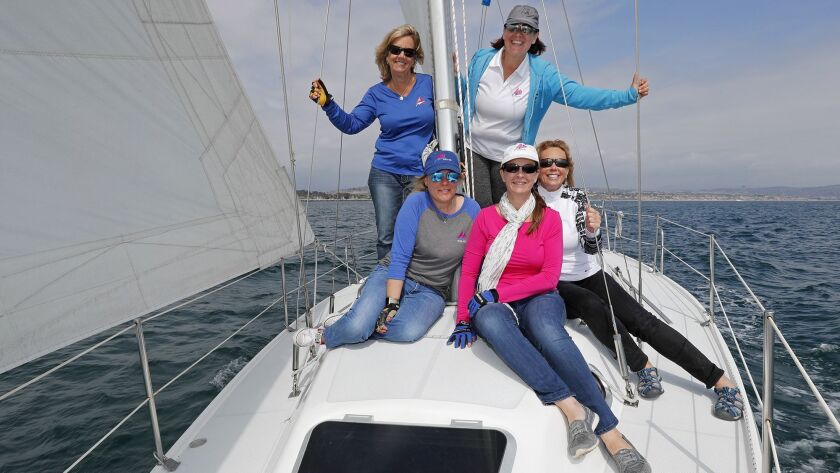 Kate Shaner started sailing on her own when she was 9. She has since developed her passion into a vocation as she trains for a chance to compete in the 2020 Olympics in Tokyo.
But according to Shaner, a Newport Beach resident who turns 24 in May, competing in the highest levels of sailing hasn't always been a realistic possibility for women.
"I was told, 'You're just too small, you're never gonna be strong enough,' " she said.
She was 13 when she began sailing seriously — going to regular practices like most adolescents do in other sports.
"My dad [sailed] when I was a kid," she said, "and all of his friends said, 'There's not enough women in the sport; you should get your daughter into it.' "
Now, as the four-day Newport Boat Show returns Thursday for its 45th year, the face of boating, and sailing enthusiasts, may be changing.
"In the late '70s, there were few opportunities for women to race or learn about sailing in a nonintimidating environment," said Valerie Burchfield Rhodes, staff commodore for the Women's Sailing Assn. of Orange County, which turns 40 next year.
The association went dormant between 2012 and 2015, but since then, "we've seen tremendous growth," Rhodes said. "We started with about 20 members and now have about 150, with attendance of about 50 to 60 at most of our monthly meetings."
Though about 95% of the members are women, the group does welcome men — and all skill levels. A lot of women sail with their husbands or partners and don't feel comfortable at the helm or performing other crucial maneuvers such as docking, anchoring or backing out of a slip, Rhodes said.
"We feel it's important to help women build confidence in their boat handling skills so they have more fun and, more importantly, can safely operate their vessel in the event their partner is suddenly incapacitated," she said.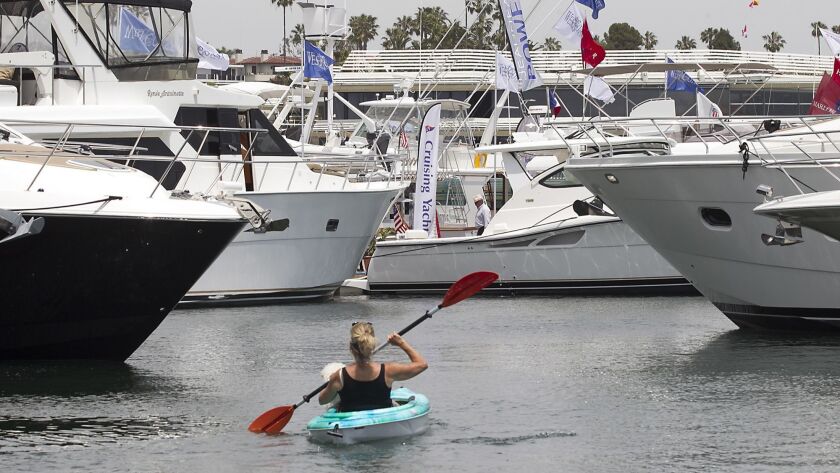 Newport Beach resident Karen Prioleau, who teaches boating courses for Orange Coast College's professional mariner program and School of Sailing & Seamanship, said she has been seeing more women taking an interest in boating — particularly younger women.
Prioleau, along with some of her students, will be at the Newport Boat Show on the college's 92-foot power yacht, Nordic Star, which is used as a charter boat and classroom lab.
"I think this next generation is really adventurous," she said.
Prioleau started boating as a child when she signed up as a Sea Scout at the Newport Sea Base, a boating and marine education center in Newport Beach for youths ages 6 to 18.
"The fact that it was predominantly guys didn't bother me," said Prioleau, who grew up with three brothers.
She was on the sailing team at UC Berkeley and continued racing after college. When she married her husband, they bought an old wooden boat that they restored and sailed to New Zealand, with a detour in Tahiti, where their son was born.
She said she has seen an increase in the number of women enrolled in the professional mariner program, which includes courses for college credit.
"There are so many jobs and places for them to be, and they do well, that I'd love to see more," she said.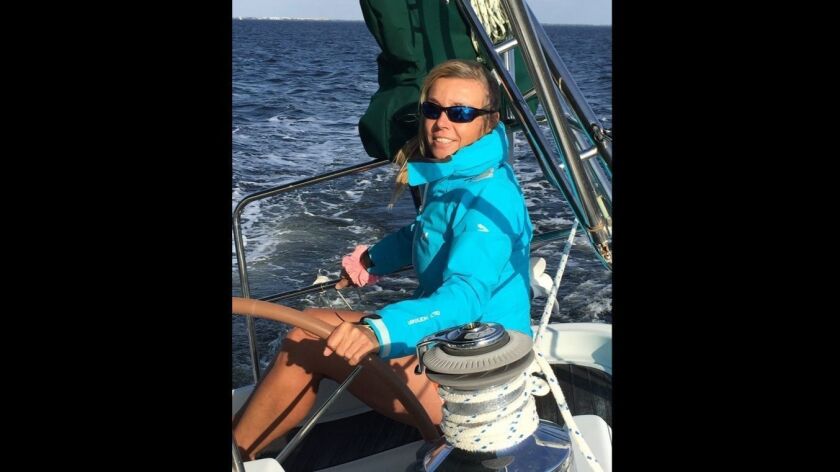 Zuzana Prochazka of Costa Mesa, who earned her Coast Guard 100-ton master license a decade ago, is a sail and power boat journalist and photographer. She also operates Zescapes, an organization that produces on-the-water charter vacations around the world.
"I do see more women learning and being equal partners on the water, [adding] a tactical perspective of boat handling, navigation and destination planning," she said.
Tamara Krimstock of Newport Beach sailed a little before meeting her husband, to whom she's been married for nearly 30 years. But her passion for it took off through their relationship and ownership of a couple of Beneteau sailboats. Now she's part of the sales team at South Coast Yachts, which will be showing at the Newport Boat Show. South Coast Yachts is a Beneteau dealer and yacht broker in the Lido Yacht Anchorage.
Krimstock said she sees women being active and equal partners in the boat-buying process. And some are buying boats on their own.
"Shutting off the engine and enjoying the sound of the wind in the sails — there is such peace and freedom with that," she said.
IF YOU GO
What: Newport Boat Show, featuring more than 200 boats, plus vendors of products and services
When: Noon to 7 p.m. Thursday, 10 a.m. to 7 p.m. Friday and Saturday, 10 a.m. to 5 p.m. Sunday
Where: Lido Marina Village, 3432 Via Oporto, Newport Beach
Cost: $15 per day; $10 for guests with military ID; free for children 12 and younger. Free parking is available at Hoag Health Center, 500 Superior Ave., with free shuttle service to and from Lido Marina Village.
Tickets and information: newportbeachboatshow.com
JESSICA PERALTA is a contributor to Times Community News.
---