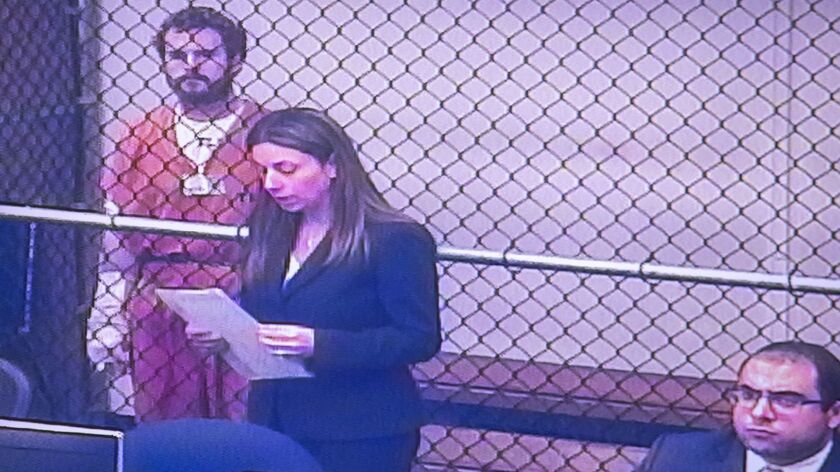 A man charged with killing his parents and their housekeeper in the parents' Newport Beach home pleaded not guilty Friday to three counts of murder with possible sentencing enhancements for multiple slayings.
Camden Nicholson, 28, is accused of killing Richard Nicholson, 64, and Kim Nicholson, 61, on Feb. 11 and the couple's housekeeper, Maria Morse, 57, of Anaheim, the following day after she arrived at the house in the gated Bonita Canyon community.
Police found the victims Feb. 13 in the residence at 36 Palazzo after Camden Nicholson called police from an Irvine hospital to report there were three dead bodies in the home, according to a court document filed by Newport Beach police Det. Richard Henry.
The victims were found after Irvine police contacted the Newport Beach Police Department requesting a welfare check at the address Nicholson provided, the document stated.
Henry wrote that Nicholson told police he killed his parents because he feared they were going to put him on a psychiatric hold.
Newport Beach police had previously spoken with Nicholson after his mother reported him missing Dec. 15. Kim Nicholson told police her son had been missing for two days and had Asperger syndrome, depression and anger issues.
Officers contacted Camden Nicholson at a Newport Beach hotel and determined there were no grounds to place him on a psychiatric hold.
When officers arrived at the Nicholson home Feb. 13, they found Morse's body in a walk-in kitchen pantry and Kim Nicholson's body lying face down in the garage, Henry wrote. Richard Nicholson's body was found in a downstairs closet near the guest bathroom with a barbecue fork lying nearby.
Henry wrote that a knife or an object such as channellock pliers or the barbecue fork was likely used in the killings.
Police said it appeared that "a considerable amount of time" had been taken to clean blood from the floor and that the victims had been moved.
Food and food containers were found throughout the home and hundreds of loose pills were strewn on a desk, Henry wrote. Based on receipts and surveillance videos, investigators suspect Nicholson bought the food after the killings, suggesting he remained in the home in the days after the slayings until driving his father's BMW to the hospital and contacting authorities, according to the document.
Nicholson is being held without bail at Orange County's Theo Lacy jail and is scheduled to be back in court July 12. If convicted, he could face a death sentence.
---