In wake of teens' swastika party, speakers at Corona del Mar High forum urge solution to 'casual approach' to hate
Four days after photos surfaced of an off-campus party showing area high school students performing Nazi salutes around a makeshift swastika, community members filled the Corona del Mar High School theater Thursday night for an open forum addressing anti-Semitism and a social climate that speakers said enables it.
Sentiments shared during the gathering reflected many of those expressed Monday night by students and others at a similar forum at Newport Harbor High School.
After party featuring Nazi salutes and a swastika, Newport-Mesa students address culture of privilege and prejudice »
The house party Saturday night in Costa Mesa included teenagers from Newport Harbor, Costa Mesa and Estancia high schools, students said. The photos were widely circulated on social media Sunday morning.
Thursday's conversation focused less on the party itself than on the cultural atmosphere in which the incident occurred and the importance of the history of the Holocaust, in which millions of Jews and others were persecuted and killed by Nazi Germany during World War II.
"This week's incident is not just about a few kids at a party. This is about a casual approach to the serious issue of anti-Semitism as well as bigotry of all kinds," said Rabbi Gersh Zylberman of Temple Bat Yahm in Newport Beach. "If we remember to stand with each other as brothers and sisters, we can say no to anti-Semitism and to hate."
Shock and disgust on campuses after Newport-Mesa students are pictured saluting a makeshift swastika, though some aren't surprised »
The Anti-Defamation League reported that anti-Semitic incidents rose as much as 57% in 2017 but an estimated 100% for two straight years at primary and secondary schools.
"What looked like one thunder clap on Saturday night is a hurricane," said Peter Levi, regional director for the Anti-Defamation League. "There is so much hate and we gotta know exactly what it is so we can do something about it."
Karen Yelsey, a Newport-Mesa Unified School District board member, drew applause when she said the board intends to add an item to the agenda for its next meeting recommending that Supt. Fred Navarro create a task force to "determine the best course of action to help educate not only our students but also parents, teachers and the broader community as we work together to fight anti-Semitism and bigotry in all forms."
It is unclear how many people were involved in forming the swastika out of red plastic cups during a game of beer pong. But a parent of one of the students at the party said that as more cups were added and moved around, someone noted that it looked like a swastika and completed the image. Once it was finished, some of the party-goers gathered around and posed for pictures, complete with a Nazi salute.
A Snapchat conversation among some of the students at the house that night included jokes about the Holocaust. The conversation was titled "master race."
One student who posted a photo of the swastika surrounded by students told another student in an online conversation that it was a joke and "you are stupid if you think we actually support what Hitler did. None of us are … Nazi supporters."
On Monday evening, a parent who asked not to be identified released apology letters from some of the students involved. In the letters, students expressed "my deepest remorse and regret," said "my actions were disgusting, appalling, irresponsible" and that "we made a very big mistake."
"We can't erase what we did, but we have to try to make it better and show you we are not the people we seemed to be during a few minutes of stupidity," a student wrote.
Some students who were at the party visited a Jewish day school in Irvine on Wednesday and met with Holocaust survivor Eva Schloss, stepsister of teenage diarist and Holocaust victim Anne Frank, on Thursday at Newport Harbor High.
'I hope the school and students have got the message': Anne Frank's stepsister meets in Newport with students involved in swastika party »
Student organizations at Newport Harbor committed to cleaning the campus of any graffiti containing hate speech from restrooms, desks and the school's exterior.
The district said this week that it has interviewed more than a dozen students about the incident at the party and that the investigation is continuing. It said it will not disclose any disciplinary actions, citing student privacy laws.
JSerra Catholic High School in San Juan Capistrano said Tuesday that a student photographed at the party is "now a former student," and a local soccer club said Wednesday that a player linked to the incident is no longer with the team.
"Every one of us should understand that most of these kids were ignorant about this," Jordan Rosenberg, a junior at Corona del Mar High, said Thursday night. "This does not justify their actions, but this does point out a very important issue.
"We have to continue [teaching] now more than ever. We have to triple that effort, because if we don't do that, the generation that went through the horrors of the past, their memory may not live on. It's up to my generation and generations that are in this room to continue their stories."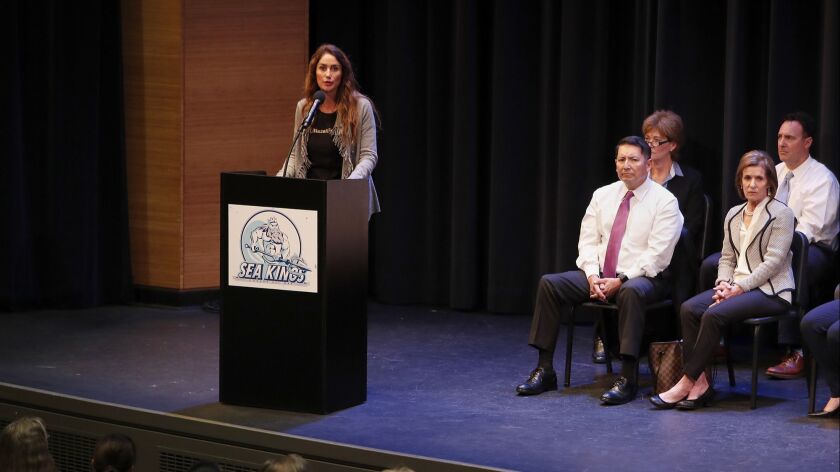 ---
All the latest on Orange County from Orange County.
Get our free TimesOC newsletter.
You may occasionally receive promotional content from the Daily Pilot.