'I hope the school and students have got the message': Anne Frank's stepsister meets in Newport with students involved in swastika party
Eva Schloss, stepsister and childhood friend of famed Holocaust diarist Anne Frank, said she was surprised to learn that some students from well-educated Newport Beach didn't understand the pain they would cause by posing for photos at a party featuring Nazi salutes around cups arranged like a swastika during a game of beer pong.
The 89-year-old — who, like Anne, hid from the Nazis as a teenager during World War II in Amsterdam, Netherlands, before being captured — spoke with about 55 Newport Harbor High School students, parents and staff members Thursday afternoon about her nine-month incarceration at the Auschwitz-Birkenau concentration camp and the deaths at the hands of the Nazis of her father, brother and other family members.
RELATED STORY: Here's what we know about the Nazi-themed O.C. party »
"I was their age when I realized my life was completely shattered and I would never have a family again," she said.
Schloss said the students apologized for their actions and said they didn't mean any harm.
"I hope the school and students have got the message and things will be different," she said.
Schloss was already scheduled to visit Orange County for a book talk Wednesday night at Chapman University in Orange. Rabbi Reuven Mintz of the Chabad Center for Jewish Life in Newport Beach invited her to join him in speaking at Newport Harbor High to put a face on the pain inflicted by Nazi Germany on millions of Jews and others.
"It was a very emotional, heavy discussion, a difficult one, but it was very much down to earth and forward-looking," Mintz said. "I truly believe that beneath the surface of every negative experience lies the opportunity to grow and become better people."
RELATED STORY: After party featuring Nazi salutes and a swastika, Newport-Mesa students address culture of privilege and prejudice »
No students or parents attended a news conference with Schloss and Mintz after the meeting.
Mintz said he was heartened to see students commit to being leaders for tolerance and co-existence on their campus.
Newport Harbor's Young Republicans Club has volunteered to coordinate a weekend cleanup day within the next six weeks to look for and remove any graffiti featuring hate speech from desks, restrooms and the school's exterior. The campus's Gay-Straight Alliance, Feminists Club, choir and sports teams also have stepped up to help, Principal Sean Boulton said.
Boulton declined to comment on any punishments meted out to students involved in Saturday night's house party in Costa Mesa. But he said they will be part of the long-term effort to eliminate hate speech from Newport Harbor High.
Teenagers from Costa Mesa and Estancia high schools also were at the party, students said.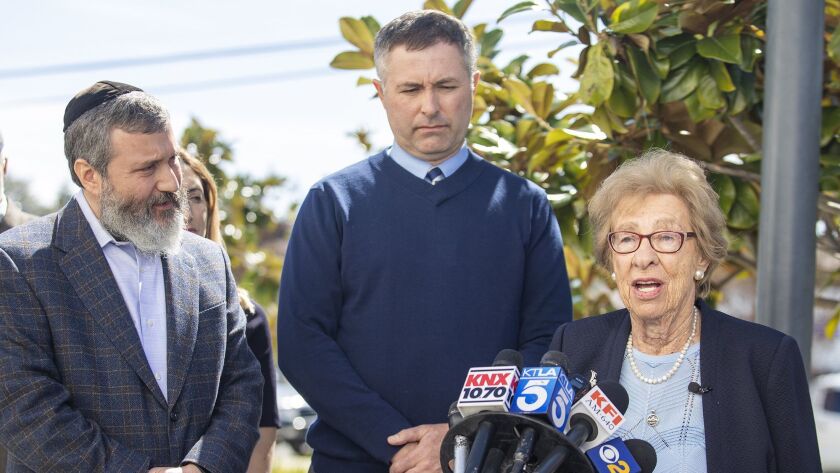 Schloss believes anti-Semitism is on the rise in the United States and Europe and that the conflict between Israel and Muslims might be contributing to it.
"This causes a lot of difficulties," she said. "It's perhaps understandable why they support the Palestinian people's cause."
With more Holocaust survivors dying every year, it falls to teachers and parents to introduce children to movies, plays and books about people who lived through it, Schloss said. It's also important to fight intolerance when people defend hate speech, she added.
"Those people are even more guilty because they know what they are defending," she said. "We have to fight this because it's not acceptable anymore."
RELATED STORY: Shock and disgust on campuses after Newport-Mesa students are pictured saluting a makeshift swastika, though some aren't surprised »
Schloss — whose mother survived the concentration camp and married Anne's father, Otto Frank, in 1953 — now lives in London, where she became active in Holocaust education in 1985 and released her first book, "Eva's Story," in 1988. Her third book was published in 2014.
Anne was captured by the Gestapo in Amsterdam in August 1944 and died at age 15 at the Bergen-Belsen concentration camp in early 1945. "The Diary of Anne Frank" is her chronicle of her two years in hiding.
A rally, Shabbat service and vigil to show solidarity with the Orange County Jewish community is scheduled for 4 to 6 p.m. Friday at TeWinkle Park, 970 Arlington Drive, Costa Mesa.
---
All the latest on Orange County from Orange County.
Get our free TimesOC newsletter.
You may occasionally receive promotional content from the Daily Pilot.