Newport council unlikely to continue with closed session today on city manager hiring process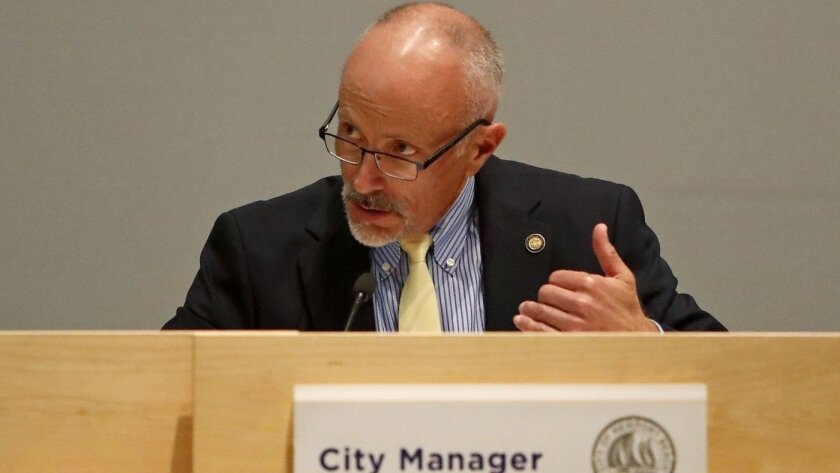 The Newport Beach City Council is unlikely to hold a previously planned closed session Tuesday regarding the city manager recruitment process.
The closed session was included on the council's meeting agenda when it was released last week. The session heading reads "Public employee appointment," with the title "Initiation of recruitment process for new city manager."
The council's regular public session later Tuesday includes an item on selecting an executive search firm to help find a new city manager to replace Dave Kiff, who plans to leave Aug. 31.
After some public feedback questioning the legality of a closed session on the topic, City Clerk Leilani Brown pulled back.
Brown said in an email Tuesday that "I don't think it's going to occur." The day before, she had sent the council a memo recommending that it cancel the closed session to avoid a possible violation of the state open meetings law.
"My understanding is that there was a complaint made to the Orange County district attorney's office related to an alleged Brown Act violation," she wrote in her memo. "The city attorney's office received confirmation from the district attorney's office that they will not be pursuing the matter due to insufficient evidence related to the allegations made in the complaint. However, since I was directed by the City Council to manage the hiring of the executive search firm, and in the interest of transparency, I am recommending that the closed session item be canceled."
Local government watchdogs Susan Skinner and Jim Mosher had pressed the issue with the city, with Skinner notifying the district attorney's office.
Ray Armstrong, a senior deputy D.A. in the special-prosecutions unit, confirmed in an email to Skinner and the city attorney's office that "after reviewing the matter, we have determined that there is insufficient evidence to warrant intervention by the district attorney's office at this time."
Replacing Kiff has been a touchy subject as critics contend that four members of the City Council — Scott Peotter, Kevin Muldoon, Mayor Pro Tem Will O'Neill and Mayor Marshall "Duffy" Duffield — colluded to force Kiff to leave about eight months earlier than he originally planned. The four have repeatedly denied that.
Tuesday's regular council session starts at 7 p.m. at City Hall, 100 Civic Center Drive.
Twitter: @Daily_PilotHD
---
All the latest on Orange County from Orange County.
Get our free TimesOC newsletter.
You may occasionally receive promotional content from the Daily Pilot.