Costa Mesa council to screen project that would add 1,057 residential units, office and retail space north of 405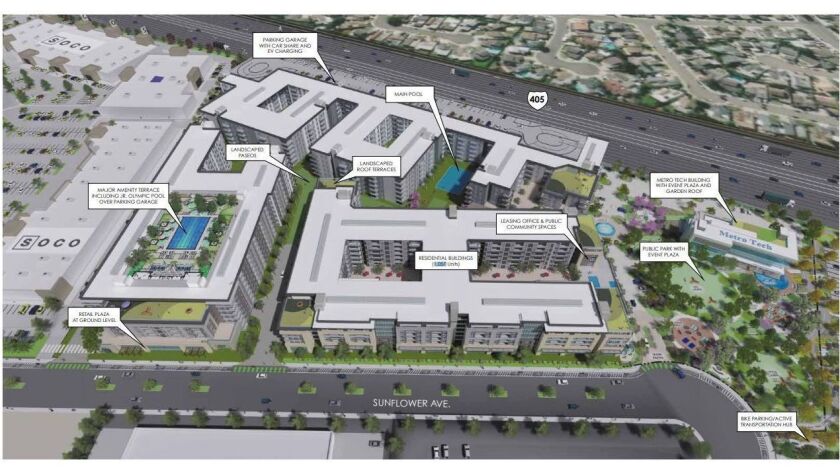 Costa Mesa City Council members will get their first official look next week at a proposed mixed-use community that would bring 1,057 residential units and thousands of square feet of retail and office space to a commercial and industrial area north of the 405 Freeway.
One Metro West would be the first project of its kind in this particular section of the city.
A brainchild of Beverly Hills-based Rose Equities, One Metro West would include studio, one-, two- and three-bedroom apartments in three residential structures with integrated parking garages, 6,000 square feet of retail, a 25,000-square-foot office building and 1.7 acres of open and park space on 15.23 acres.
The site at 1683 Sunflower Ave., which is just west of the South Coast Collection, currently contains a two-story, 345,400-square-foot industrial building, according to a staff report included in Tuesday's council agenda.
The upcoming hearing is meant for council members to screen the project and determine whether it can move forward. A decision on whether to actually approve the community would come at a later date.
Passing muster with the council is only part of the equation. Ultimately, the project's fate would be decided at the ballot box.
"In our opinion, the facts are on our side," Brent Stoll, a partner at Rose Equities, said. "South Coast Metro, which defines Costa Mesa's worldwide brand and economic strength, represents an opportunity for the city to continue to ensure its future."
This general area of Costa Mesa is dotted with significant commercial and employment centers — including SOCO, IKEA, the Automobile Club of Southern California, Vans' corporate headquarters and, soon, an office, retail and dining campus called the Press.
"Thousands of jobs are there. Thousands more are coming," said Stoll, who also serves as the Costa Mesa Chamber of Commerce liaison to the city's Bikeway & Walkability Committee. "One Metro West is the connective tissue [that] allows for these jobs to thrive while minimizing the traffic impacts ... on our morning and evening commutes south of the 405."
The project also would present a financial benefit, he said, by adding annual tax revenue to city coffers.
As envisioned, One Metro West would feature an array of on-site amenities, such as a fitness center, swimming pools, a gaming center, coffee bar and bowling alley. Also proposed are pedestrian and bikeway upgrades on Sunflower and Hyland Avenue, as well as installation of a "bike parking/active transportation hub."
Rose Equities has committed to designating 15% of the total units for those with very low, low or moderate incomes.
However, the question of whether the site will welcome residents in the future would have to be answered by current Costa Mesans.
Measure Y, a ballot initiative approved in 2016, requires public approval of projects that entail a general plan amendment or zoning change and would add 40 or more dwelling units or 10,000 or more square feet of commercial space on top of what already exists.
Since it checks those boxes, One Metro West could become the first project to be put to a public vote under the measure — assuming a favorable outcome in City Hall. The idea of adding housing in this area north of the 405 has been a matter of philosophical dispute in recent years, with some saying that doing so could erode an important part of the city's commercial core.
Tuesday's council meeting starts at 6 p.m. in the Costa Mesa Senior Center, 695 W. 19th St.
---
All the latest on Orange County from Orange County.
Get our free TimesOC newsletter.
You may occasionally receive promotional content from the Daily Pilot.