For Vans, new Costa Mesa headquarters is a nod to the past as it plans for the future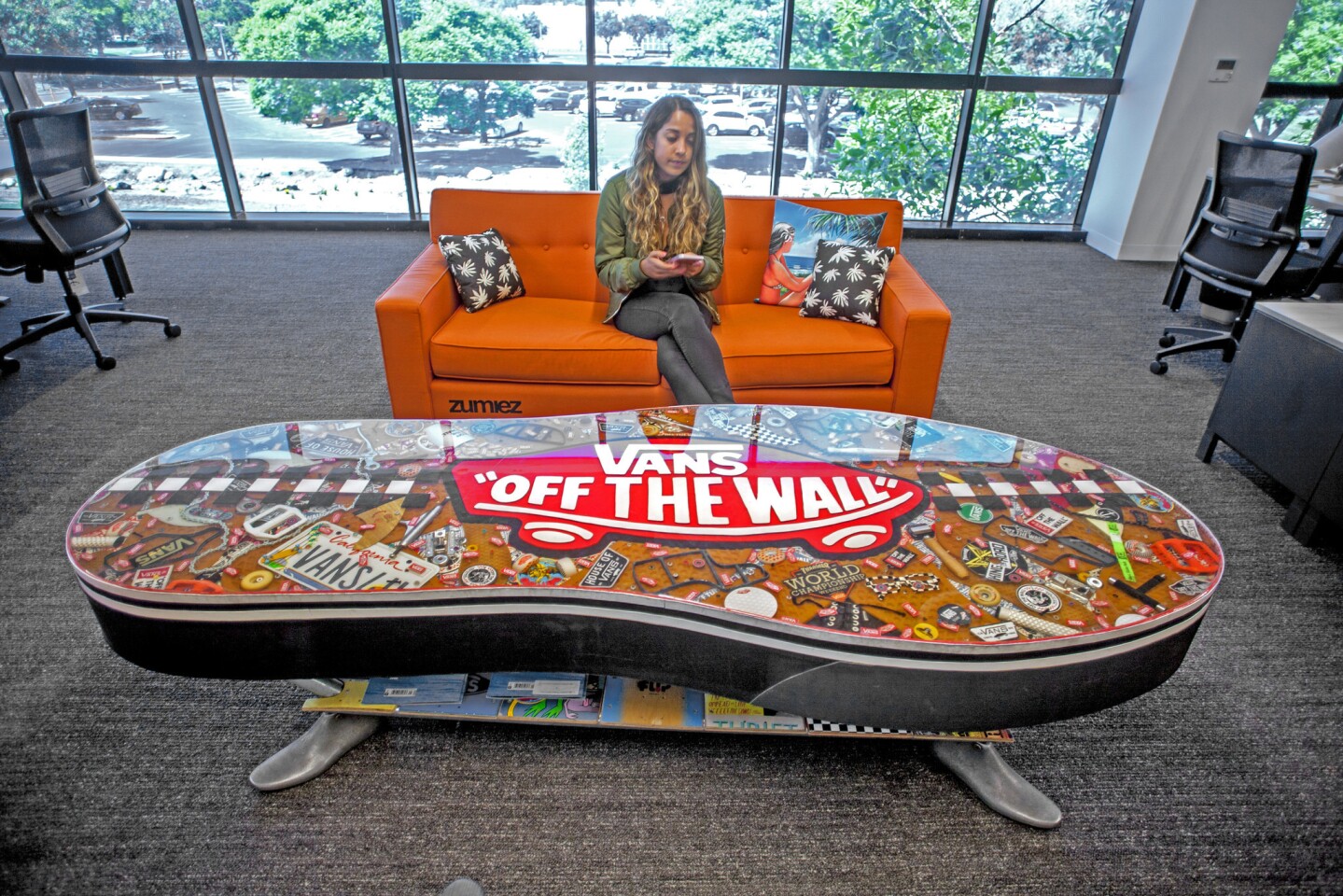 A sole-shaped coffee table sets the tone at Vans' corporate office in Costa Mesa as Cassandra Ahwah takes a seat on the orange couch.
(Spencer Grant)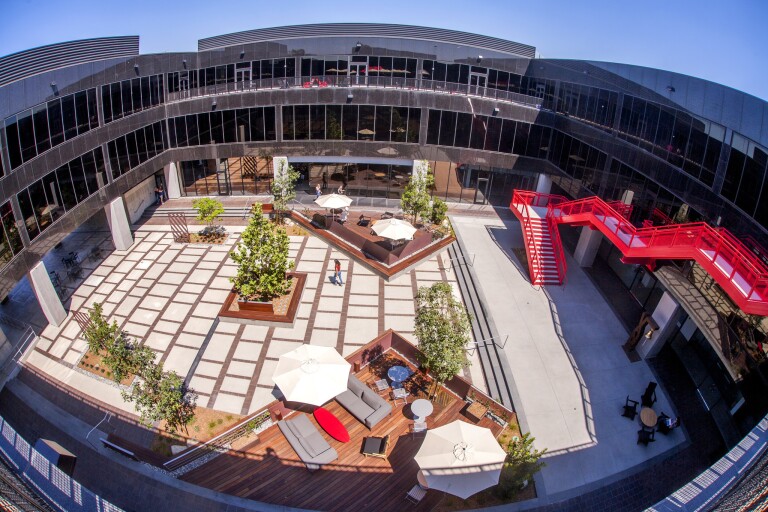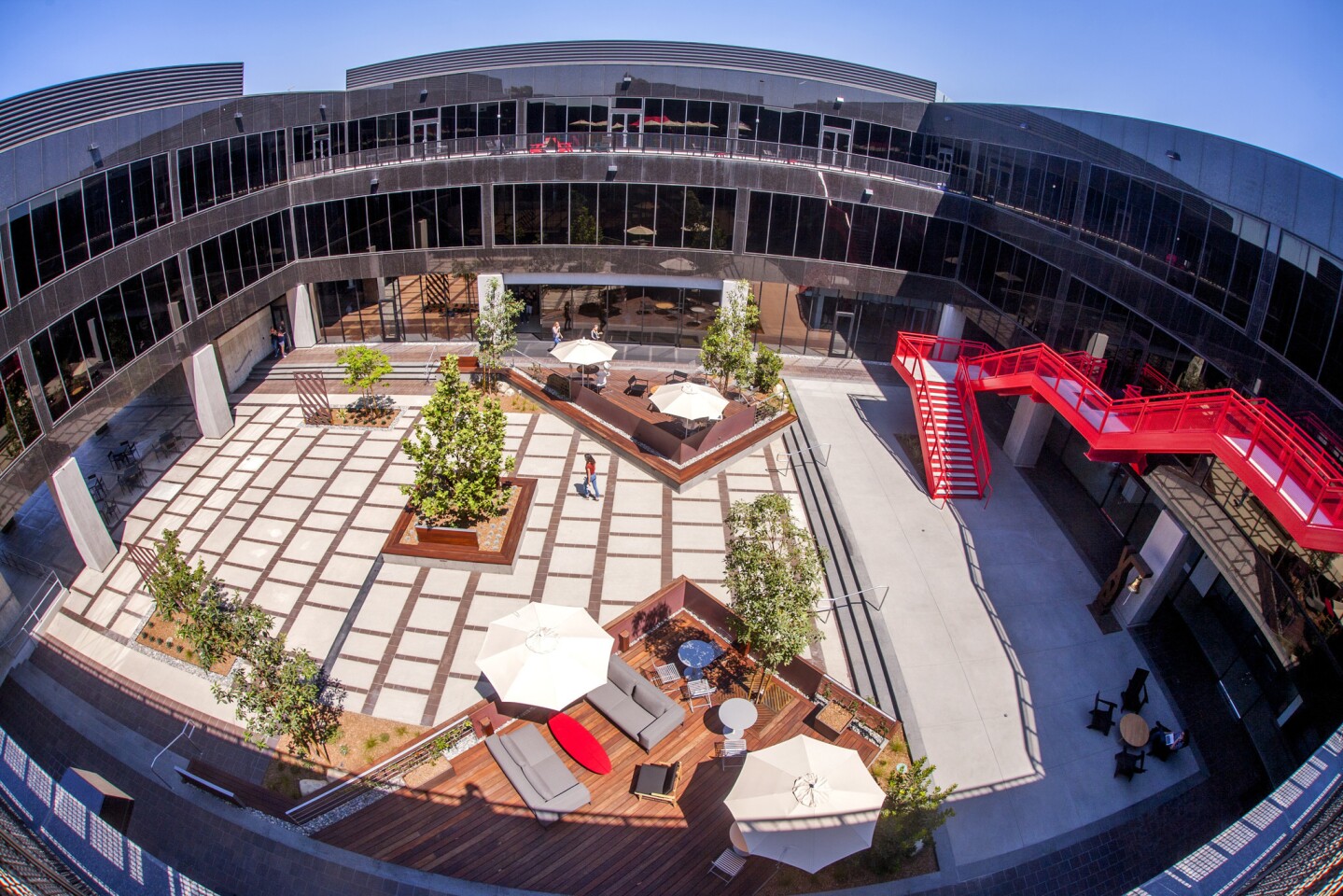 The inner courtyard at Vans' new offices in Costa Mesa features lounge areas with umbrellas, plus an outdoor stairway.
(File Photo)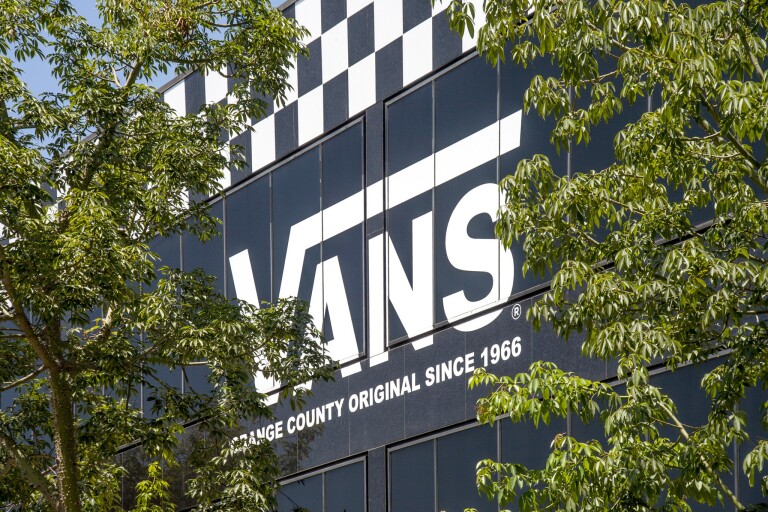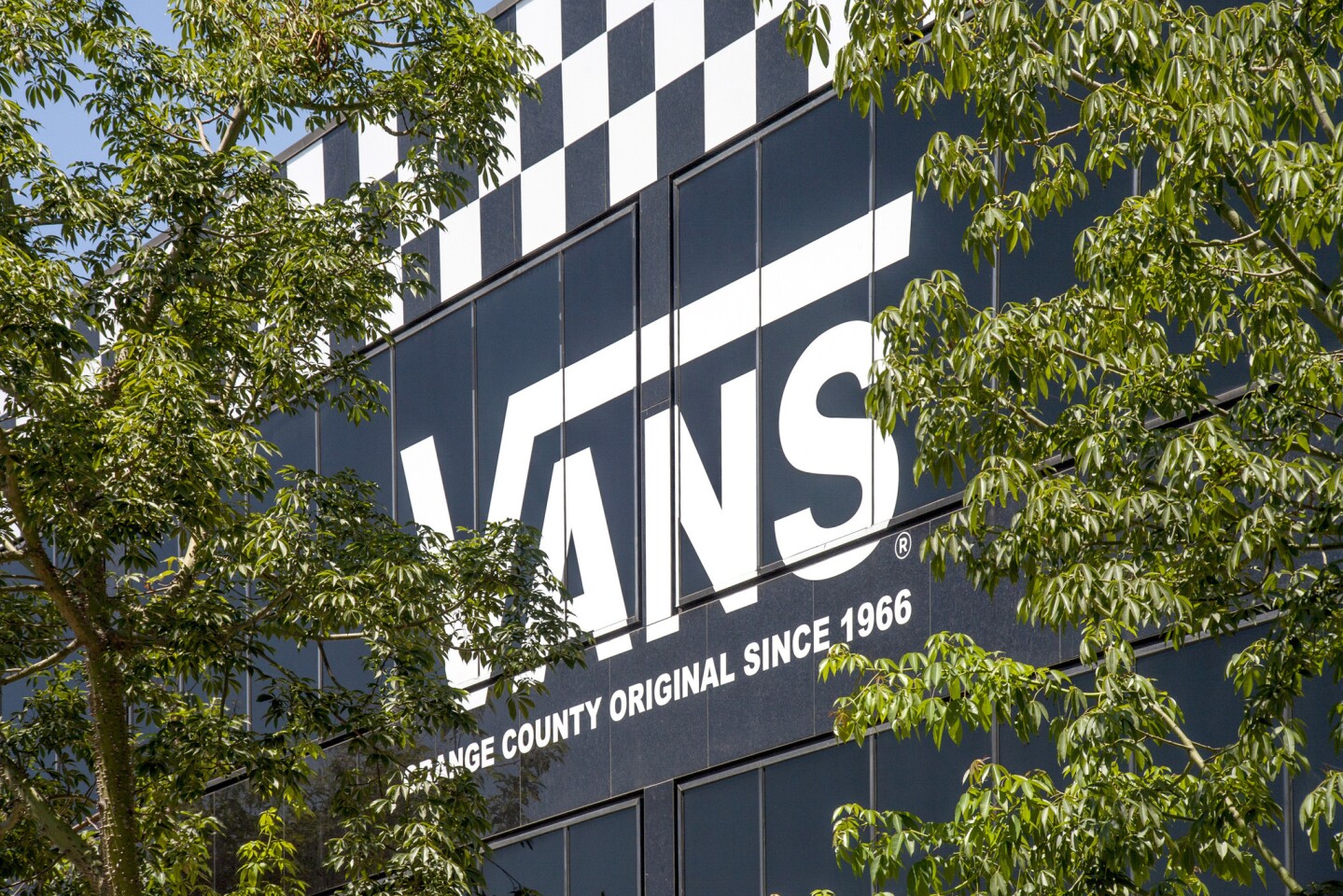 The Vans logo adorns the company's new headquarters in Costa Mesa.
(Spencer Grant)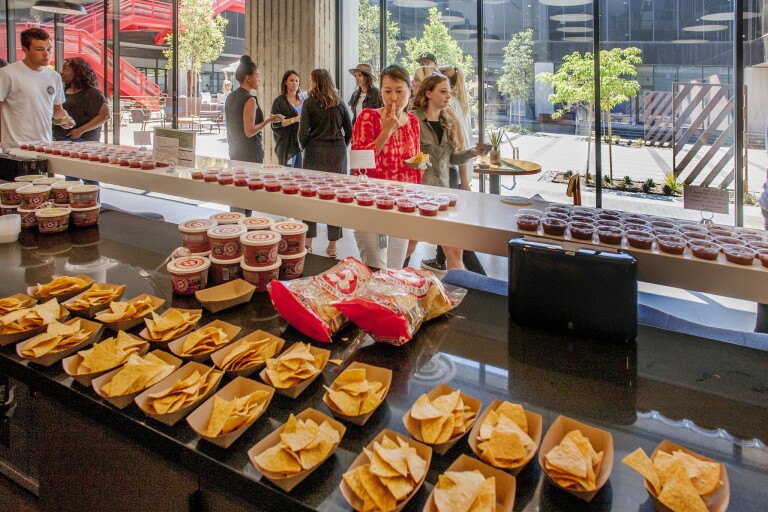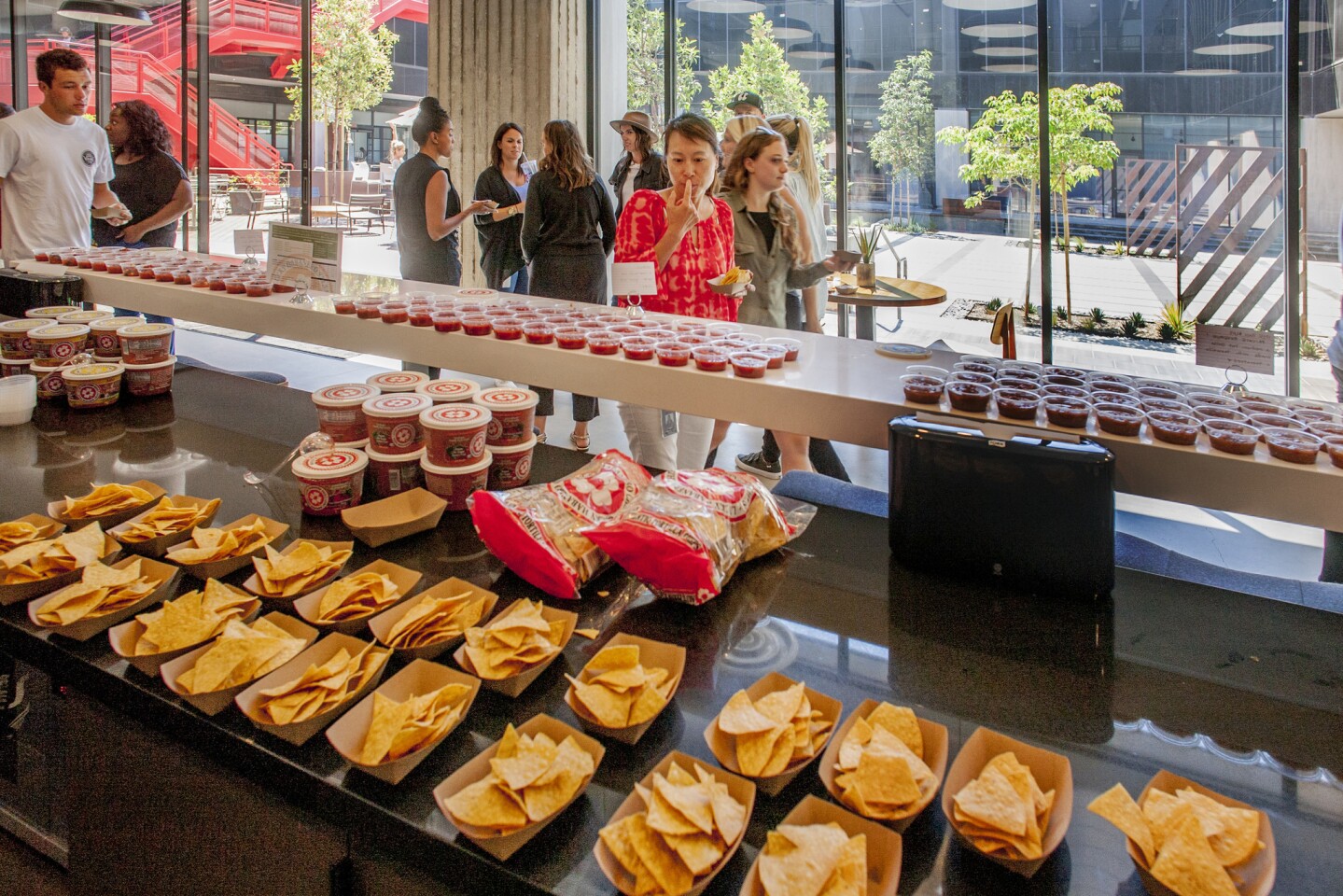 A Vans employee samples different salsas to go with her chips for an afternoon snack at the company's new headquarters in Costa Mesa.
(Spencer Grant)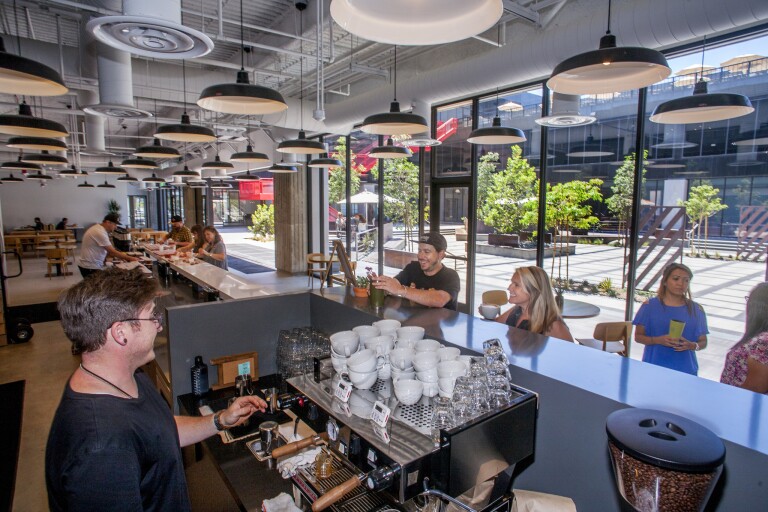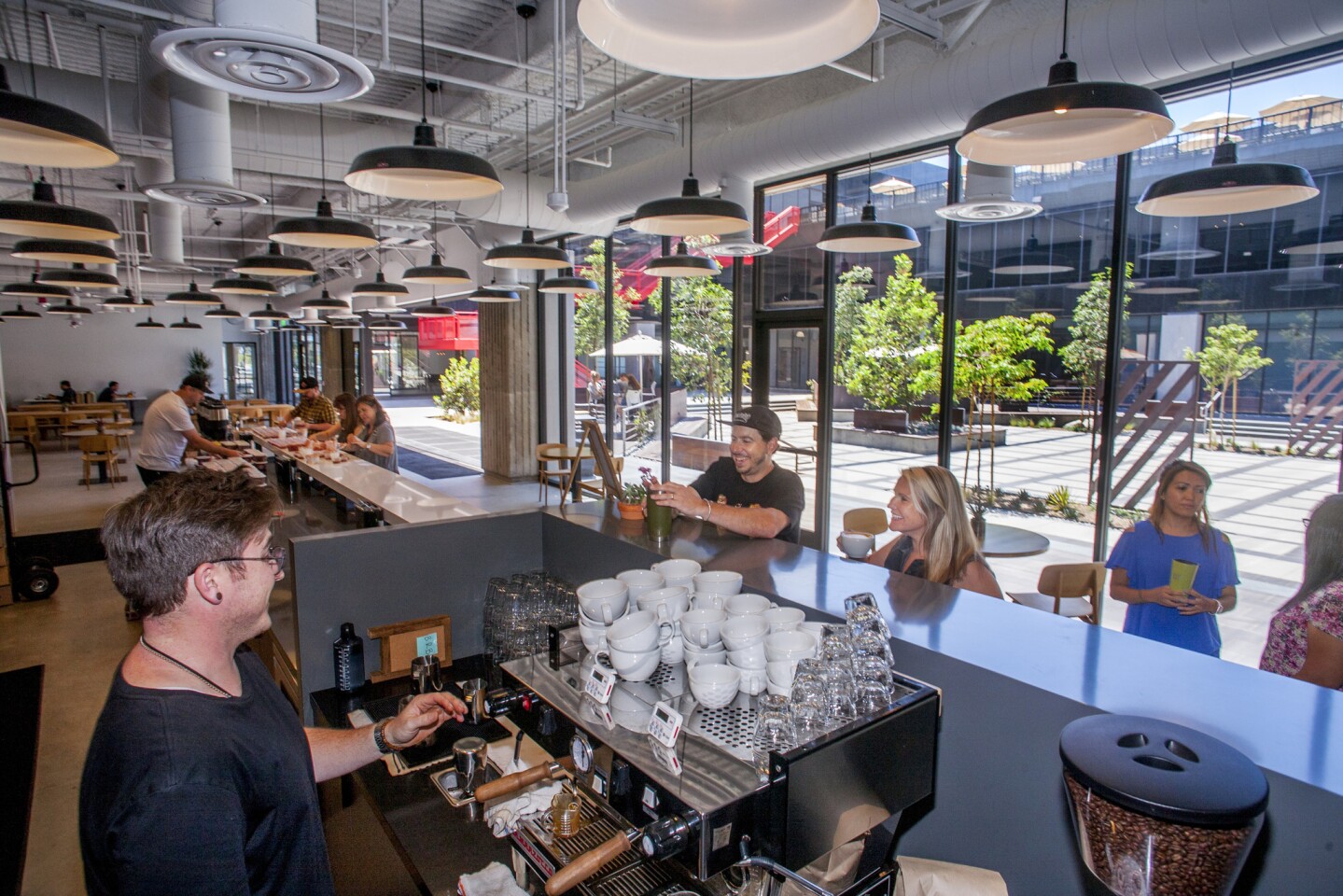 Barista Brandon Loureiro makes coffee for employees in the first-floor common area at the new Vans headquarters.
(Spencer Grant)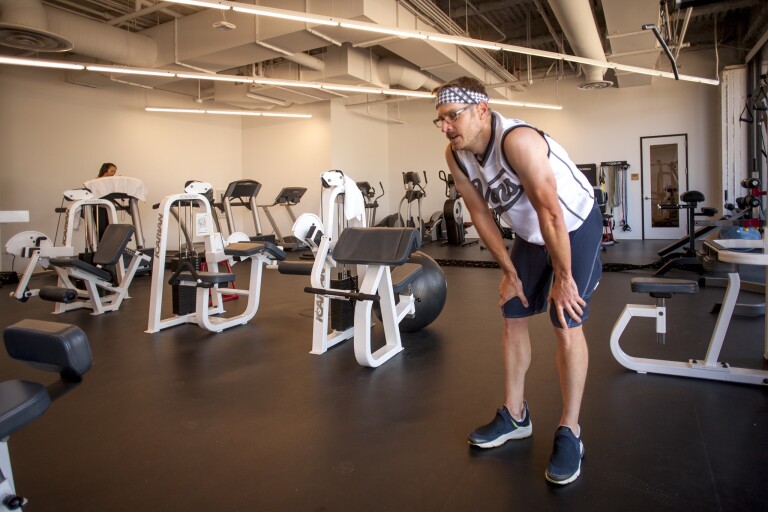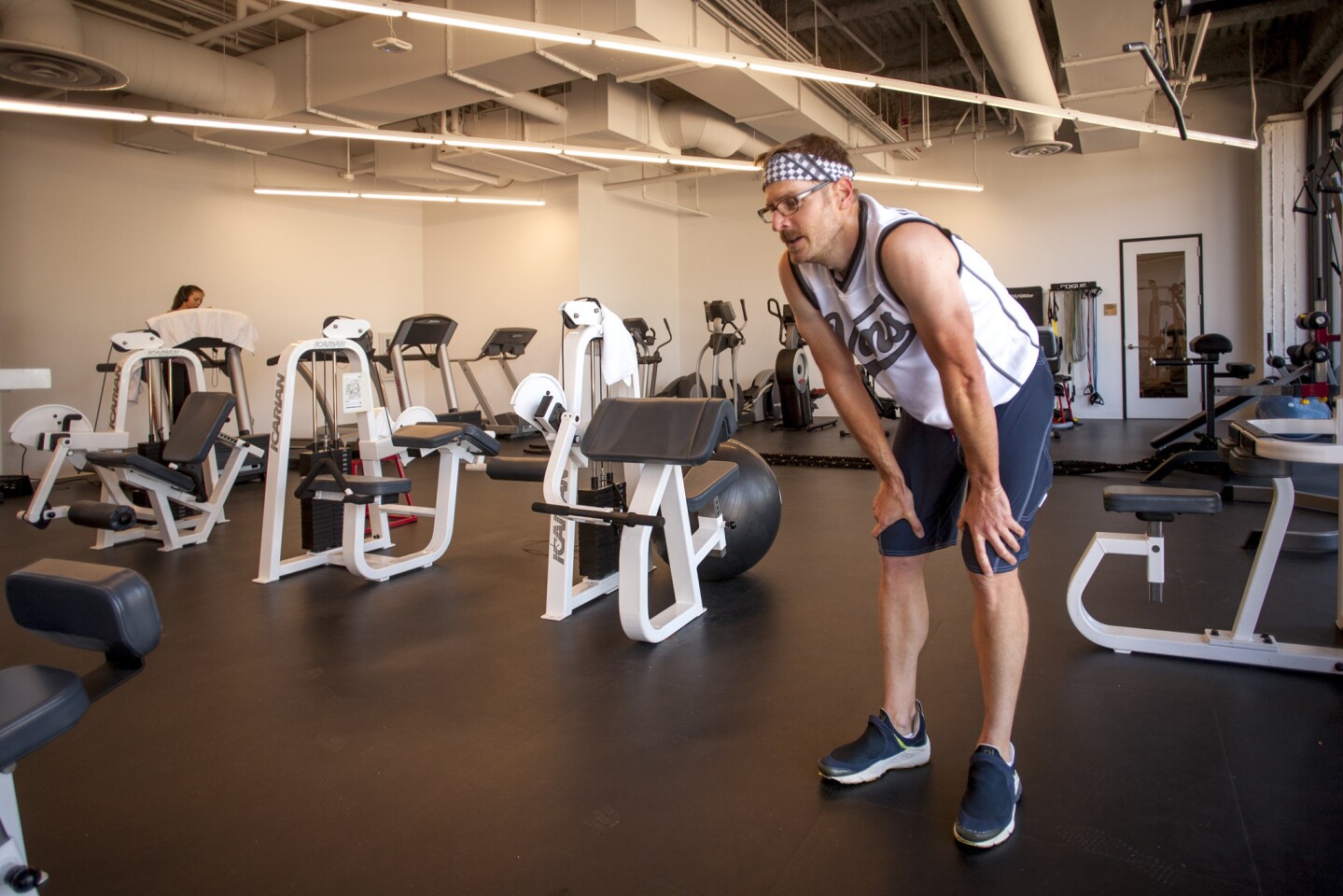 After working out in the Vans gym, Jason Mohr pauses to catch his breath.
(Spencer Grant)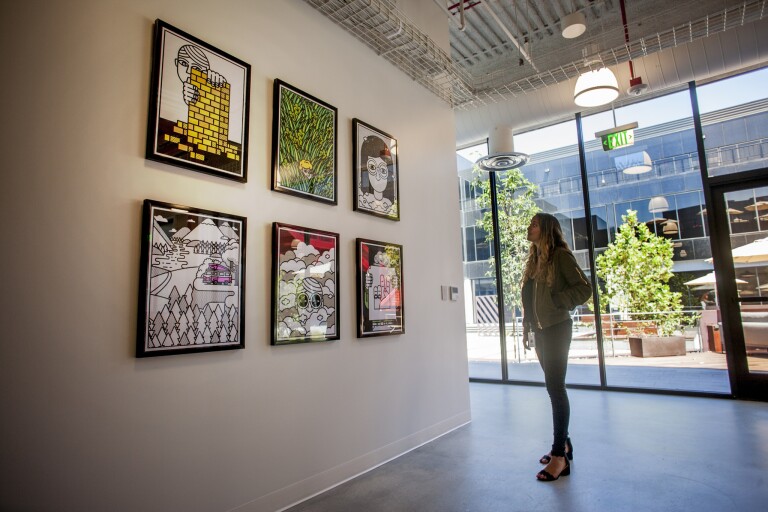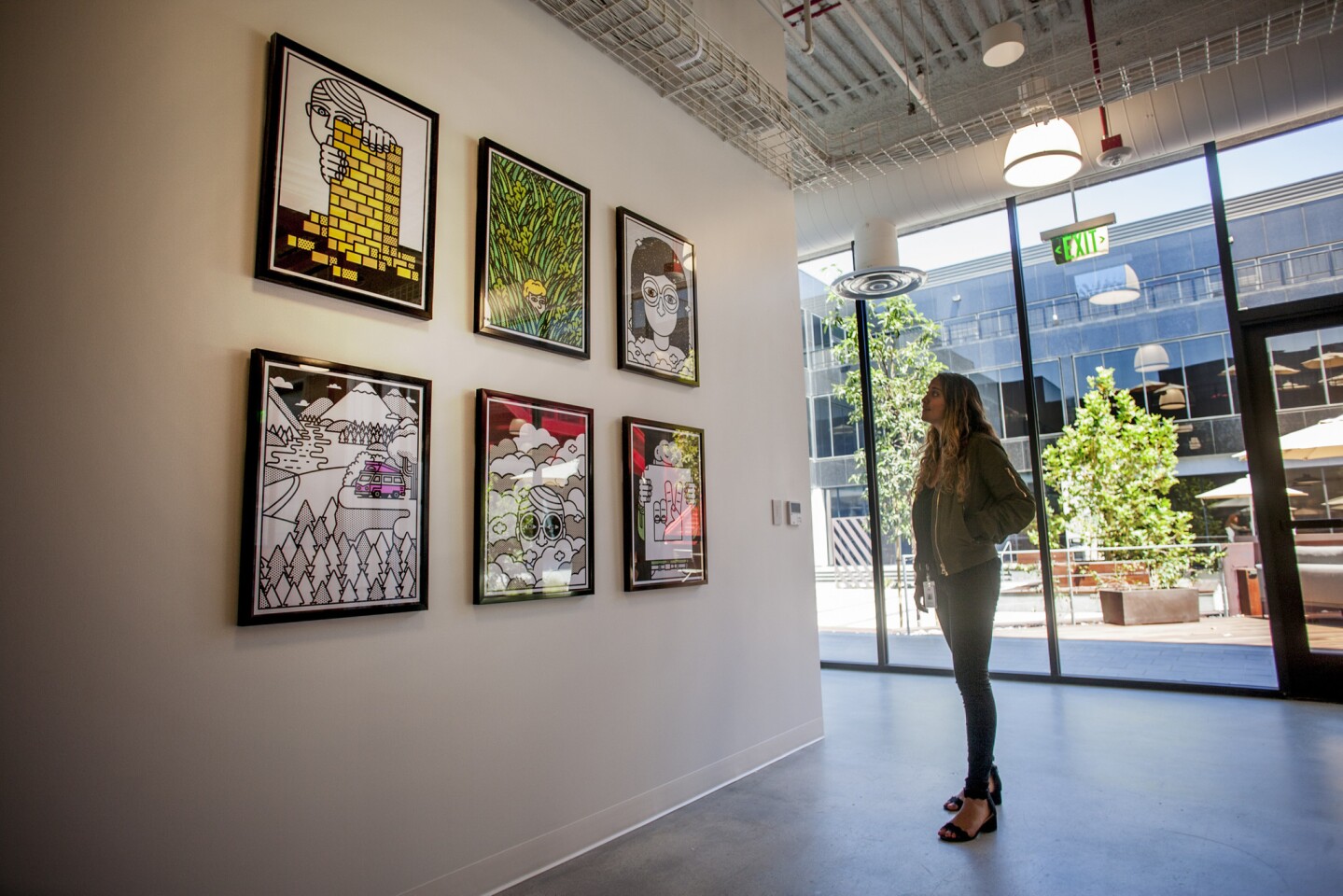 An collection of art decorates the Vans headquarters in Costa Mesa.
(Spencer Grant)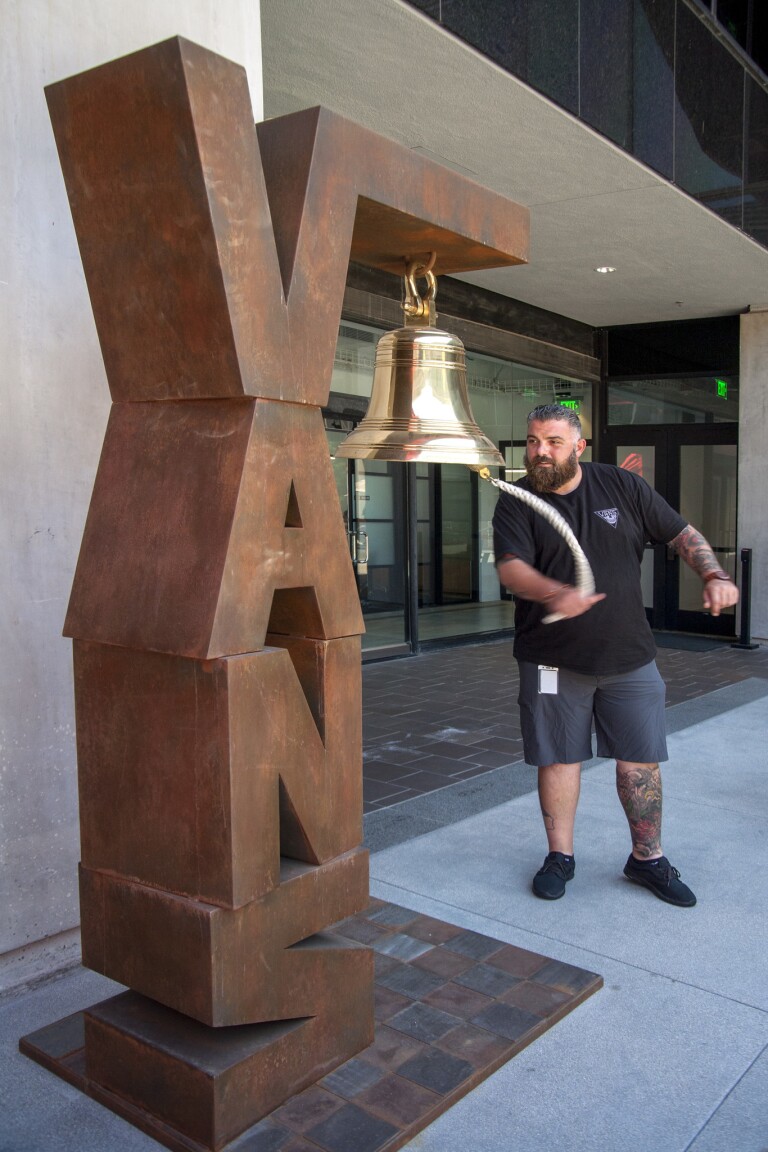 Mike Daher rings the Vans bell that announces new company events.
(Spencer Grant)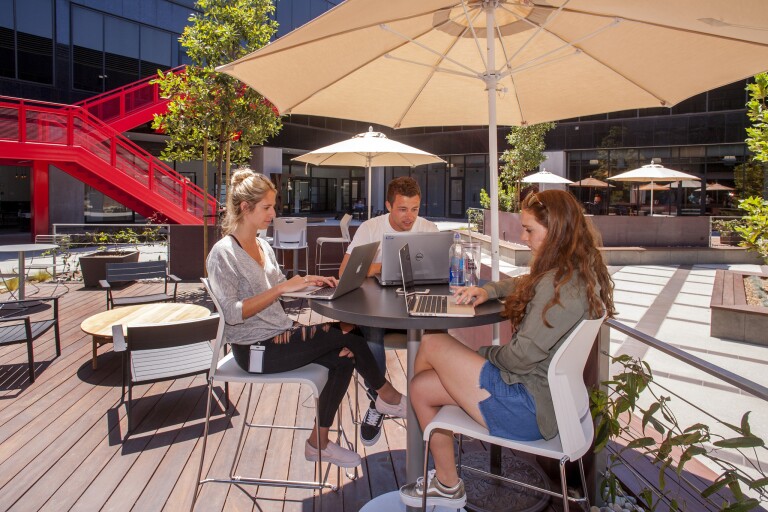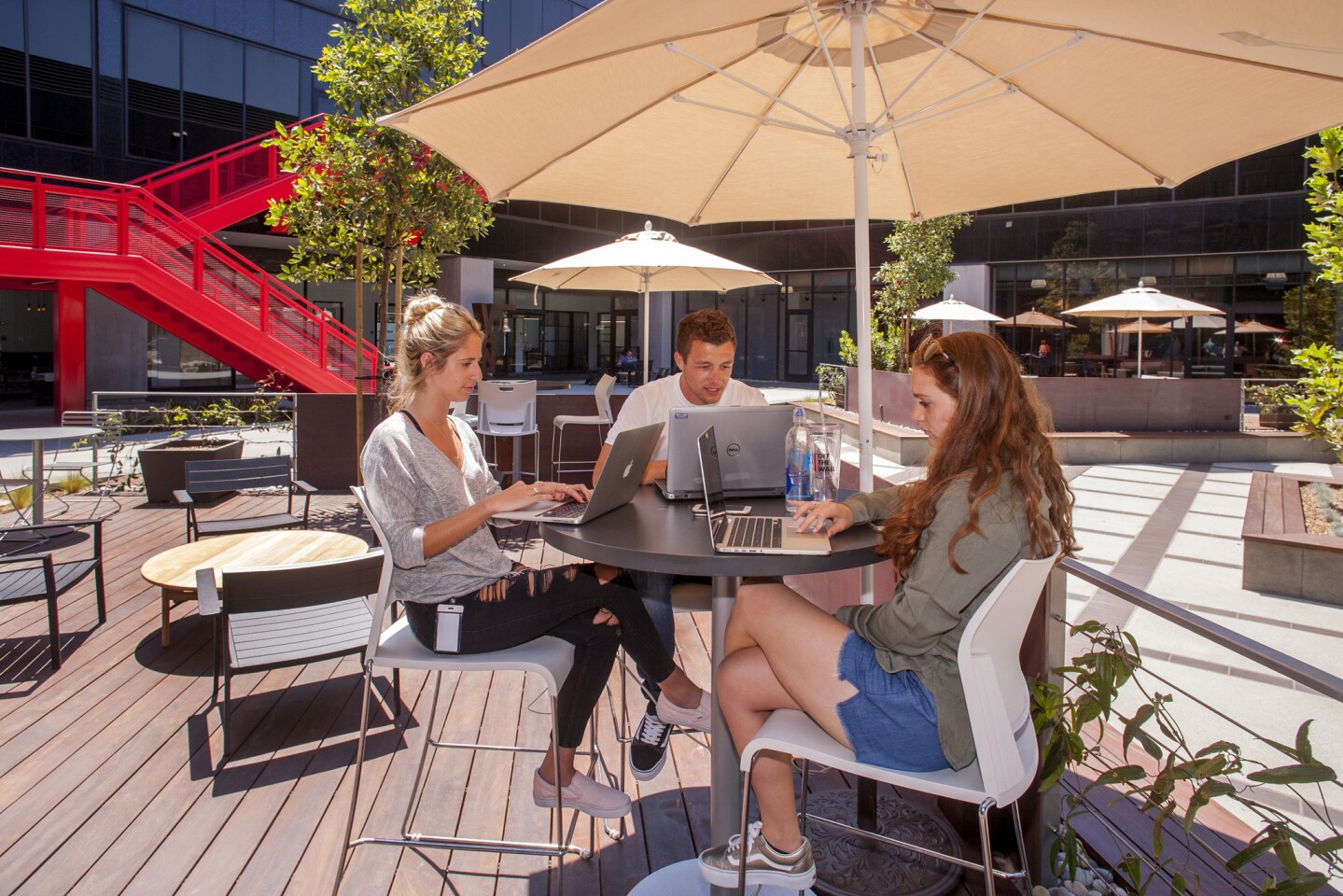 Interns Katie Schultz, Elliott Braund and Kerstein Robinson work on projects in the central courtyard at Vans' headquarters in Costa Mesa.
(Spencer Grant)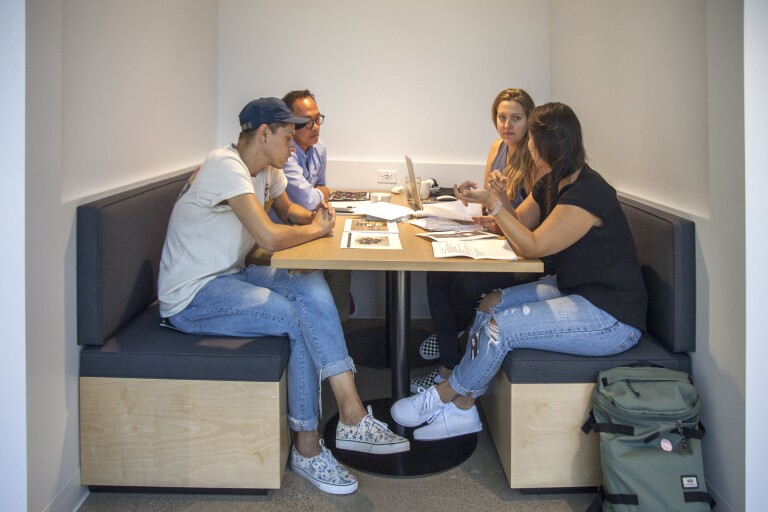 Cisco Contreras, Lee Queano, Janelle Milne and Chase Tarkington discuss a project at the Vans headquarters.
(Spencer Grant)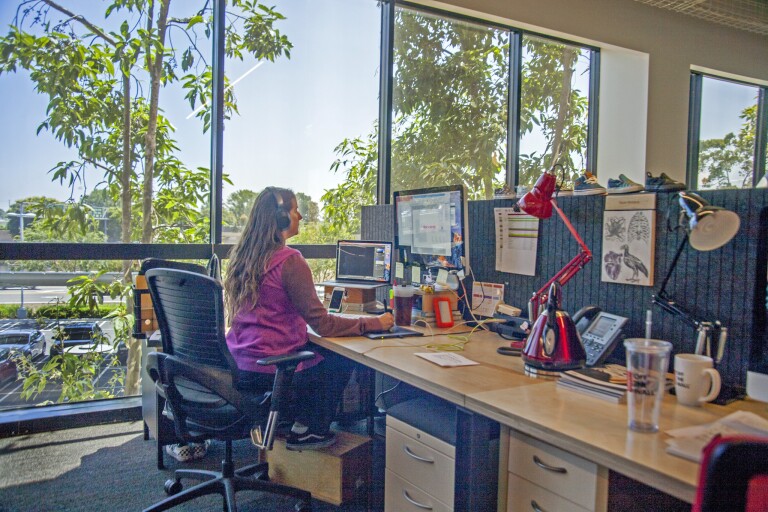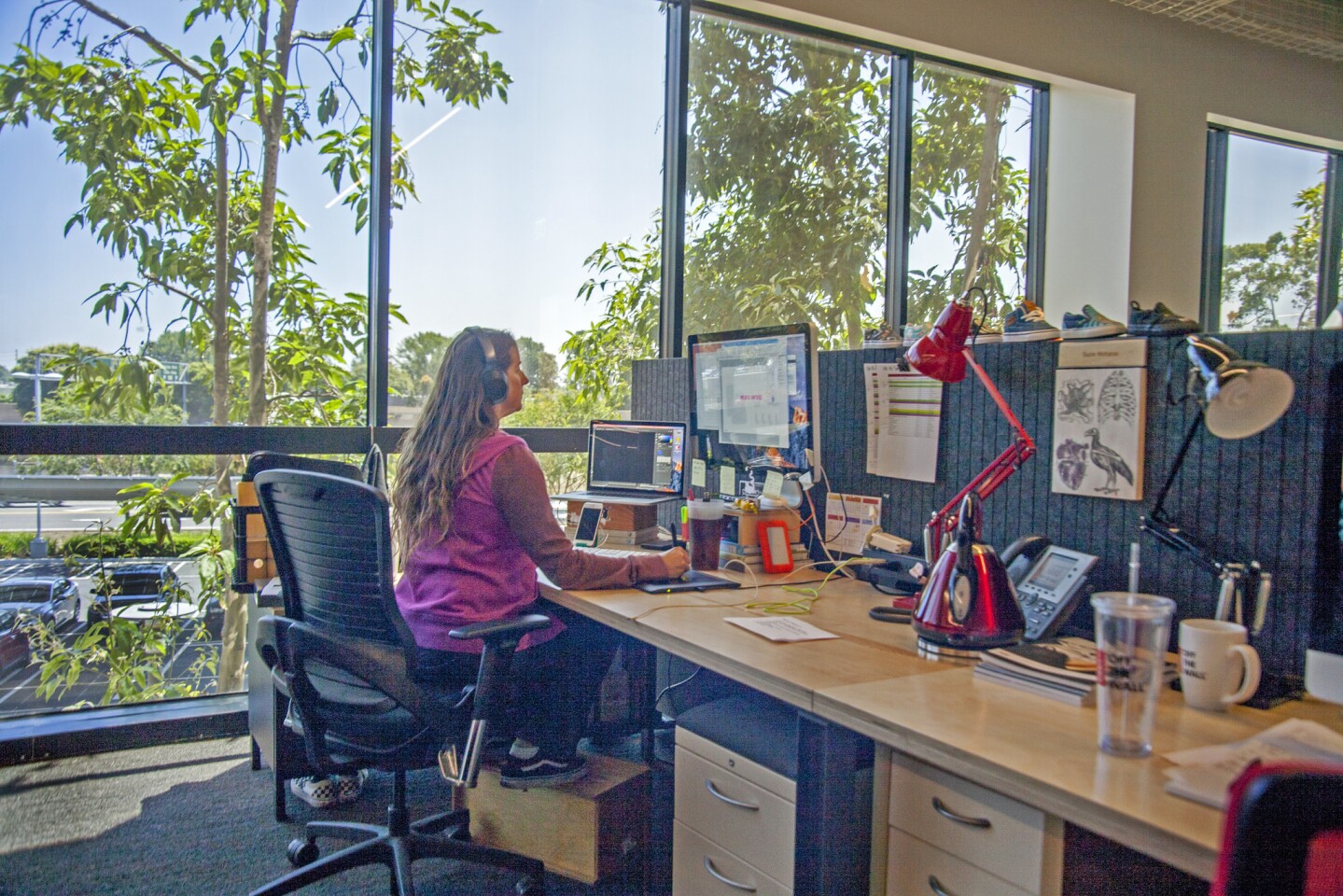 Suzie Moharos works next to the floor-to-ceiling windows in Vans' global marketing division office.
(Spencer Grant)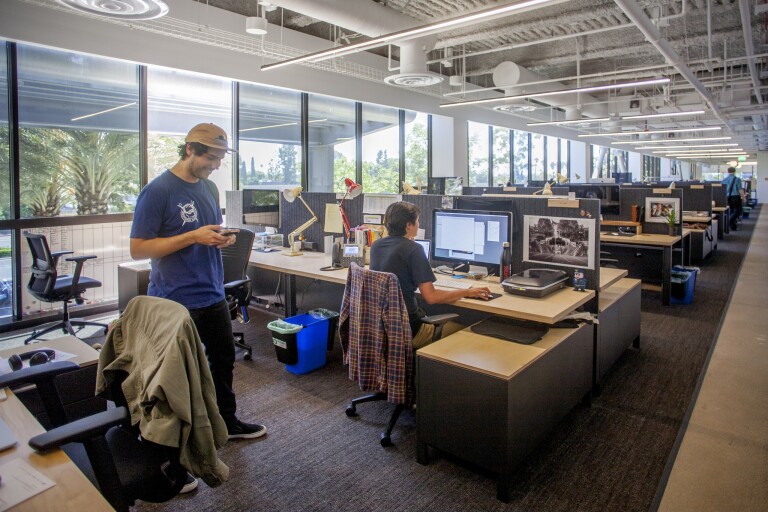 In the Vans global marketing division, Michael Pagani checks his phone while Ken Tran sits at his workstation.
(Spencer Grant)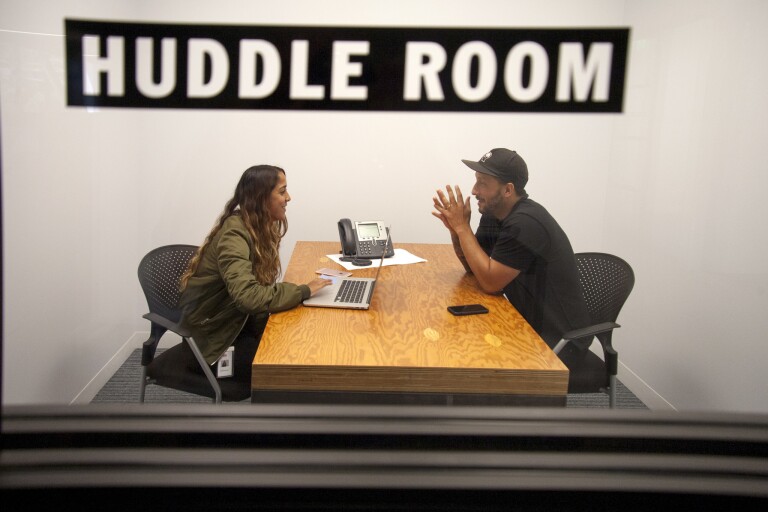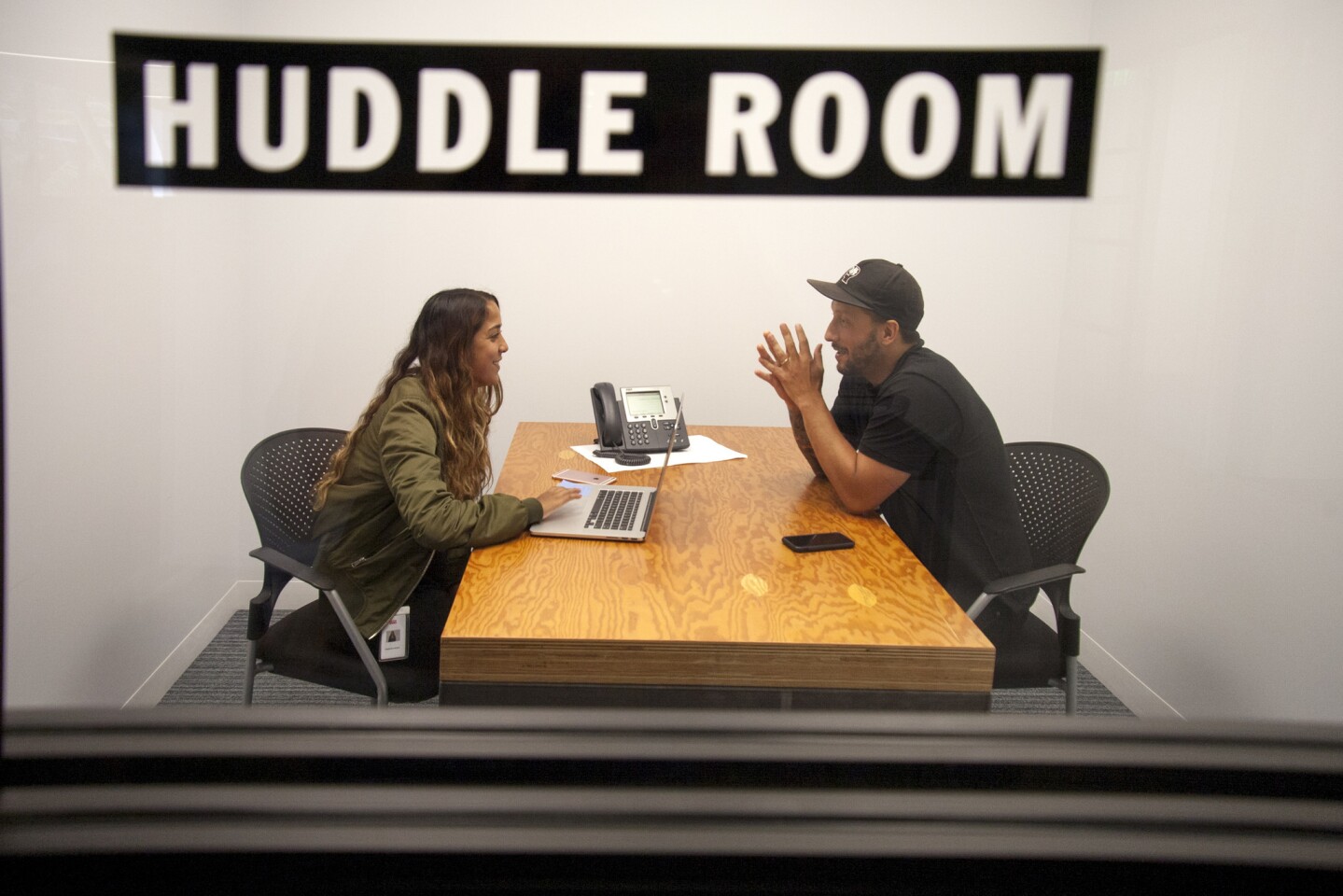 Cassandra Ahwah and Kevin Casillo talk in one of the many Huddle Rooms in Vans' headquarters in Costa Mesa.
(Spencer Grant)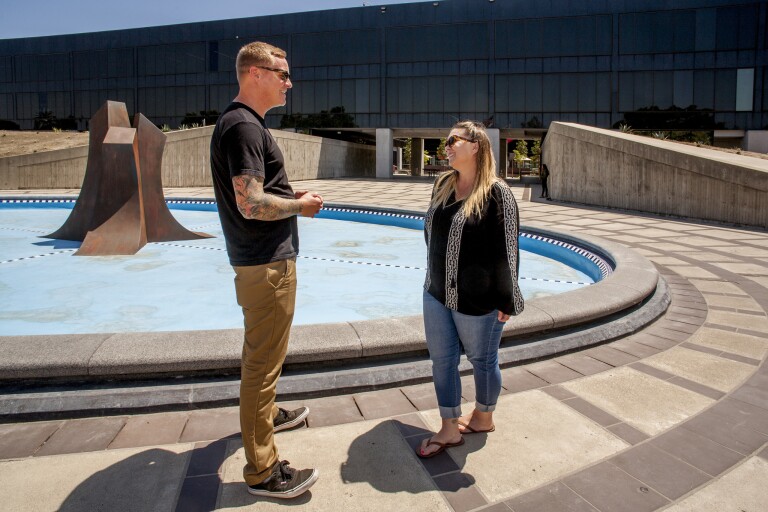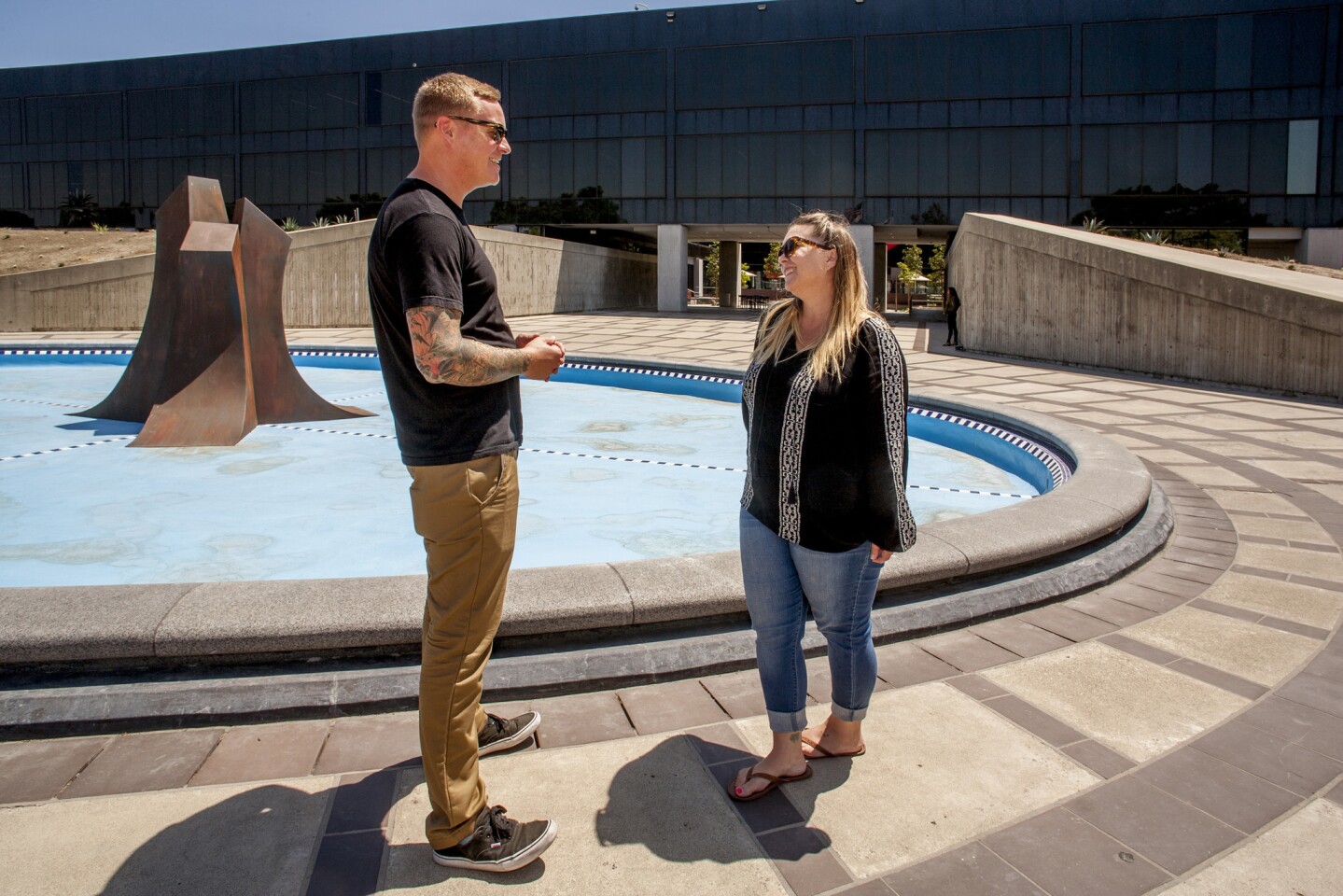 George Hatton and Lisemarie Gwlin chat outside the Vans corporate headquarters by a fountain kept dry to conserve water.
(Spencer Grant)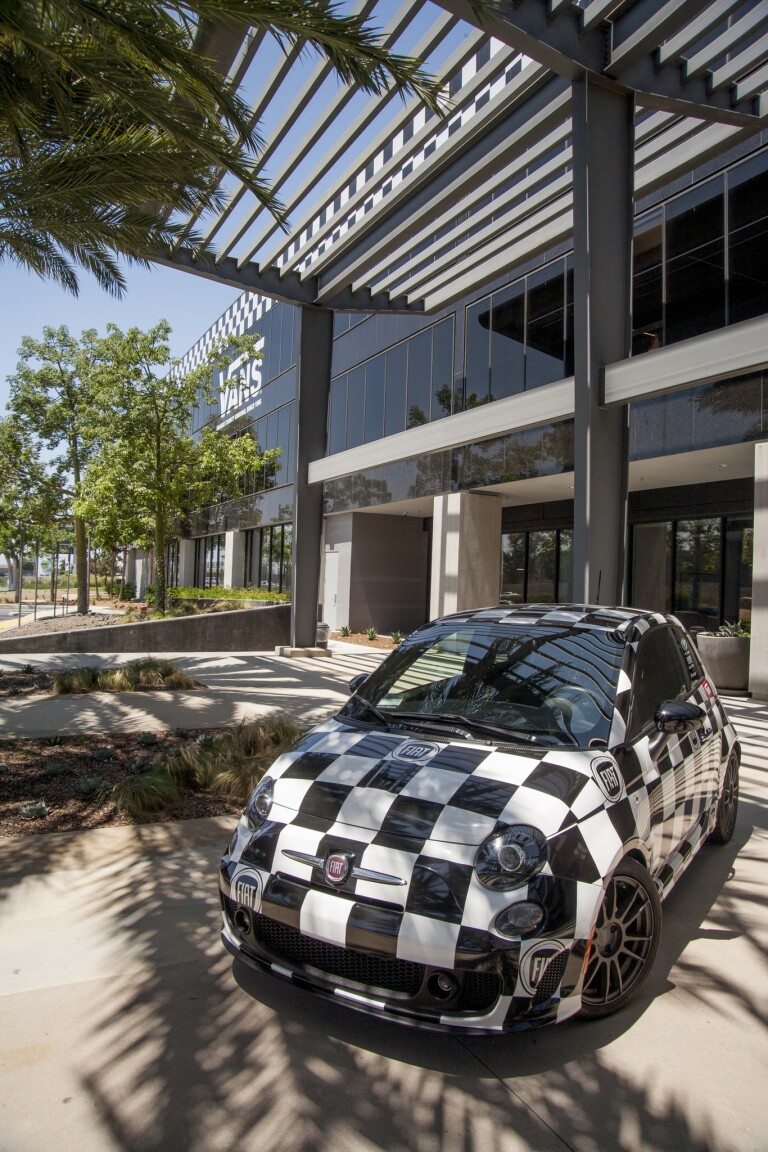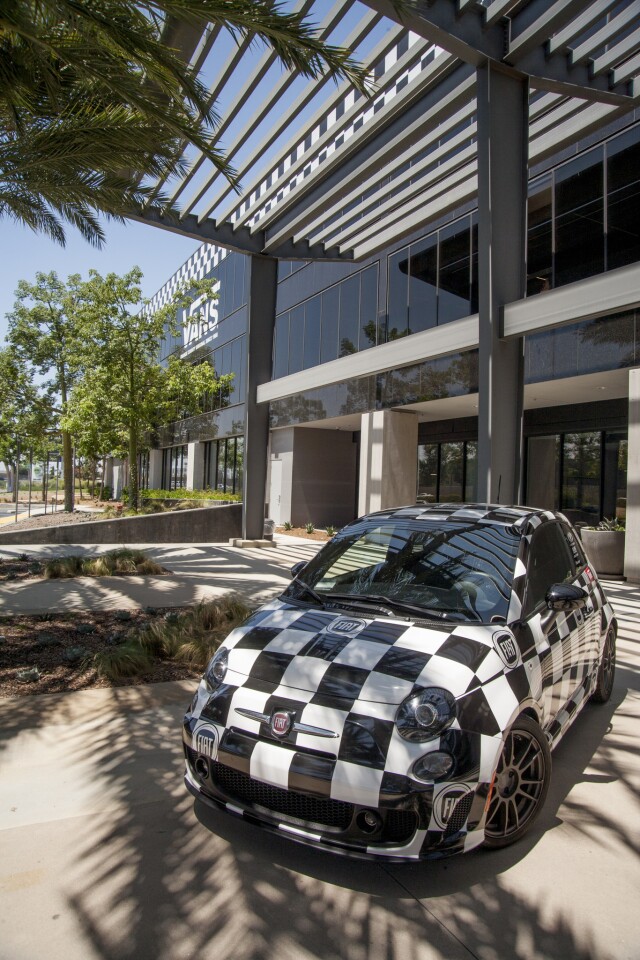 A Fiat bearing Vans' distinctive pattern sits outside the company's new headquarters in Costa Mesa.
(Spencer Grant)
All the floors are concrete at Vans' new corporate headquarters in Costa Mesa.
That's so employees of the action sportswear brand can skate through the office.
The floor, much like everything else in the building, is "all very Vans," Laura Doherty, the company's director of global public relations, points out with a smile.
The building, at 1588 South Coast Drive, has both boardrooms and room for surfboards. Before work, employees can work out in the onsite gym and yoga studio.
Between rolling out new product designs and marketing campaigns, employees can rock out on drums and guitars in the jam room.
Those needing a break can play games such as pool, ping pong, air hockey and shuffleboard. Or they can grab a caffeinated beverage from the onsite barista.
"We own the building — it's ours," said Kevin Casillo, global marketing manager for snow and surf at Vans. "We can make it really, truly 'Vans' and bring the Vans DNA into it."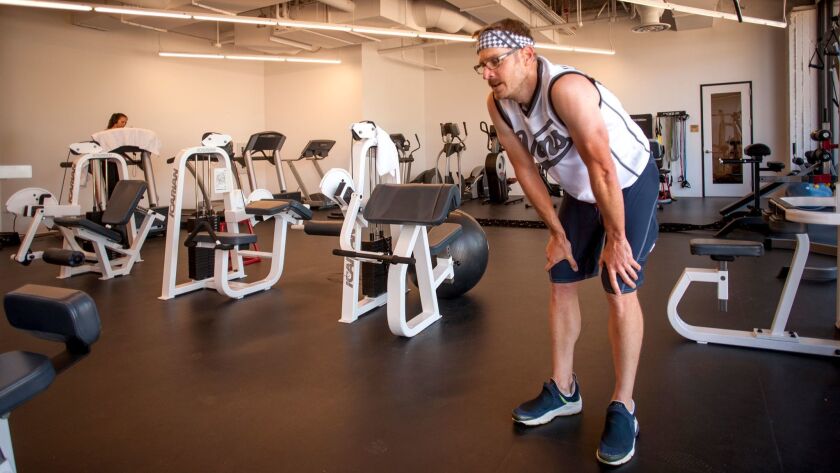 Growing and moving
Before hanging its hat in Costa Mesa, Vans was headquartered in Cypress.
That space worked for awhile, but years of sustained growth pushed the company to search for roomier digs.
While the hope was to stay in Orange County — where the company's roots stretch to its founding in Anaheim in 1966 — the main focus was securing a building "that would be large enough for future growth and malleable enough to construct a creative environment that would inspire our employees," said Cheryl Van Doren, vice president of human resources and daughter of Vans co-founder Paul Van Doren.
The Costa Mesa building, which was vacant and formerly occupied by ICN Pharmaceuticals, checked both those boxes, she said. VF Corp., the parent company of Vans, bought the property in June 2015.
"Once we saw this location — the proximity to the surrounding amenities and the amount of space it provided indoors and outdoors — we knew we had the right space," she said.
Employees officially moved into the new headquarters on June 12.
The move also marked a homecoming of sorts. Paul Van Doren bought his family's first house in Costa Mesa after moving to California from Boston.
The first Vans standalone retail shop also was in the city.
"Having the location in Costa Mesa is special," Cheryl Van Doren said. "It's fun to be back in our old stomping grounds, and I am really proud to bring our amazing company into a great city like Costa Mesa. We are looking forward to being a part of the community."
The 182,000-square-foot headquarters has more than 500 employees and serves as the nerve center of the company's North American and global operations, including product development, marketing, sales, finance and human resources.
The building is on 14 acres — plenty of room to accommodate growth, Doherty said during a tour of the site Thursday.
Sustainability is a major focus on the property. The building is outfitted with energy-efficient lighting, heating and cooling systems and water-efficient fixtures and equipment.
More than 4,000 solar panels will supply all of the building's energy needs, the company says.
Thirty-eight electric vehicle charging stations are available for employees, as are recycling and composting centers.
The building also is set up so natural light reaches every employee, Doherty said.
"We're probably one of the most sustainable buildings in Orange County," she said.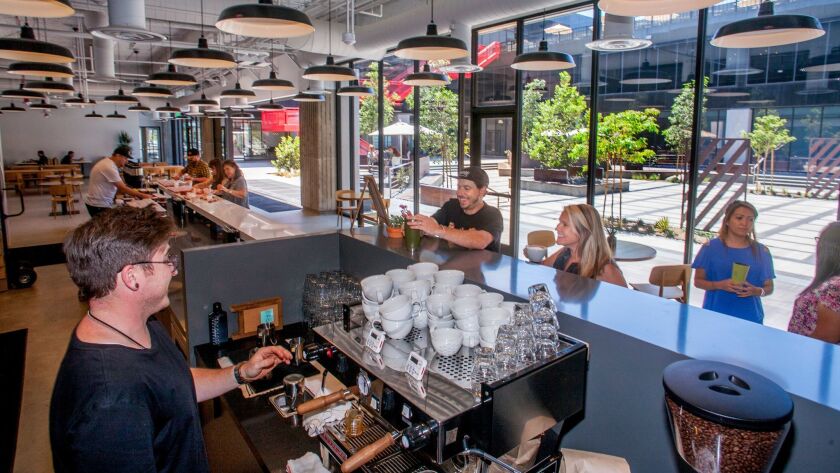 Benefits of the move
One of Doherty's favorite features of the new headquarters is that it's equipped with enough seating and work space both indoors and outdoors that business could keep running smoothly even if every employee decided to work away from his or her desk.
"We wanted to have a place that we could call home," she said. "Employees worked so hard for that growth [of the company] and now to come here and say, 'I've been part of the growth to get us here' is huge. It's a really special place to be."
Aside from the building, Vans employees said there have been other benefits of moving to Costa Mesa.
Doherty said she wasn't aware of the city's vibrant food scene and that she and other employees have enjoyed sampling offerings at The Camp, The Lab and South Coast Collection.
Casillo called Costa Mesa a "thriving cultural area" and "probably my favorite part of Orange County."
"The location is great, especially for people like me who surf a lot," he said. "We can go out and do surf lunches and just kind of connect to our action sports pillar, which is always great."
Nicole Wolfe, director of talent acquisition, said her favorite part about the new headquarters is that there's "something for everyone," with many ways for employees to tap into their creative sides.
"Here they can dye their hair, they can show tattoos, they can wear jeans with holes in them and everyone thinks it's cool," said Wolfe, who lives in Eastside Costa Mesa. "So we always had that culture, but now we have the building that goes with it. It feels like it's all coming together."
Twitter @LukeMMoney
---
All the latest on Orange County from Orange County.
Get our free TimesOC newsletter.
You may occasionally receive promotional content from the Daily Pilot.