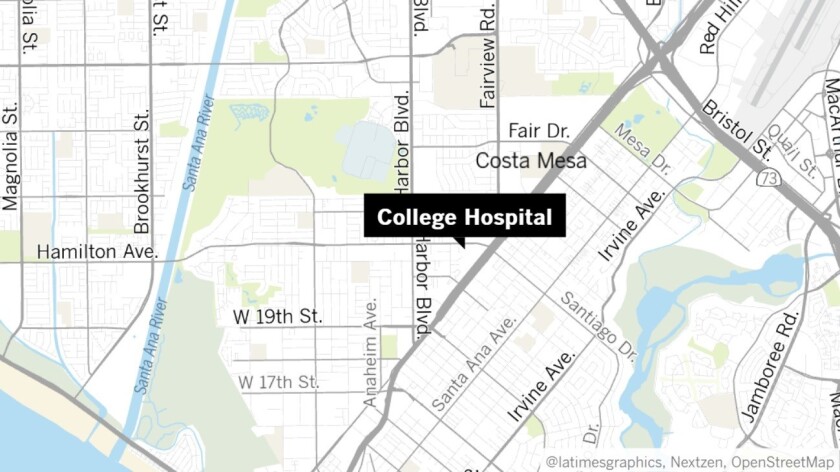 Orange County supervisors authorized funding this week to develop a unit at a Costa Mesa hospital to serve people experiencing a mental health crisis.
Tuesday's vote by the Board of Supervisors approved a three-year, $13.3-million contract for the crisis stabilization center at College Hospital, an acute care facility at 301 Victoria St. The unit is expected to operate year-round and serve an average of 18 people per day, according to the county.
Board Vice Chairwoman Michelle Steel — whose Second District includes Costa Mesa — said "the creation of the CSU in my district will help provide vital mental health services for all the citizens in the county of Orange."
"The help that will be administered at College Hospital will go a long way," she added in a statement Wednesday.
Board Chairwoman Lisa Bartlett, who represents the county's Fifth District, called the board's action "an important step … toward ensuring that we have more emergency beds for those experiencing a mental health crisis."
"This additional crisis stabilization unit will prove to be an asset for those individuals and their families during their time of greatest need," she said in a statement.
County officials said the center will help patients access psychiatric assessment, crisis intervention, therapy, medication and other services they require.
The facility also will help the city of Costa Mesa fulfill an agreement made this month to settle a federal lawsuit filed on behalf of homeless people cleared from a former encampment along the Santa Ana River.
As part of that pact, city officials committed to securing 62 emergency and transitional housing beds for the homeless — enough to serve 60% of the local unsheltered population documented during a 2017 countywide count.
The crisis stabilization unit at College Hospital will account for 12 of those. The remaining 50 will be provided at a new homeless shelter located initially at Lighthouse Church of the Nazarene, 1885 Anaheim Ave.
The shelter at the church is expected to operate for about a year starting in early April before moving to a more permanent site elsewhere in the city.
No city money is going toward the facility at College Hospital, according to Costa Mesa spokesman Tony Dodero.
---