How to restore Fairview Park ecosystems? Patience, planning and preparation, experts say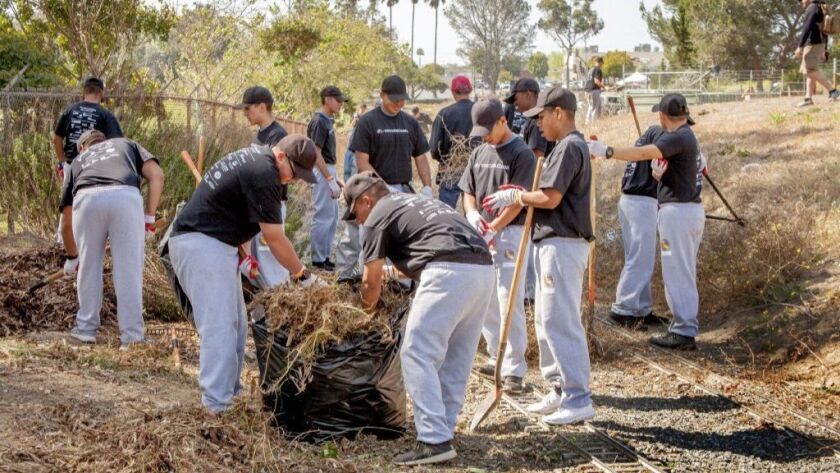 When it comes to environmental and ecological restoration efforts in Costa Mesa's Fairview Park, the keys are patience, planning and preparation, a handful of experts said Wednesday night.
The five-member panel convened during the latest meeting of the city's Fairview Park Steering Committee for a wide-ranging discussion about the challenges and opportunities for habitat restoration in the 208-acre park.
One of the main takeaways Wednesday was that restoration is anything but quick. Panelists said it can take years to formulate strategies and potentially years more before those efforts take root.
"You tend to think 'Restoration, it's catch and release,'" said Peter Bowler, a senior lecturer in ecology and evolutionary biology at UC Irvine. "But actually … it's like an adopted pet — you have to take care of it for years and years and do it over and over again."
Fairview Park is home to a variety of ecosystems, including wetlands, grasslands and vernal pools that host endangered species such as fairy shrimp and birds such as the endangered least Bell's vireo and the threatened California gnatcatcher.
Barry Nerhus, a city contractor and the founder of Endemic Environmental Services Inc., described Fairview as a "last remaining species" in a "sea" of urbanization.
"This native island is actually relatively significant in that it probably is what helps conserve some of the biodiversity that we have here," Nerhus told about 50 people who attended the meeting at City Hall.
Because habitat restoration is a long-term commitment, it's vital to carefully craft cohesive and comprehensive strategies ahead of time, panelists said. Travis Brooks, a biologist and restoration ecologist with Land IQ — a consulting, analytics and research company — compared it to painting an aging wall. Much of the work, he said, comes before you even reach for the brush.
"Once you know what you want to do, it's really matching those restoration opportunities with funding opportunities," he said.
Costa Mesa recently received some assistance on that end in the form of a grant from the state Department of Parks and Recreation. The award — worth up to $150,000 — will go toward vernal pool restoration, City Engineer Bart Mejia said Wednesday.
Fairview Park Administrator Cynthia D'Agosta said this week's discussion was meant "to get us inspired as we start to move forward into the [Fairview Park] master plan and talk about restoration."
"We've got a new situation here where the city's going to be working with the steering committee to adapt the master plan to the current needs for restoration, and I think it's going to be exciting," she said.
Twitter @LukeMMoney
---
All the latest on Orange County from Orange County.
Get our free TimesOC newsletter.
You may occasionally receive promotional content from the Daily Pilot.