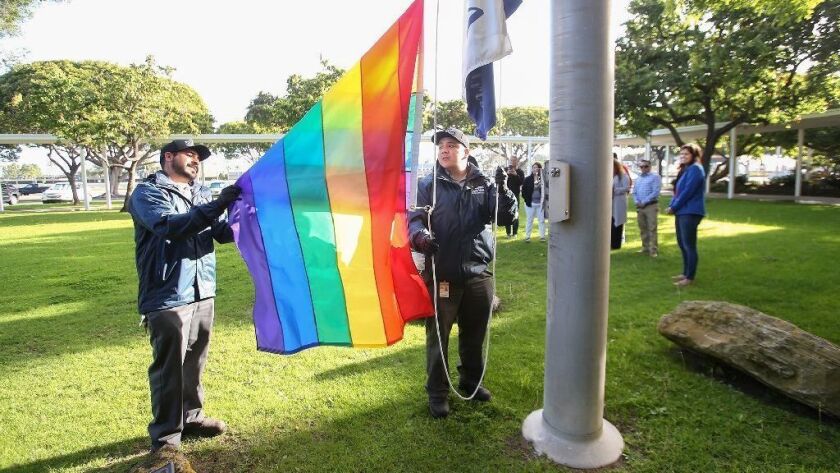 Rainbows appeared above Costa Mesa and Laguna Beach on Wednesday, but they had nothing to do with the weather.
At the direction of their elected leaders, both the "City of the Arts" and the arts colony raised the multicolored pride flag — a symbol of the LGBTQ community — at their respective city halls.
The start of the displays coincided with Harvey Milk Day, which honors the late San Francisco supervisor who was the first openly gay elected official in state history. The banners will fly through June for LGBT Pride Month, an annual commemoration of the contributions and history of the lesbian, gay, bisexual and transgender communities.
A small crowd was on hand Wednesday morning to mark the occasion in Costa Mesa. Among those in attendance was Councilwoman Arlis Reynolds, who successfully petitioned her colleagues this month to raise the banner alongside the traditional displays of the city, California and American flags, as well as the POW-MIA flag.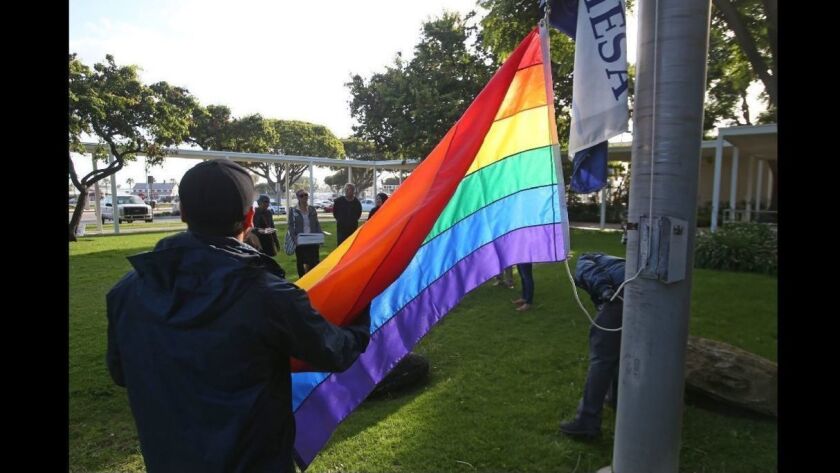 Laguna Beach hoisted its own banner Wednesday afternoon following a unanimous City Council vote Tuesday night. The plan is to display the flag on the flagpole and parking meters in front of City Hall.
Craig Cooley, president of Laguna Beach Pride 365, took the idea to the council this month. He talked about the history of the "rainbow flag of diversity," as he called it, and its origins as a banner celebrating LGBTQ pride.
"It is a flag that represents inclusion with all the cultural colors of the universe," Cooley said at Tuesday's council meeting. "[It] speaks a message of the power of diversity and acceptance."
Three other Orange County cities — Anaheim, Fullerton and Santa Ana — previously authorized displays of the pride flag at their city halls.
The Orange County Fair Board is scheduled to vote Thursday on whether to fly the rainbow flag at the Costa Mesa fairgrounds year-round.
---