A new election system went into effect, a proposed needle-exchange program touched off a community uproar, the city committed to developing shelter beds for the homeless, the city manager headed for the exit and several lengthy legal disputes came to an end.
Costa Mesa had quite a year in 2018.
Here are some of the city's biggest stories over the past 12 months:
City prevails in federal lawsuit over sober-living rules
Costa Mesa scored a significant legal victory this month when an eight-person jury unanimously rejected a claim by sober-living home operators that a city ordinance unfairly discriminated against people recovering from alcohol or drug addiction. Sober-living homes generally house recovering addicts who are considered disabled under state and federal law.
The Dec. 7 decision upheld an ordinance adopted in October 2014 that outlines requirements and restrictions for sober-living homes, including that they apply for permits to operate in single-family residential zones and are prohibited from being within 650 feet of one another.
However, the courtroom battle may not be over. An attorney for the plaintiffs in the case — Yellowstone Recovery, Sober Living Network and Lynn House — has pledged to appeal.
Flood of permit applications for marijuana businesses
Costa Mesa's marijuana program went over like gangbusters in 2018 as local planning commissioners awarded city permits to 20 manufacturing and distribution facilities — bringing the total number of approved operations to 22, with more still in the pipeline.
Under the voter-approved Measure X, businesses that research, test, process and manufacture some marijuana products are allowed in a specified area of the city north of South Coast Drive and west of Harbor Boulevard.
While most of this year's permit hearings have been routine, decision-makers have grappled in recent weeks with whether certain buildings or suite types in that zone are appropriate for marijuana businesses.
Joshua Waring's attempted-murder case reveals other issues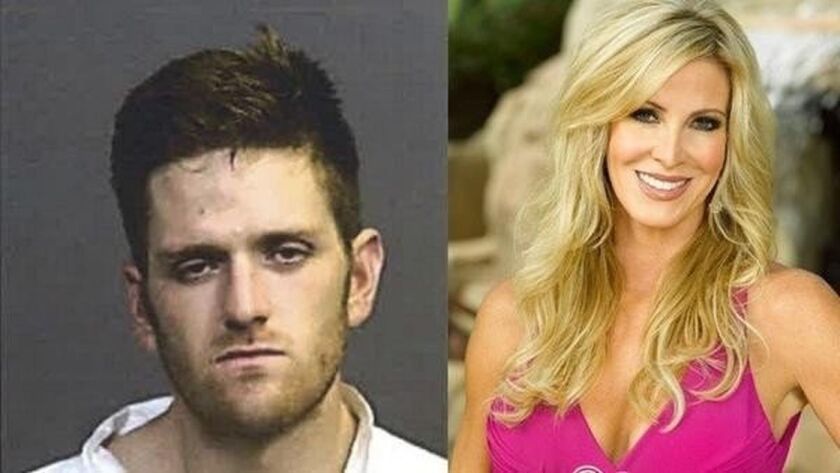 The attempted-murder case against Joshua Waring, son of former "Real Housewives of Orange County" cast member Lauri Peterson, took on additional significance this year amid a wider probe of how thousands of privileged phone calls between inmates and their attorneys were improperly recorded.
In August, Global Tel Link Corp. — the contractor that oversees the Orange County Jail phone system — characterized the issue as a "human error" that resulted in 1,079 such calls being recorded over a three-year period. However, further court proceedings revealed that the number of privileged attorney-client phone calls that were recorded was 33,812, and members of the Orange County district attorney's office testified that county sheriff's and district attorney's personnel knew of such recordings as far back as 2015.
Waring's attorney, Joel Garson, has been digging into allegations that law enforcement monitored and shared his client's phone calls in Orange County Jail while he was representing himself in his criminal case. Garson is trying to have the case dismissed on grounds of outrageous governmental conduct.
Waring is facing three counts of attempted murder and other felony and misdemeanor charges related to a June 2016 shooting in Costa Mesa. He could face multiple life sentences if convicted.
Needle-exchange program approved, then halted
A hotly contested proposal to relaunch the Orange County Needle Exchange Program as a mobile service in four cities, including Costa Mesa, ran into a legal roadblock Nov. 27, when a judge issued a preliminary injunction blocking it.
The California Department of Public Health gave the exchange the green light in July to distribute needles and other supplies to intravenous drug users in specified areas of Costa Mesa, Anaheim, Orange and Santa Ana. Previously, the program operated out of the Santa Ana Civic Center, but officials there denied its permit in January, citing an increase in the number of discarded syringes in the area.
The state's decision sparked an immediate backlash from public safety officials and civic leaders in the affected cities, who argued it would litter their communities with dirty needles and present a risk to residents' health and safety.
Representatives of the nonprofit, volunteer-run program say their proposal included strategies to minimize improper syringe disposal and that their service would help prevent the spread of diseases such as HIV and Hepatitis C.
Tom Hatch makes sudden exit as city manager
Tom Hatch, Costa Mesa's city manager since 2011, made a swift and controversial departure when a divided City Council voted to terminate his contract Nov. 13.
Under the 3-2 decision — with now-Mayor Katrina Foley and now-Mayor Pro Tem John Stephens opposed — Hatch was entitled to nine months' severance. His annual pay was set at $237,960 under a contract revision approved earlier this year.
Foley and Stephens said Hatch had already moved out of his office and turned in his employee badge several days before the vote.
The council has retained former Newport Beach city manager Dave Kiff at no cost to help recruit a new city manager and provide other transition assistance.
New voting system results in historic election
Costa Mesa's initial voyage into district voting yielded historic results Nov. 6, including the election of possibly its youngest City Council member ever, 23-year-old Manuel Chavez, and three council members with Latino heritage — Chavez, Andrea Marr and Arlis Reynolds.
Additionally, voters chose Foley as the city's first directly elected mayor.
Starting this year, Costa Mesa shifted away from at-large voting — in which residents could cast ballots for any candidate — to a district-based system, with voters in specified areas of the city electing one person from each area to represent them. As part of that change, the council expanded from five members to seven.
Lawsuit settled over Costa Mesa Motor Inn redevelopment
The Costa Mesa Motor Inn came tumbling down in November after a legal ceasefire cleared the way for a long-stalled apartment project to move forward.
Under a settlement agreement announced in July, Miracle Mile Properties — the owner of the shuttered motel at 2277 Harbor Blvd. — reduced the size of the planned apartment complex to no more than 200 units and will designate nine units for 55 years to people with very low incomes.
Miracle Mile and the city also agreed to pay a total of $1.4 million to cover attorneys' fees for the plaintiffs — the Kennedy Commission, an Irvine-based affordable-housing advocacy group; and some former Motor Inn residents — who alleged in a lawsuit that the city had approved the development without providing relocation plans or appropriate assistance for low-income residents who would be displaced.
The city and the property owner also agreed to place $600,000 in a fund available for former long-term motel occupants, with the city contributing an additional $200,000 to the client trust fund account of the Legal Aid Society of Orange County.
Sears store at South Coast Plaza is casualty of bankruptcy
The decline of a retail icon resonated in Costa Mesa when Sears Holdings Corp. announced in October that it would close its store at South Coast Plaza.
The store, an anchor tenant since the mall opened more than five decades ago, is one of more than 140 Sears and Kmart locations the company plans to shut down as part of its recent bankruptcy filing.
Plans for the space have not been announced.
City commits to developing homeless shelter beds amid lawsuit
Following direction from a federal judge, Costa Mesa city officials committed to developing 62 local emergency homeless shelter beds.
Twelve of those will be provided through a partnership with College Hospital — an acute-care facility at 301 Victoria St. — and made available to people suffering a mental health crisis. Plans for the 50 other beds haven't been revealed.
City officials said in September that they hope the beds will satisfy U.S. District Judge David Carter, who is presiding over a lawsuit filed in January against Orange County and the cities of Costa Mesa, Anaheim and Orange on behalf of homeless people cleared from a former encampment along the Santa Ana River.
Carter has threatened an order preventing cities from enforcing their anti-camping ordinances or citing homeless people for sleeping in public and called for cities to develop enough emergency and transitional beds to serve 60% of the 2,584 unsheltered people documented during a 2017 countywide count.
Righeimer and Mensinger settle police union lawsuit
After a lengthy legal battle, now-former City Council members Steve Mensinger and Jim Righeimer, as well as Righeimer's wife, Lene, agreed to settle a civil lawsuit they filed in 2013 alleging that the Costa Mesa Police Assn. and a law firm that once represented the union had intimidated and harassed them for political gain.
The agreement, announced in July, calls for Mensinger and the Righeimers to receive $607,500. The vast majority of that will come from the now-defunct law firm Lackie, Dammeier, McGill & Ethir, which formerly represented the police union; Christopher Joseph Lanzillo, an investigator the firm hired; and Lanzillo's business, Big Giants Investigations, "and/or their insurers."
Authorities have said Lanzillo and another private investigator, Scott Alan Impola, were working for the law firm and trying to dig up dirt on Mensinger, Righeimer and then-council member Gary Monahan in the months leading to the city's heated 2012 election. They were accused of illegally tracking Mensinger with a GPS device and making a fake DUI report against Righeimer.
Lanzillo pleaded guilty in September 2016 to four felony counts and was later sentenced to 364 days in county jail and three years' formal probation. Impola, who had pleaded not guilty to all charges, died of natural causes in July 2017.
The police association has consistently maintained it had no previous knowledge of any wrongdoing.
Orange County Fair sets attendance records
The 2018 Orange County Fair drew the largest attendance in the fair's 128-year history — 1,470,636 visitors during its 23-day summer run.
That easily eclipsed the previous record of 1,400,280 in 2011.
In addition, the 86,334 fair-goers on July 28 set a new standard for single-day attendance.
OC Fair & Event Center delays proposed master site plan
In the face of persistent public opposition, Orange County Fair Board members decided in April to pump the brakes on a controversial master site plan for the OC Fair & Event Center in Costa Mesa.
Opponents of the plan raised several issues, among them its estimated $169-million total price tag. But by far the most contentious component was the proposed demolition of the Orange County Fairgrounds Equestrian Center, which is on about 7.5 acres on the northeast corner of the 150-acre state-owned fairgrounds.
Twitter @LukeMMoney
---