Costa Mesa chooses Mercy House to run local homeless shelter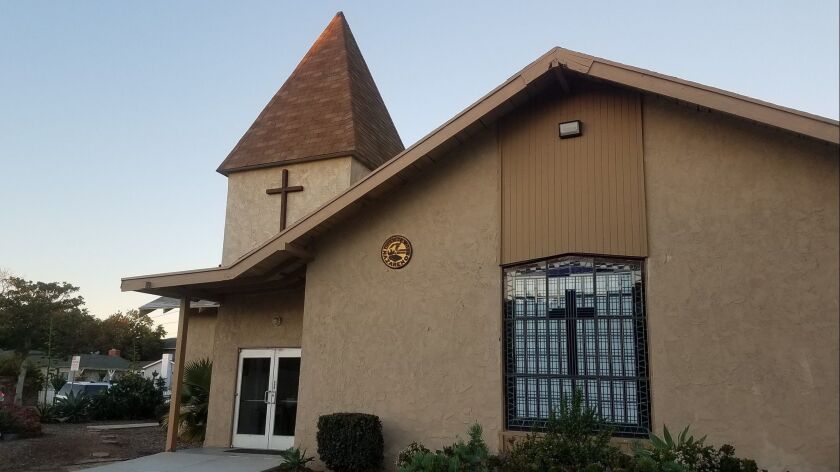 Costa Mesa's plans for a local homeless shelter continued to crystallize Tuesday night as City Council members unanimously tabbed Mercy House Living Centers to run the facility.
The decision authorizes paying the Santa Ana-based nonprofit up to $1.457 million annually to operate a temporary 50-bed "bridge shelter" planned at Lighthouse Church of the Nazarene in the Westside. The shelter would transition to a longer-term location down the line.
Mercy House's contract is initially for two years, with three additional one-year options.
"We're putting out a message to the community — the community that's living in homelessness and also the greater community — that we're not going to tolerate people living on the streets anymore," said Mayor Pro Tem John Stephens. "It's not humane, it's not good for our city and it's not good for the poor souls who find themselves in that circumstance."
Mayor Katrina Foley called the vote "another step in our efforts to restore safety and security to families in Costa Mesa and to businesses in Costa Mesa, and those families include people who are experiencing homelessness."
"It's unimaginable what you might experience if your son or your daughter had to endure living on the streets, living in trash enclosures, camping out in the parks under a tarp," she said. "We are not only not going to tolerate people living on our streets anymore, but we're going to save lives."
Mercy House already manages or provides supportive services for more than 900 emergency shelter beds, as well as hundreds of other low-income and permanent supportive housing units, according to the application it submitted to the city. Its portfolio includes the Bridges at Kraemer Place shelter in Anaheim, which city officials say closely resembles the type of facility planned for Costa Mesa.
Costa Mesa's shelter would be reservation-based, with no walk-ups allowed. Mercy House would be responsible for transporting clients to and from the facility and would "work cooperatively with city staff to establish designated pickup/drop-off locations," according to the application.
Trained guards would be at the shelter at all times, and personnel would conduct patrols in the area to promote safety, clean up any litter and engage with neighbors.
The city's plan is for the interim Lighthouse Church shelter at 1885 Anaheim Ave. to eventually give way to a more permanent site, preferably in the commercial and industrial area near John Wayne Airport.
While council members were supportive of Mercy House, some questioned the process for awarding the contract. Because they needed to get a shelter up and running in relatively short time, city officials eschewed the typical bidding process, opting instead to approach three potential operators and see whether they would be interested in the job. Those organizations had a week to complete and submit their proposals.
Two of them — the Illumination Foundation and the Salvation Army — did not submit formal applications, leaving only Mercy House.
Councilwoman Sandy Genis said she was troubled by such a quick turnaround for bids, particularly given the contract's expense.
"I have no problems with Mercy House whatsoever, but, at the same time, you don't have your bathroom remodeled by the first guy you talk to … even if he's a great guy," she said.
Others, though, said the compressed timeline was a matter of necessity.
"This is a train; we are moving," said Councilwoman Andrea Marr. "And if it seems like we're rushing, it's because we are — because every day that goes by, that's one more person that's sleeping on the streets or one more encampment pops up. It's a day that we are wasting."
Officials said time also is of the essence because the city is pushing to comply with direction from U.S. District Judge David Carter, who is presiding in a lawsuit filed against Orange County and the cities of Costa Mesa, Anaheim and Orange on behalf of homeless people cleared from a former encampment along the Santa Ana River.
Carter has called for cities to develop enough transitional and emergency beds to serve 60% of the unsheltered people documented during a 2017 countywide count.
That metric would give Costa Mesa a target of 62 beds — 50 of which would be in the new shelter. The others would be provided through a partnership with College Hospital, an acute-care facility at 301 Victoria St., and made available to people suffering a mental health crisis.
Reaching the court-set goal would allow Costa Mesa to resume enforcing its anti-camping laws for the first time in months, officials said.
---
All the latest on Orange County from Orange County.
Get our free TimesOC newsletter.
You may occasionally receive promotional content from the Daily Pilot.