Vanguard University wins Costa Mesa City Council approval for long-sought campus master plan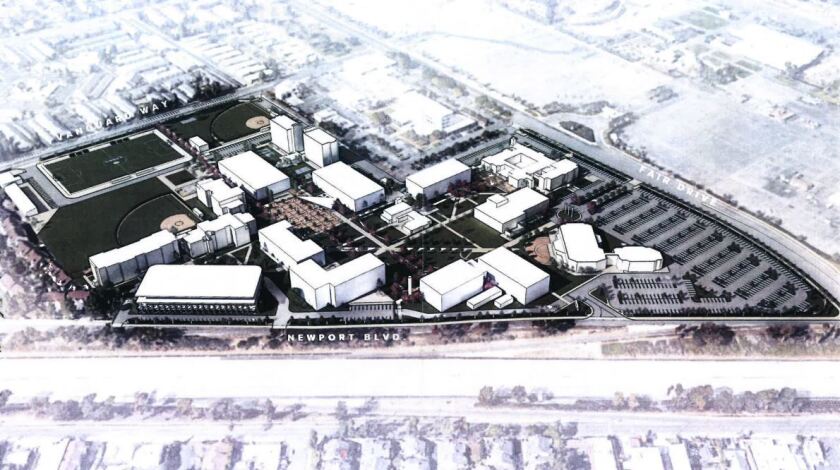 Ten months after publicly unveiling the proposal in City Hall, Vanguard University secured Costa Mesa City Council approval of a master plan that will chart the long-term physical future of its campus to accommodate planned enrollment growth.
Council members on the winning side of the 5-2 decision said the vote wasn't an easy one, but that they had to strike a balance between the interests of the private Christian university and the concerns of nearby residents who have long objected to one particular component.
"We live here just like you do, and we have to weigh this with some balance, and we have to look at what the legal rights are of all parties concerned," Councilman Allan Mansoor told the crowd at Tuesday's meeting. "I can see no legal reason to say no to this."
All told, the plan outlines 12 separate projects that will reshape Vanguard's 38-acre campus at 55 Fair Drive. Among them are building a 300-bed dormitory, adding a four-level parking structure along Newport Boulevard, replacing the gymnasium and science, technology, engineering, math and kinesiology facilities, and constructing a new student center.
The master plan — which previously won approval from the city Planning Commission before being pulled up to the council for review — will allow Vanguard's enrollment to grow from 2,098 students to as many as 2,700, university officials said.
Council members Arlis Reynolds and Andrea Marr, whose district includes Vanguard, voted against the master plan.
"I just feel like we're putting a square peg in a round hole," Marr said. "If we're going to constrain the size of your building — when you can access it, what you can use it for — we're just setting ourselves up for failure in the long run."
She was referring to the project that has dogged the master plan throughout the city review process: the relocation of Vanguard's maintenance and operations facility to the southwest corner of the campus.
Some nearby residents living along Vanguard Way — particularly those in the Newport Landing community next to the university — have steadfastly opposed the concept, maintaining that it will spoil their views, lower their property values, subject them to disruptive noise, bring dangerous delivery-truck traffic to the area and harm their general quality of life.
University officials, on the other hand, said they have made several concessions to address residents' concerns, including agreeing to set the facility farther back from the property line, limit its height to 22 feet and restrict outside noise-generating work to weekdays between 8 a.m. and 6 p.m.
They said they also studied alternative sites, but eventually determined that locating it elsewhere could create problems with on-campus vehicle circulation, safety and parking or force the costly relocation of other facilities.
"We listened and tried to produce a project that balanced the interests of both the university and the neighbors," Vanguard President Michael Beals said Tuesday.
In a previous hearing, Beals said the "30-year campus master plan will continue to grow the university's academic rank and regional position as a residential liberal-arts college right here in the heart of Costa Mesa."
As part of their approval, council members requested and Vanguard agreed to a handful of additional conditions on the maintenance and operations facility, including that semi-truck deliveries be limited to no more than twice a week between the hours of 10 a.m. and 3 p.m., that any trash compactors be contained in an enclosed structure and that the design of the facility itself come back to the city Planning Commission for review once it's finalized.
"I feel, with our conditions of approval, that this is a fair deal," said Councilman Manuel Chavez.
The council also asked staff to monitor speeds along Vanguard Way and see whether additional police enforcement or traffic-calming measures are necessary.
---
All the latest on Orange County from Orange County.
Get our free TimesOC newsletter.
You may occasionally receive promotional content from the Daily Pilot.