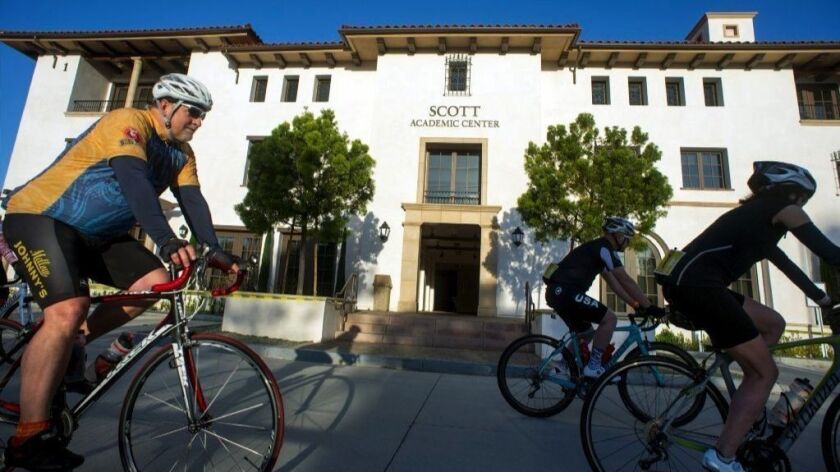 It was a mixed bag for Vanguard University on Monday as the Costa Mesa Planning Commission shelved the bulk of its proposed campus master plan but approved development of a new student center.
Commissioners were largely complimentary of the overall 12-project master plan, which would guide development of the private Christian university's 38-acre campus to accommodate planned enrollment growth. But they delayed a decision on it until Aug. 27 to give Vanguard more time to address concerns of nearby residents.
"Broadly speaking, I think 99% of this master plan is really terrific," said commission Vice Chairman Byron de Arakal. "I think it modernizes the campus. I think it achieves a longer-term vision of growth for the school."
The primary sticking point for de Arakal and other commissioners Monday — as was the case when the commission last considered the master plan in May — was the proposed relocation of Vanguard's maintenance and operations facility to the southwest corner of the campus at 55 Fair Drive.
More than a dozen residents — primarily in the Newport Landing community next to the university — urged the commission to reject that concept, saying they feared the facility would spoil their views, bring dangerous truck traffic near their homes, create disruptive noise and diminish their overall quality of life.
Residents also questioned how the project would affect heavily used street parking spaces along Vanguard Way.
University President Michael Beals said Vanguard officials studied seven possible sites for the maintenance and operations facility and determined the chosen one "is the proper location; it's the best location."
"We have sought to balance the interests of the parties that are involved," he said.
Since the master plan last went before the commission, Vanguard agreed to increase the facility's setback and limit its height to a single story in a bid to lessen neighbors' concerns, university officials said.
Because public opposition focused almost universally on that one aspect of the master plan, commissioners said they hope the two-month delay will give Vanguard and residents the chance to hammer out a compromise.
"Its location is a problem, and I think there are alternatives that could work out," said Commissioner Jon Zich, whom the City Council appointed to the panel last week. "We might find that they don't work out, but I think there's time to look at the alternatives."
Commissioner Jeffrey Harlan also said he hopes additional dialogue will result in a solution.
"I believe we should operate from a principle of good planning, and what I see here with respect to the location of the maintenance and operation facility is not good planning," he said.
The new student center the commission approved would replace the existing campus cafe and bookstore.
Vanguard officials are working through the city permitting process for that facility and hope to finish it in time for the 2019-20 academic year — the university's centennial.
Twitter @LukeMMoney
---