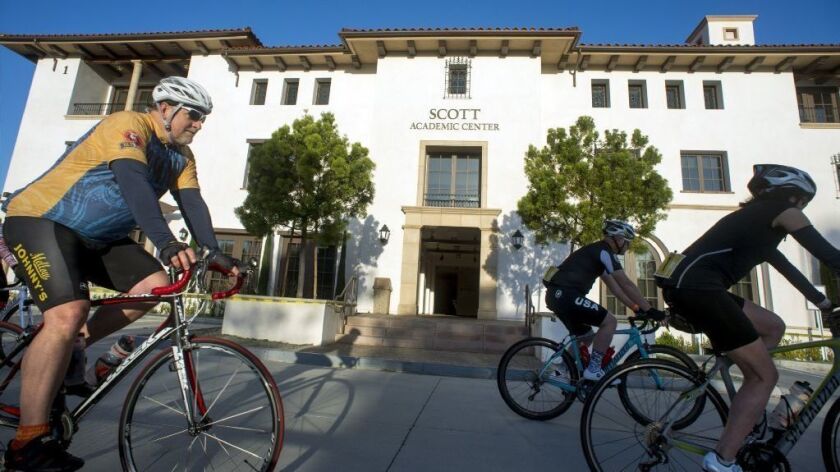 Vanguard University has unveiled its vision for its future — a new master plan providing a comprehensive blueprint for development of the Costa Mesa campus over the next decade.
The document, which will go to the city Planning Commission for review Monday, details 12 building projects that would substantially remake the private Christian university at 55 Fair Drive.
They also would enable Vanguard to accommodate up to 2,700 students on its 38-acre campus — a notable uptick from the current enrollment of about 2,100.
Most of the projects in the master plan are undated. However, Vanguard already has submitted building plans for a proposed student center that would replace the campus bookstore and cafe, according to planning documents.
Also among the proposals are a 400-space parking structure along Newport Boulevard; a 300-bed dormitory building; replacing the gymnasium and science, technology, engineering, math and kinesiology facilities; and relocating maintenance and operations facilities to the southwest corner of the campus.
Should the city approve the master plan, construction on the student center could start this year, documents state.
The master plan also would allow the demolition of former barracks that were part of the old Santa Ana Army Air Base. Bob Hope once performed for troops at the current gymnasium, known as the Pit.
David Vazquez, director of external relations at Vanguard, said the university appreciates the buildings' history, though none of them has protected status under local, state or federal laws.
Monday's commission meeting is the city's first public hearing on the master plan, but the proposal already has come under criticism from some nearby residents.
Kent Mora, a board member with the Newport Landing Homeowners Assn., said his community is particularly concerned with Vanguard's proposal to move maintenance and operations to its property line.
The proposed yard, which would include a truck loading dock, would replace soccer fields.
Mora said he fears having the maintenance and operations yard so close to his kitchen window not only would drive down his property's value but also impact his family's health and safety.
Vazquez said the university's neighbors "will be included as stakeholders during the design process to ensure a result that will strengthen our campus and community."
"Although Vanguard University has outlined the footprint of the proposed maintenance and operation yard included in the campus master plan, we have not started designing this facility," he said in a statement Friday. "Once the design process begins, we are committed to including our neighbors in the conversation to ensure Vanguard's need to improve the campus for students is pursued in step with our community's needs."
Mora, however, is unconvinced.
"The whole line they feed you about them working with the community is a complete farce," he said. "They all know me, they all have [my] email address and they also all have my cellphone number. Not a single one reached out to discuss any of this until we spoke out at the last Planning Commission meeting."
Commission consideration of the master plan was postponed from that meeting April 23, but some community members spoke about it then.
Monday's meeting starts at 6 p.m. at City Hall, 77 Fair Drive.
Staff writer Luke Money contributed to this report.
DANIEL LANGHORNE is a contributor to Times Community News.
Twitter: @DanielLanghorne
---