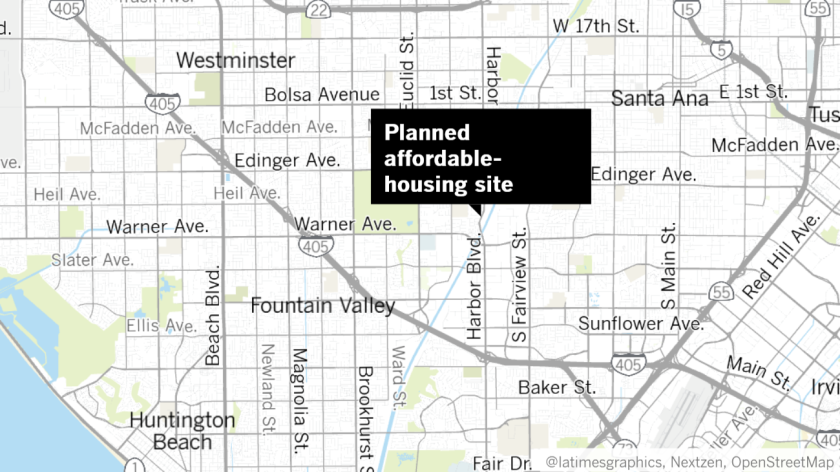 Fountain Valley will loan a developer $6.4 million interest-free to build a 50-unit affordable-housing complex along Harbor Boulevard.
The City Council unanimously agreed Tuesday night to loan Related Cos. of California the money to buy a privately owned 2-acre site at 16790 Harbor. The parcel is currently a fenced parking lot adjacent to an auto mechanic shop.
Construction could begin in late 2020 or early 2021, said City Manager Rob Houston, who described the city as a "silent partner" in the deal.
If the developer defaults or its plans are unsuccessful, the city will take the deed to the property. Related Cos. has 60 years to pay back the loan.
Related did not immediately return a call seeking comment Wednesday.
The state requires cities to plan for lower-income housing using money from a locally administered "low and moderate housing asset fund." Fountain Valley has about $12 million in its fund, feathered by the 2017 sale of four city-owned acres on Warner Avenue at Newhope Street. The Warner land was supposed to be used for affordable housing but hit a snag because of legal constraints on the property's title, leading the city to look elsewhere.
The Southern California Assn. of Governments determined that Fountain Valley needs 358 new housing units for all income levels built between 2014 and 2021. Of those, 207 must be for people with "extremely low," "very low," "low" and "moderate" incomes. "Low income" in Orange County is defined by the U.S. Department of Housing and Urban Development as 80% of the area median income of $84,450 for a family of four or $58,450 for a single person living alone.
At of the end of 2017, no units had been built in the "extremely low" to "low" range, and only a handful of new accessory dwelling units, or "granny flats" — apartments attached to or within existing single-family homes and considered a type of affordable housing — came online in 2018, city staff said.
All of the Related project's residents will be in the "extremely low" to "low" income range, with "extremely low" being 30% of the area median income and "very low" at 59.5%. Eight of the units will be supportive housing to keep recently homeless people from going back to the streets.
Celeste Brady, the city's affordable-housing legal consultant, told the council the city risks legal action by housing advocates if the city doesn't satisfy its state guidelines.
---