Huntington Beach air show will return with new name, new leadership and new vision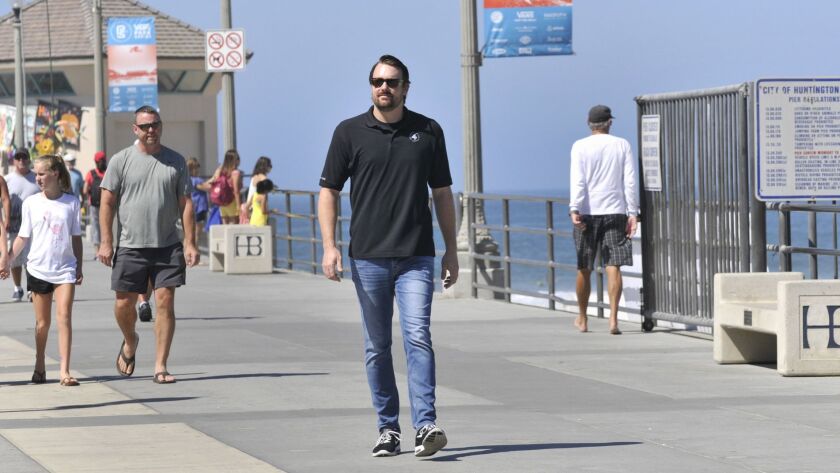 The popular air show that began in Huntington Beach two years ago will return under new ownership in October with an organizer's pledge to make the renamed exhibition the largest "outdoor lifestyle" event in California.
"We're going to be doing some big changes, some of which may be deferred to 2019, due to the impact of the timeline we're dealing with," said Huntington Beach resident Kevin Elliott, who took the helm of the event in June.
The aviation aficionado said he hit the ground running to "cram 24 months of work into four months" for an event he says has "great regional appeal." Military aspects are already being requested for 2020, he added.
The free show slated for Oct. 19-21, originally known as the Breitling Huntington Beach Airshow and now called the Great Pacific Airshow, features civilian and military aviation performers roaring over the beach before thousands of spectators.
"At the end of the day, Huntington Beach is our host city and venue, but it's a Southern California air show," Elliott said. "It's a tremendous impact for Southern California. We wanted a name to reflect that."
Elliott attended the inaugural show with his wife in 2016 and was inspired to offer assistance with plans to one day "bring it to local ownership." His Huntington Beach-based design company, Code Four, will help produce this year's event.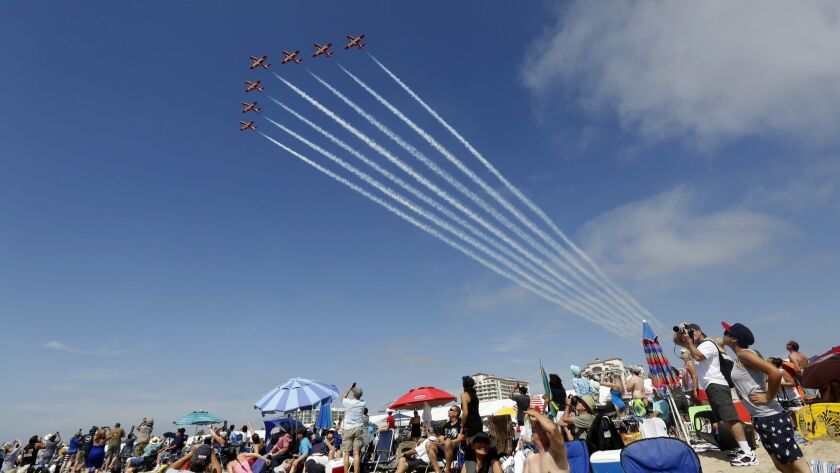 Popular acts such as the Air Force Thunderbirds will return this fall for a 75-minute air demonstration featuring 40 maneuvers that include a mix of formation flying and solo routines.
The lineup also includes Blackstone Airways, FedEx 757, Lyon Air Museum's Douglas C-47 and demonstrations from the Huntington Beach Police Department Air Support Unit.
New viewing opportunities, such as paid seating on the pier or a premium viewing area on the beach, will be offered, according to Elliott.
Event spokeswoman Barbara Caruso said Breitling, a Swiss watchmaker, will not return as the title sponsor; the company divested from aviation activities after being sold.
City leaders raised concerns about the event's financial future last year after the inaugural show in 2016 lost about $400,000, despite attracting more than 560,000 visitors.
Those concerns were quashed in February after a study by city staff concluded that 2017's air show — which drew more than 2 million spectators — helped local businesses and carried no additional taxpayer costs.
City expenses neared $169,000, including about $65,000 for police. However, Huntington Beach collected $92,000 in parking revenue, and the remaining costs, about $77,000, were recouped from the show promoter.
Mayor Mike Posey said in a statement that "our community has embraced the air show for the special experience it is — bringing together families and friends for a patriotic event. The air show is also important to the financial bottom line of the city of Huntington Beach, local business and beyond."
For more information, visit pacificairshow.com.
Twitter: @vegapriscella
---
All the latest on Orange County from Orange County.
Get our free TimesOC newsletter.
You may occasionally receive promotional content from the Daily Pilot.