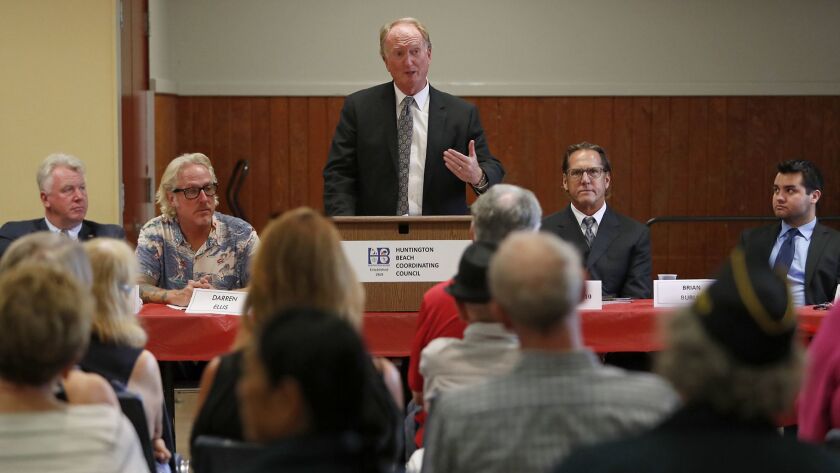 Fourteen candidates campaigning for four available seats on the Huntington Beach City Council agreed during a candidates forum Monday that the city needs to be maintained as a suburban beach town.
The Huntington Beach Coordinating Council presented the forum at the Murdy Park recreation center, where 14 of the 15 candidates shared their plans if elected Nov. 6. Local lawyer Charles "CJ" Ray was absent.
In a fashion similar to a candidates forum in Sunset Beach in September, candidates were given about four minutes each to discuss their visions for the city.
All the candidates addressed hot-button issues that have dominated this year's forums, such as high-density development and homelessness.
Darren Ellis, a business owner, said high-density development isn't meant for the beach community but that fourplexes and eightplexes could be located in "common-sense places."
"Huntington Beach isn't a metropolis that can just expand forever," Ellis said. "We do have borders and have to be conscious [that] only so many people and so much traffic … can be handled here. … It gets to the point where quality of life is affected."
Dan Kalmick, a city planning commissioner, proposed amending the local zoning code to address high-density development and help make Huntington look how residents want.
Incumbent Erik Peterson, the current mayor pro tem, said he would use a "common sense" approach by listening to residents and collaborating with developers for infrastructure that best suits Surf City.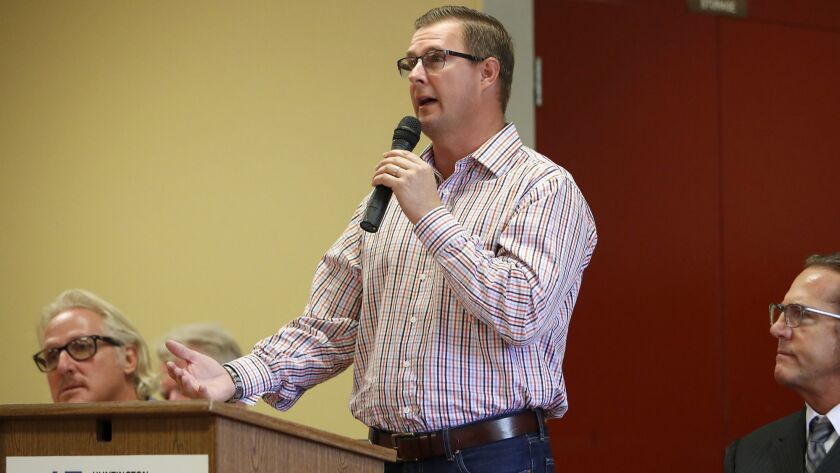 Ron Sterud, vice chairman of the city Finance Commission, said he and Peterson are the only candidates with a "perfect track record" of fighting high-density development throughout Huntington Beach. He cited his opposition to a proposal to build a hotel on the site of Hilltop Liquor in a residential area.
Incumbent Mike Posey, the current mayor, said that under his leadership in an effort to retain local control, the council directed City Attorney Michael Gates to investigate ways to exempt the city from Senate Bill 35, which went into effect in January. The state law forces cities that are behind on their housing goals to streamline certain housing projects by eliminating some steps in the approval process.
Posey also said he would go to Sacramento in two weeks to seek funding for the city's Homeless Task Force.
Incumbent Billy O'Connell discussed some of his accomplishments before and during his council term.
"Some people talk, some people think and some people tell," O'Connell said. "I've done it, I'm doing it and continue to do for you."
He talked of how he founded the nonprofit Colette's Children's Home, which has helped more than 4,000 homeless women and children get off the streets. He said he also has a record of voting against high-density development in residential areas.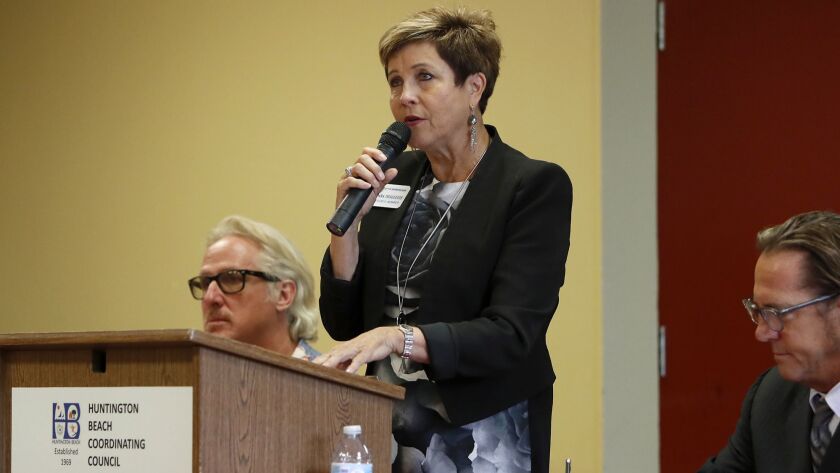 Incumbent Barbara Delgleize said she wants to serve another term to help hire more police officers, continue working on plans to address homelessness and help maintain the city's 77 parks.
New candidates such as Brian Burley and Kim Carr pledged their support for residents.
Burley, an information technology analyst, said he would stand up against special-interest groups and urged voters to read the 30-year budget he drafted for Huntington, which addresses issues such as rising employee pensions.
Carr shared how a council member seven years ago helped her after she got the runaround when a "sleepy" storage container business became a "construction staging area" behind her home.
"It's imperative to have people on the City Council who listen to our residents, respond to our residents and take action," Carr said.
Longtime resident Don "DK" Kennedy said the council is making headway on complex issues such as sober-living homes but that he believes it has been complacent.
Amory Hanson, the youngest candidate at age 21, said one of his goals is to create a cultural and community center.
Shayna Lathus, a teacher in the Santa Ana Unified School District, told of her involvement with the Leukemia & Lymphoma Society and St. Baldrick's Foundation, a childhood cancer charity. Lathus said she wants to work with surrounding communities to provide services for the homeless population.
"As a middle school teacher, I know how to get people together who don't always want to work together, and that's something I'm going to bring to the table if I'm a City Council member," Lathus said.
Kevin "KC" Fockler, a retired teacher and former businessman, said his vision is to put "the town back in Surf City" by focusing on young people, recruiting technology-based businesses and helping public safety officials.
Michael Simons, a longtime Huntington Beach Union High School District trustee, said his experience on the school board would serve him well if elected to the council.
"How do you come to an agreement and move the city forward?" he said. "I've done that at the high school district to try and build consensus."
Twitter: @vegapriscella
---