Huntington Beach opposes county supervisor's proposal for homeless shelter
A proposal made this week by Orange County Supervisor Shawn Nelson to build a temporary homeless shelter in Huntington Beach is being met with resistance by city officials and Chairwoman Michelle Steel, whose 2nd District includes Huntington.
Nelson's suggestion, made during Tuesday's Board of Supervisors meeting to county CEO Frank Kim, would also include shelters in Santa Ana and Irvine.
Huntington's would be on county-owned land at 18111 Gothard St., near Central Park.
The city issued a statement Wednesday on its Facebook page denouncing the idea, calling Nelson's plan "absolutely wrong."
The statement says the city was not consulted before Nelson put forward the idea and that it would be problematic for the county to "force" the city to host a shelter.
Officials noted that the property, formerly used as a landfill, is zoned as open space and contains environmentally sensitive coastal sage scrub. It is monitored for methane.
Steel said in an emailed statement that before moving forward the board will review whatever information is gleaned from county staff's review and analyze Nelson's proposal.
"It's my understanding from initial discussions with staff that the Gothard site is not feasible, in part, because of its former use as a landfill," Steel said. "I find it unfortunate that a location would be singled-out in the 2nd District without additional information or resident input. I will not be supportive of any site in the 2nd District without hearing from local residents first."
City spokeswoman Julie Toledo said the county's power may usurp the city's on the issue.
According to a memo prepared by Nelson, up to 200 people would be housed at each shelter, which would offer cots and bathrooms.
Nelson said several areas were analyzed before picking the three locations.
"The homeless situation in our county is a crisis for which no single solution exists to adequately remedy the matter," his memo says. "As such, the county must evaluate and experiment with various solutions to offer assistance to those in need of shelter and support."
Councilman Billy O'Connell, executive director of Colette's Children's Home, which helps homeless women and mothers with children, called Nelson "out of line."
O'Connell said Nelson has failed to rectify the homeless situation in other parts of the county, so he is pushing the issue into other cities outside his district.
Nelson oversees the 4th District, which includes areas of Anaheim, Buena Park, Placentia, Fullerton and La Habra.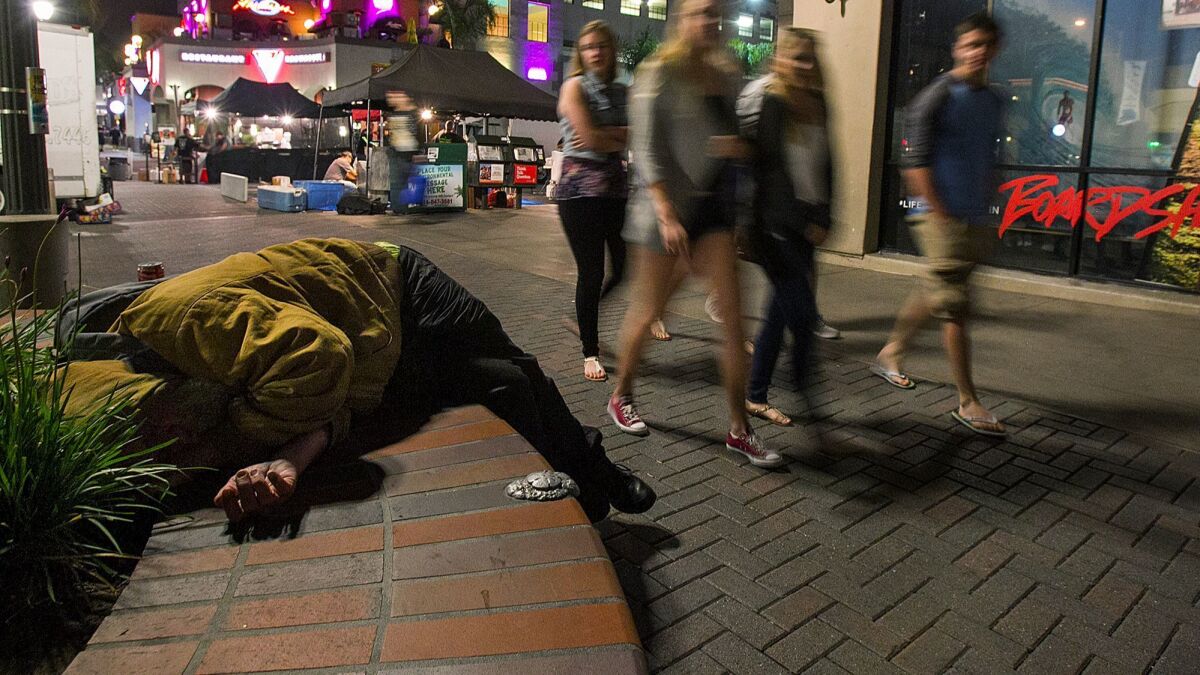 O'Connell and Toledo said Huntington Beach has done a lot for the homeless.
The city estimates that there are less than 250 homeless in the city, though the number fluctuates, Toledo said.
In 2016 Huntington Beach assisted 292 people, housed 64 and willingly relocated 31 others, according to city data.
Twitter:@benbrazilpilot
All the latest on Orange County from Orange County.
Get our free TimesOC newsletter.
You may occasionally receive promotional content from the Daily Pilot.