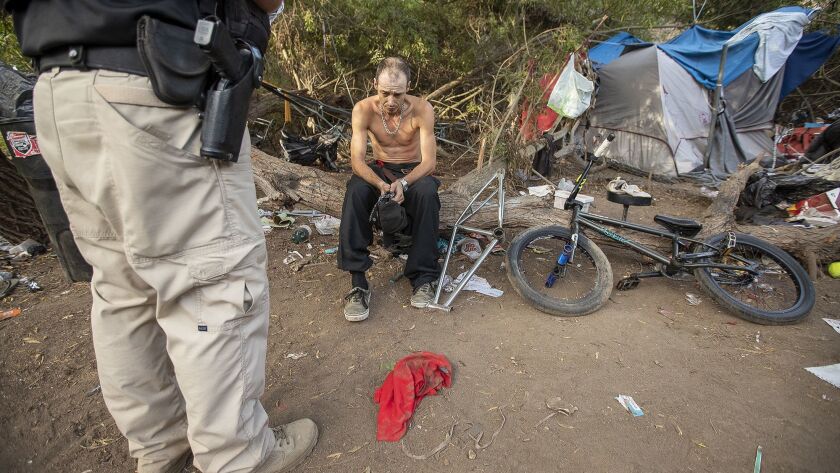 A plan to expand two shelters in unincorporated Midway City to serve Orange County's growing homeless population is at a standstill as officials continue brainstorming sources of financing.
The plan is a partnership among Huntington Beach, Westminster, the county and American Family Housing, a nonprofit that provides housing and other services to the homeless. The proposal would add 55 beds to the Midway City shelters, which currently have a total of 20.
Huntington Beach Mayor Mike Posey said in an interview that they are exploring ways to fund it.
Steve Harding, senior director of external relations for American Family Housing, said the process is in the discussion phase and that there is "nothing further to report on."
Officials have declined to specify the shelters' location, and it isn't clear how much money the cities and the county would contribute to the proposal. But Huntington Beach officials have said the City Council would have to vote on the plan before it moves forward.
A council study session on homelessness is tentatively scheduled for Oct. 15.
Orange County cities are struggling to figure out how to address the homeless issue after U.S. District Judge David Carter tasked cities in April with identifying potential shelter sites after a county proposal for temporary ones in Irvine, Laguna Niguel and Huntington Beach was scrapped amid protests from residents and city leaders.
Carter is presiding over a lawsuit filed in January by homeless advocates who sought to halt the removal of an encampment along the Santa Ana River trail.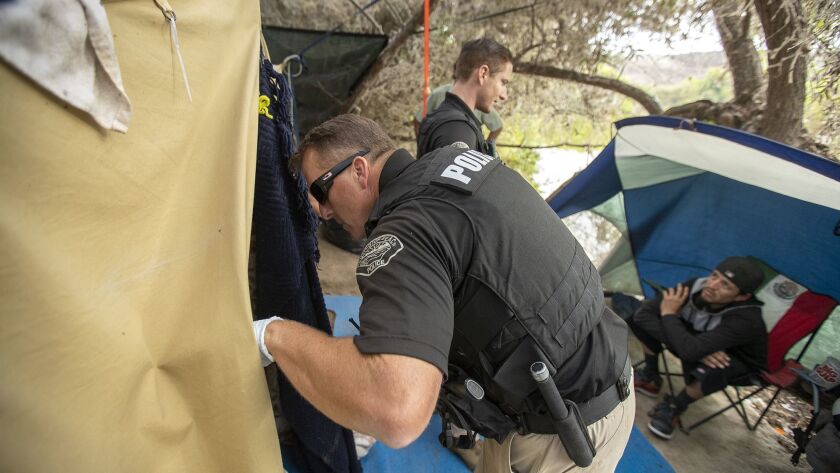 In Huntington Beach, a task force that began about three years ago is trying to determine through trial and error the best ways to help local homeless people. The task force includes outreach coordinator Cathy Lukehart, two full-time police officers and four case managers.
The growing and evolving homeless population, Lukehart said, makes it difficult to formulate immediate solutions when homeless people often are dealing with mental health and addiction issues.
The city partners with several nonprofits across the county and at times receives free assistance from facilities that handle such matters. Individuals and churches also contribute donations that cover expenses related to helping the homeless, such as bus passes. In two cases, donations helped people with a rent payment, Lukehart said.
"We try really hard to not put Band-Aids on things," she said. "We try to put people in situations to help make a meaningful change."
Officers Gabe Ricci and Daniel Chichester of the Homeless Task Force play a vital part in the effort. Chances are, Lukehart said, a homeless person will know Ricci, a veteran of the task force, and go to him when he or she is ready to ask for help.
On Wednesday, Ricci and Chichester visited a homeless encampment near homes off Ellis Avenue and woods near Sully Miller Lake. They said they had received complaints from residents for two months about homeless people gathering on a makeshift trail toward the lake.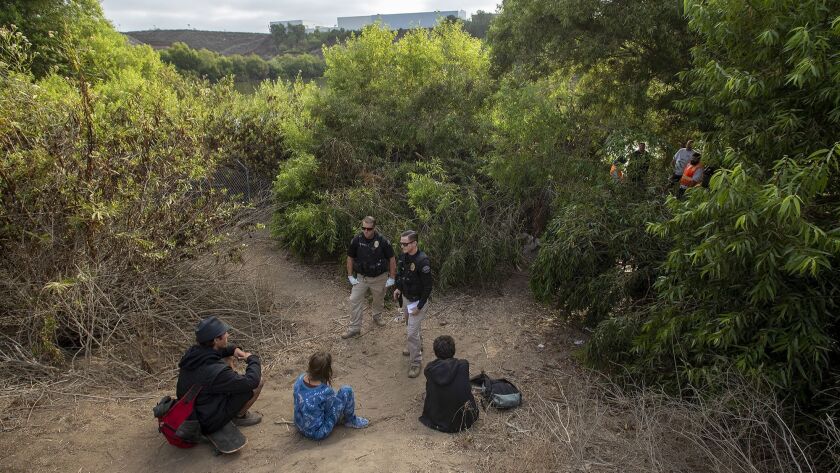 Several tents stretching about a half-mile were surrounded by debris on the ground. About eight people were in the area that morning, most of whom had already crossed paths with the officers.
Chichester approached Rigoberto Espinosa, 36, who sat on a beach chair adorned with a Mexican flag.
"Why are you still on the streets? We've offered you help before, correct?" Chichester asked.
Espinosa confirmed in an interview that he had been offered help and was directed to a shelter in Santa Ana. But the location prioritized nearby residents, he said in Spanish. He said he was discouraged and returned to Huntington Beach, where his son lives.
One person Wednesday requested help to return to Hemet. The rest were told to find shelter elsewhere but were given business cards to contact Ricci or Chichester for help.
Officers estimate 250 to 400 people are living on the streets in Huntington Beach, with 500 living in cars.
Officials can only do so much until a person decides to get help, Ricci said.
But helping even one person return home can make a shift successful for the officers. The task force is expected to have housed or relocated 226 homeless people by October, Lukehart said.
Candice, a 36-year-old Huntington Beach resident, lived in her car for two years until she received help from the task force. She asked that her last name not be used because she isn't ready for her colleagues at work to learn about her past.
Candice said she had her own business but hit rock bottom after returning to Huntington Beach from Big Bear and experiencing the price difference of living near the coast. She said she tried living with her mother in a senior housing community but wasn't allowed to stay there with her two children.
Candice said her brother took in her children while she lived in her car with her husband. Then she crossed paths with Ricci.
The task force connected her with Mercy House, a nonprofit that helped her with rent and inspired her to develop new habits and turn her life around. Candice has been employed and paying rent without help since March. She credits the task force's efforts with "giving us our life back."
"I don't feel like I've made it yet," she said. "I've got a long road to go. I still live dollar to dollar every day, but that's only because I pay my bills. I'm a productive member of society, my two children are fed and I don't waste my money on [things] I don't need today."
Twitter: @vegapriscella
---