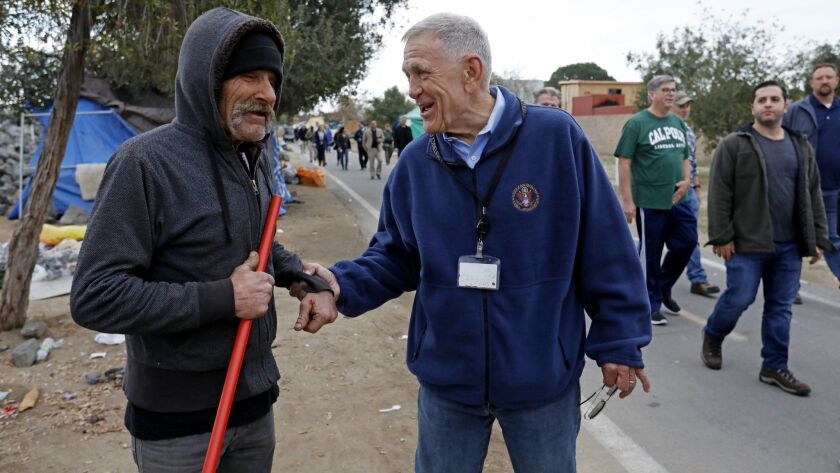 Huntington Beach officials are expected this summer to finalize a proposal to help expand two shelters in unincorporated Midway City to serve Orange County's growing homeless population.
The plan is a partnership among Huntington Beach, Westminster, the county and American Family Housing, a nonprofit that provides housing and other services to the homeless. The proposal would add 55 beds to the Midway City shelters, which currently have a total of 20.
Huntington Beach City Manager Fred Wilson and Mayor Mike Posey declined to specify the shelters' location.
It isn't clear how much money Huntington Beach, Westminster and the county would spend on the proposal. The Huntington Beach City Council will vote on the plan before it moves forward, likely in July or August, Wilson said.
"We see it as a win-win situation," he said.
American Family Housing did not respond to a call seeking comment.
Officials from Anaheim and Santa Ana have proposed new shelter sites that, combined with the Huntington Beach proposal, would add about 700 shelter beds.
Posey presented the Midway City plan to U.S. District Judge David Carter during a hearing last week. Carter is presiding over a lawsuit filed in January by homeless advocates who sought to halt the removal of an encampment along the Santa Ana River trail.
Though Posey said problems associated with homelessness are much larger than any one city can solve, he said officials wanted to "demonstrate a commitment to making some progress."
"It's a step in the right direction," he said Monday.
Homeless people were moved off the river trail this year and temporarily housed in motels around Orange County, but vouchers for those rooms have expired. Now, officials are faced with finding adequate shelter options.
Carter tasked Orange County cities during a hearing in April with identifying potential shelter sites after a plan to place temporary ones in Irvine, Laguna Niguel and a former landfill in Huntington Beach was scrapped amid loud protests from residents and city leaders.
Carter has said he can't decide where shelters should go but that he could prohibit cities from enforcing laws that ban people from camping in public spaces such as parks and riverbeds.
Posey said Huntington Beach's homeless task force, which began about three years ago and has grown to include seven city staff members, houses about 80 homeless people in the city each year.
"If we can help move people along that accept services and reintegrate them into society or reunite them with family, we'll put in the time and energy to help out," he said.
Twitter: @HannahFryTCN
---