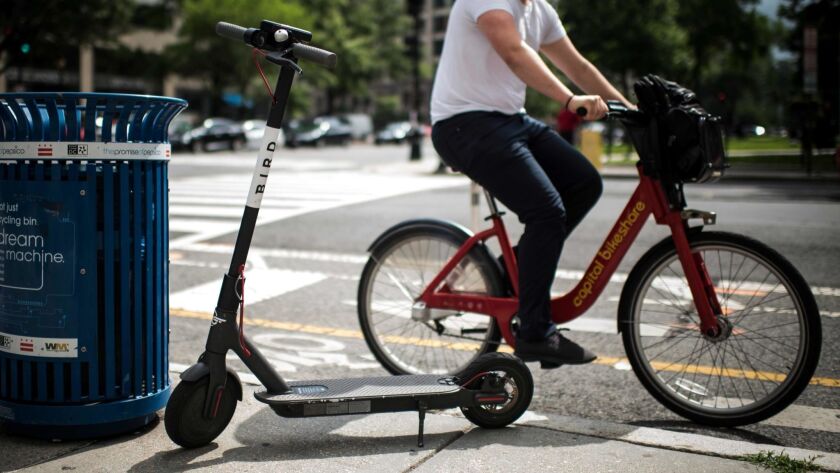 Citing public safety concerns, the city of Huntington Beach is taking steps to ban bicycle and scooter sharing services.
The City Council without discussion Monday unanimously approved the first reading of an ordinance to bar shared mobility devices and rental businesses.
The measure requires final approval at a future council meeting.
Companies such as Lime and Mobike enable customers to unlock and rent scooters or bicycles using a mobile app. In some cases, users can park the devices anywhere and relock them through the app. The business model is similar to the Lyft and Uber car ride services.
City officials contend scooters and bicycles pose a threat to public safety by creating traffic and other challenges in streets and alleys and on curbs and sidewalks, according to a city staff report.
The ordinance would make it illegal for any operator to provide, place or offer shared mobility devices in any public right of way. People also would not be allowed to ride such scooters or bikes in the city, and the devices could be impounded.
Offenders would be fined $100 for a first offense, $200 for a second and $500 for each additional violation within a one-year period.
Huntington Beach earlier placed a four-month moratorium on the services. Other coastal communities, such as Newport Beach and Santa Monica, also are grappling with the issue.
Sea Dance development wins final approval
Applicant Rick Wood of Irvine-based TRI Pointe Homes received final approval for his proposal to build 51 single-family homes on the former Franklin Elementary School site at 14422 Hammon Lane.
The City Council unanimously approved amending the site's land-use designation from semi-public to low-density residential and open space.
The city Planning Commission unanimously supported the Sea Dance project in September.
Wood's proposal calls for 51 homes, a 1.3-acre public park, private streets, public utilities and a water quality basin lot. Each unit will have a two-car enclosed garage and a 400-square-foot minimum yard area. It is unclear when construction will begin.
Several community members asked the council during the public hearing to vote for the project, saying the developer had agreed to scale it down in response to community feedback. Wood reduced the number of homes to 51 from 53, decreased on-street parking to 70 spaces from 74 and increased the public park to 1.3 acres from 1.15.
Councilwoman Lyn Semeta said it was "refreshing" to hear the comments in support of the project and praised the developer for listening to the public.
Permit parking to be required for large RVs
The council also unanimously gave final approval to an ordinance restricting recreational vehicles more than 22 feet long or 84 inches wide from parking on public streets without a permit.
Police Chief Robert Handy has said the ordinance is intended to enhance pedestrian and traffic safety and address parking issues.
The ordinance, which goes into effect within 30 days, includes a tiered penalty system of $82 for a first violation, $162 for a second and $246 for a third in one calendar year.
Twitter: @vegapriscella
---