Santa Monica tells scooter companies: You can stay — but there are new rules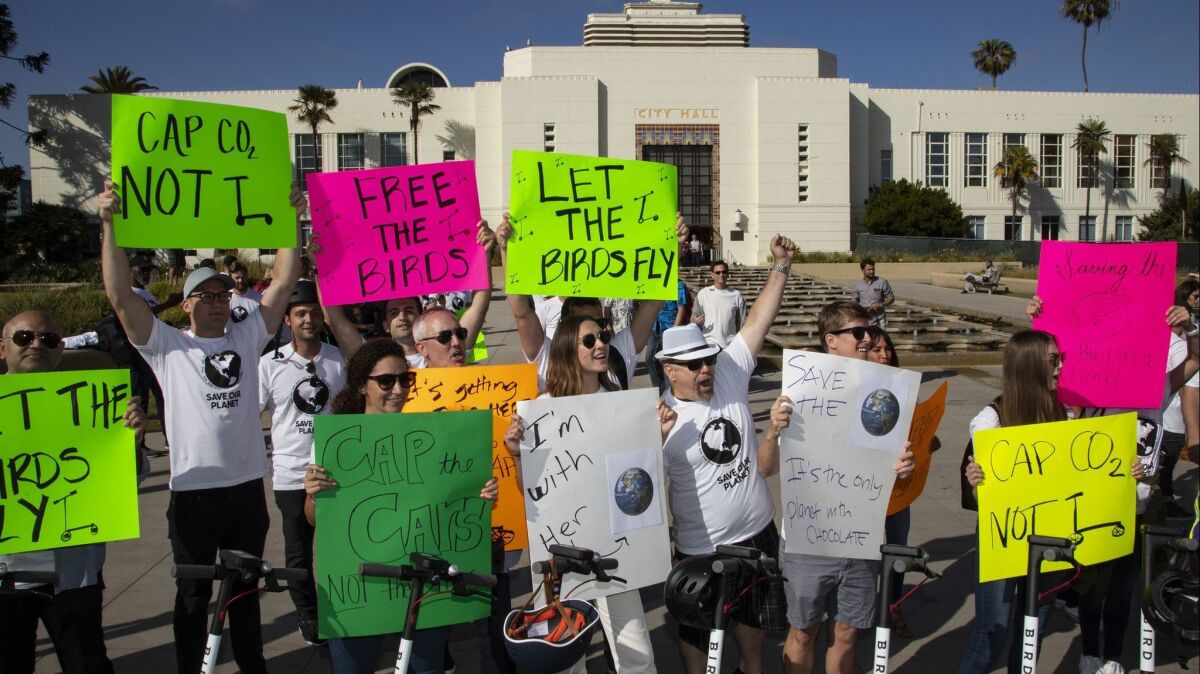 Love them or hate them, the scooters are staying in Santa Monica — at least for the next year and a half.
That was the conclusion Tuesday night after Santa Monica's City Council heard from more than 30 impassioned scooter supporters and detractors and grilled scooter rental companies Bird and Lime on how they would be good for Westside citizens. The council ultimately approved a 16-month pilot program that will allow electric-scooter and electric-bike rental companies to continue operating in the city.
"This is not a referendum on a single scooter company," Mayor Ted Winterer said during the four-hour discussion that led to the council's unanimous approval of the pilot program. "We're not saying these are the hard and fast rules. We're experimenting."
The pilot, which begins Sept. 17, was framed as a fact-finding mission to help the city craft longer-term regulations.
Cities nationwide have struggled to craft policies on the scooters. There are public safety concerns, as riders tend to drive and park on sidewalks and not wear helmets. But the scooters offer a convenient, eco-friendly and low-cost transportation option. That's appealing to cities, which want to keep traffic and pollution down but have limited funds for public transit.
The scooters have proved popular with riders, who can find the nearest available one by using a mobile app, then rent it by scanning a code on the handlebar with their phone. Both Bird and Lime charge $1 to rent a scooter, plus 15 cents per minute of use. Riders can abandon the scooters anywhere when they're done.
Under Santa Monica's pilot program, electric-scooter and electric-bike companies will have to apply for a permit and pay an annual fee of $20,000 and a per-device fee of $130. That's a lot more money for the city: Currently, the companies are paying only for a permit that, according to the municipal code, starts at $50 a year, plus a $60 impound fee for each of its scooters that poses an immediate hazard or obstructs access to buildings.
Companies that receive permits will also have to agree to create interactive safety education for riders, such as sending push notifications to customers' phones to tell them if they have been riding unsafely. They'll also have to share real-time data with the city; ensure that their scooters are evenly distributed throughout the city; establish a 24-hour hotline to field complaints; and make sure that improperly parked scooters are promptly moved.
The city will also impose a "dynamic" cap on the number of scooters each company is allowed to deploy, which will be determined by whether the company's scooters are getting enough use. A company that can demonstrate that each of its scooters is being used at least three times a day may have its cap increased, while a company that shows lower ridership will be ordered to reduce the number of scooters it deploys in the city.
The pilot proposed by city staffers had called for an initial cap of 1,500 scooters total, with the option to increase that cap to 2,250. Cities such as San Francisco and Austin, Texas, have implemented scooter caps as part of their pilot programs. But the cap was a point of contention during the meeting, with council members Gleam Davis and Terry O'Day expressing concern that such limitations would encourage scooter companies to deploy their devices only in high-density areas, leaving outlying residential parts of Santa Monica without access to the scooters.
Bird and Lime had also opposed the cap, in large part because they are jostling for market share, and the more scooters they deploy, the more customers they're likely to gain. Both companies are backed by venture capital funds, which typically measure a company's success on how rapidly it has grown.
Bird organized a Tuesday rally outside City Hall to make an environmental sustainability argument against the proposed cap. Around 50 Bird supporters showed up, many wearing shirts emblazoned with the phrase "Save our planet," and carrying colorful signs that read, "Let the birds fly," "More birds less traffic" and "Free the birds."
David Estrada, chief legal officer for Bird, was one of a handful of speakers to talk about how Bird can help Santa Monica achieve its goals related to climate change, and why the cap would hurt progress.
Estrada said around 1,500 to 2,000 Bird scooters operate in Santa Monica on a daily basis. The proposed pilot program would have limited Bird to 500 scooters.
Deputy City Manager Anuj Gupta and the city's mobility division manager, Francie Stefan, had said that the proposed cap sought to level the playing field for scooter companies, so that competitors wouldn't try to one-up one another by flooding the city with more scooters.
Gupta said Wednesday that adopting a dynamic cap will make things less predictable and could result in a surge in the number of scooters, but that he felt good about the decision because council members made clear that the increase will happen only if there is demand.
Several issues remain unresolved. California law requires people who ride motorized scooters to wear helmets, but compliance in Santa Monica is low — City Manager Rick Cole put it at 2%. It's also unclear where scooters should be parked if not on sidewalks, and what the city will do about riders who behave recklessly.
The scooters "propose an unusual enforcement challenge," Cole said. "You can't run them down with foot patrol, you can't chase them down with bike patrol, and it's dangerous to pursue folks in a squad car."
"So maybe we should get the Police Department some scooters," Councilwoman Gleam Davis said, to laughter.
At least a dozen Santa Monica residents pleaded for the city to crack down harder on the scooter companies, increase ticketing for riders who break rules (so far, the city has issued 668 traffic citations to scooter riders, according to city data), and think twice before issuing permits to homegrown start-up Bird, which launched last year without first consulting the city.
"For nine months, since Sept. 17, Bird droppings have been lining the city," Harriet Epstein, a Santa Monica resident, said at the meeting. "The City Council should concentrate more on the safety aspect than on whether [Bird] can survive and how many scooters they need to make it profitable."
Prohibited acts such as riding scooters on sidewalks, riding without a helmet, and improper parking remain rampant, posing a safety issue for pedestrians, Epstein said.
Bird struck a conciliatory tone at the meeting, with Estrada saying the company hadn't been perfect and wants to "clean that up." He also chalked up some of Bird's missteps to its youth, saying that the company had been around for only nine months and that the council should "think about what cars were like when they'd been around for nine months."
Councilwoman Sue Himmelrich shot down the comparison between scooters and cars, telling Estrada: "I'm a lawyer. Sorry, that doesn't work on me."
Before approving the pilot program, council members emphasized that they expected better from the scooter companies, that safety was paramount and that the city could suspend or revoke permits from companies that don't play by the rules.
Lime, which launched its scooters in Santa Monica last week, welcomed the pilot and said in a statement that it looks forward to working with the city.
Euwyn Poon, co-founder of San Francisco scooter rental start-up Spin, said Wednesday that since the pilot was approved, Spin is "definitely considering launching" in Santa Monica, and that it plans to apply for permits when the city begins accepting applications in July.
Bird's representative was also pleased.
Around midnight, Estrada left the chamber hall with a smile on his face. He said he was happy that City Council members amended the pilot program to lift the cap on the number of scooters allowed to operate.
"I think this is a terrific result," he said. "The council was thoughtful and balanced."
Twitter: @melissaetehad
Twitter: @traceylien
---
UPDATES:
1:45 p.m.: This article was updated with additional details about the pilot program and Tuesday's City Council meeting, as well as reactions from scooter rental companies.
This article was originally published at 9:30 a.m.
---