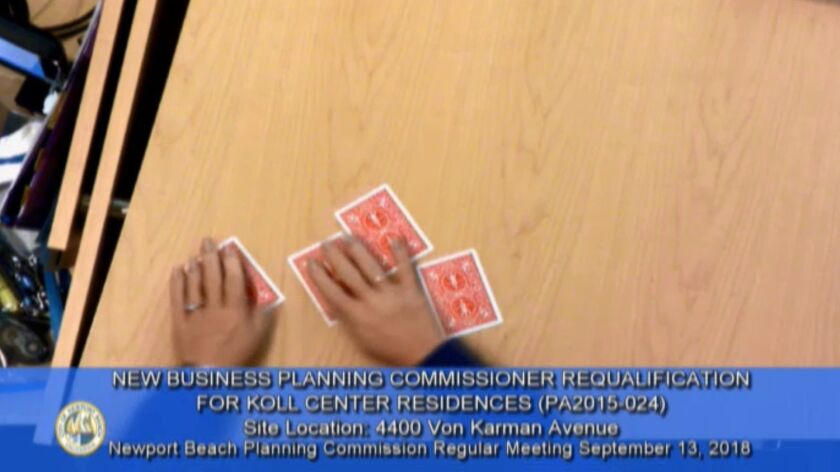 Four Newport Beach planning commissioners drew cards Thursday to determine who would review and potentially green-light a major condominium project.
The random drawing was intended to create a quorum of commissioners to review the proposed Koll Center Residences. The city made the unusual move after four of the commission's seven members declared conflicts of interest with the project, which typically would require them to recuse themselves.
The Planning Commission needs to vote on the matter before the City Council does, and it needs at least four participating members to hold a vote.
A section of the California Code of Regulations requires "participation by the smallest number of officials with a conflict that are 'legally required' in order for the decision to be made. A random means of selection may be used to select only the number of officials needed."
Thus, the four commissioners with declared conflicts — Kory Kramer, Lauren Kleiman, Peter Zak and Lee Lowrey — selected playing cards as a projector beamed the process onto a large screen over the dais to show who pulled cards from a black suite or red suite.
"You're seeing something that rarely ever happens," Commissioner Peter Koetting told the audience at Thursday night's meeting.
The "winner" was Zak, who pulled the four of diamonds.
Zak's conflict is that he owns a business neighboring the Koll Center Residences site at Von Karman Avenue and Birch Street, near John Wayne Airport.
Kramer's conflict is tied to income from a business within 500 feet of the site.
Kleiman's husband has a contractual relationship with the project developer, Irvine-based Shopoff Realty Investments.
Lowrey is a member of the neighboring Pacific Club.
The Koll Center Residences proposal has been on hold since January, when the city and Shopoff learned of the commissioners' conflicts.
The project would group 260 luxury condos in three 13-story buildings in an area that is currently an office park. It also would include 3,000 square feet of ground-floor retail space, a parking garage and a 1.17-acre public park.
The commission will resume discussions on the matter later this year.
Twitter: @Daily_PilotHD
---