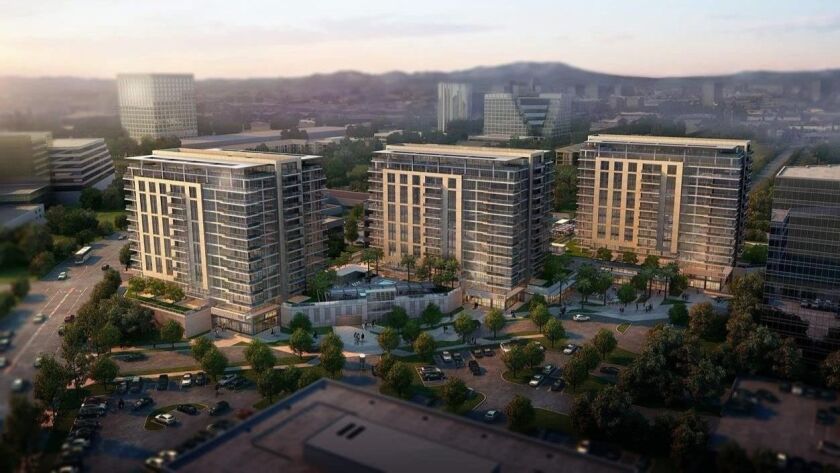 A representative of the developer behind a proposed high-rise mixed-use project known as the Koll Center Residences in Newport Beach had just held up a thick packet of letters of support for the city Planning Commission to see Thursday night when commission Chairman Peter Koetting asked her to hold her thought.
The rest of the presentation would ultimately be put on hold to a date not yet determined. That's because it was unclear how many commissioners would be able to make a decision on the project, which would group 260 luxury condominiums in three 13-story buildings at Von Karman Avenue and Birch Street, near John Wayne Airport. It also would include 3,000 square feet of ground-floor retail space, a parking garage and a 1.17-acre public park.
The seven-member commission was already down to five after members Lauren Kleiman and Lee Lowrey recused themselves from the Koll discussion — Kleiman because of her husband's employment and Lowrey because of his lease holding and organization membership in the project's immediate area.
Then commission Vice Chairman Peter Zak excused himself during introductory remarks by city Deputy Community Development Director Jim Campbell.
Assistant City Attorney Michael Torres said Zak might have a business interest that could put him in conflict with the project, so he also was going to recuse himself, at least for the evening, until the city could determine whether he was clear to make decisions on the Koll Center Residences. The city found out about the potential conflict that night, Torres said.
Coralee Newman, a consultant for the project's developer Shopoff Realty Investments, set down her support letters and asked for a continuance of the hearing.
"This really puts us in a very difficult situation with four members," Newman said.
Shopoff Realty Investments President Bill Shopoff also asked for the presentation to be put on hold until the city determines how many commissioners could hear it. The Planning Commission needs to vote on the matter before the City Council can make its own decision.
"It wouldn't change our plan, but when (Zak) has to make a decision and he's had the inability to hear both what we as the applicant and also the community have heard, I think he's not going to have the full information," Shopoff said.
The commission deferred to Shopoff's request.
The commission was not going to take any action Thursday. The meeting was a study session for commissioners to hear presentations by city staff, the development firm and the consultant that completed the project's environmental impact report and to take public feedback and have a question-and-answer period.
The city in 2010 approved a broad "integrated conceptual development plan" for about 1,500 homes, parks and some retail stores in the airport area. The plan brought about what is now Uptown Newport, also a Shopoff project, and the proposed Koll Center condo towers.
In addition to the nearly 90 support letters that Newman offered, the city received a stack of letters against the Koll Center Residences. Dozens of people attended the session intending to listen and speak. Opponents, led by local activist group Still Protecting Our Newport, which routinely weighs in on development matters, erected a booth outside and passed out fliers and stickers with illustrations of tall buildings with a bold red "X" over them and a declarative "NO TOWERS."
After the commission voted to postpone the item, an audience member stood and asked whether the community could still comment. The commission declined.
"I apologize to everybody in the audience who came out to see the show, but you'll get to see it again," Koetting said.
Twitter: @Daily_PilotHD
---