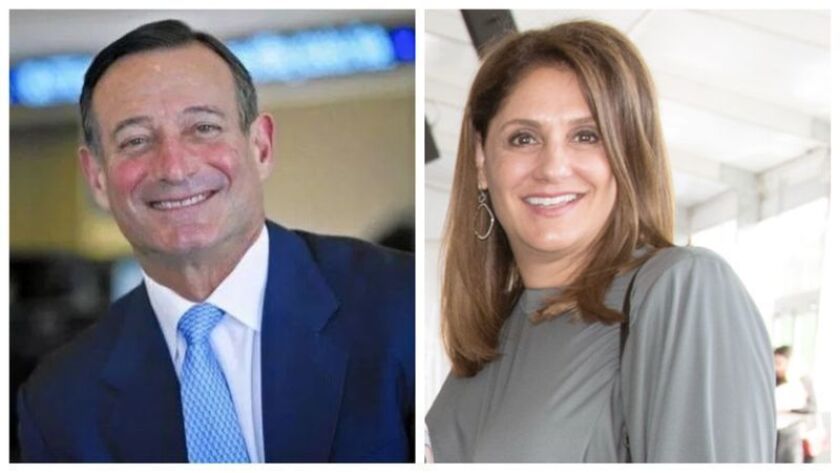 Laguna Beach financier Douglas Hodge and Hot Pockets heiress Michelle Janavs of Newport Beach are among 16 parents, including actress Lori Loughlin, indicted on charges of money laundering and fraud conspiracy in connection with the nationwide college admissions scandal, federal prosecutors said Tuesday.
The indictments came one day after 13 parents and one coach said they would plead guilty in the far-reaching scheme.
The indictments unsealed Tuesday do not preclude deals for the holdouts. But unlike the parents who agreed to plead guilty a day earlier, members of the group indicted Tuesday — which also includes Loughlin's husband, designer J. Mossimo Giannulli — now face additional charges of fraud conspiracy and money laundering conspiracy.
If convicted, the indicted parents likely would face weightier sentences than those who have agreed to plead guilty.
Hodge, a former chief executive of Newport Beach-based Pacific Investment Management Co., or PIMCO, is accused of paying bribes to get two of his children into USC.
Janavs, a former executive in her family's food manufacturing business, is accused of using bribery to get her two daughters into preferred schools.
Both resigned last month from the board of trustees of Sage Hill School, a private school in Newport Coast.
Two charged in college admissions scandal resign from Sage Hill School's board »
Fifty people, including 33 parents, have been charged in the scheme, orchestrated by Newport Beach college consultant William "Rick" Singer. Singer has admitted to offering wealthy parents a smorgasbord of illicit entry points into top universities, from rigged entrance exams to college coaches who would recruit the children of his clients for six-figure bribes.
Actress Felicity Huffman said Monday that she would plead guilty to one charge of fraud conspiracy and apologized to her daughter, saying she had "betrayed" her "in a misguided and profoundly wrong way." Prosecutors said Huffman paid $15,000 to have her daughter's SAT score doctored; Huffman said the girl "knew absolutely nothing" about the scheme.
Newport Beach and Laguna Beach connections abound in college admissions scandal »
If the 16 parents indicted Tuesday had been close to a deal, their lawyers and prosecutors could have asked for more time. Instead, they were saddled with another charge.
Prosecutors said the money laundering conspiracy charge stemmed from payments the parents are alleged to have made to a charity controlled by Singer, which allowed them to conceal money for bribes as charitable donations.
For the testing and athletic recruiting scams, prosecutors say, the parents paid $25,000 to $400,000 to Singer's charity, whose stated mission was to help "underprivileged students." In truth, prosecutors say, it was Singer's slush fund, which he tapped to bribe university coaches, administrators and test proctors.
Some of the parents wrote off the payments as donations on their taxes and assured Singer, in phone calls recorded by the FBI, that they would tell the Internal Revenue Service the money went toward "underserved kids," according to the indictment unsealed Tuesday.
Full coverage: Dozens charged — including Hollywood actresses — in connection with college admissions scheme »
Money laundering is an elastic charge that can be stretched to fit most crimes when money changes hands, said Rory Little, a UC Hastings College of Law professor and former federal prosecutor.
In this case, Little sees prosecutors wielding it for "plea pressure" to induce parents to plead guilty and avoid the risk of incurring more prison time.
Prosecutors could drop the money laundering charge if the indicted parents agree to cooperate, said Louis Shapiro, a Los Angeles criminal defense attorney.
"This is sending a clear message to the defense they better make a decision quickly in what direction they want the prosecution to go," Shapiro said.
Ormseth, Rubin and Winton write for the Los Angeles Times. Daily Pilot staff contributed to this report.
---