Judge approves settlement between Laguna Beach and ACLU in class-action homeless lawsuit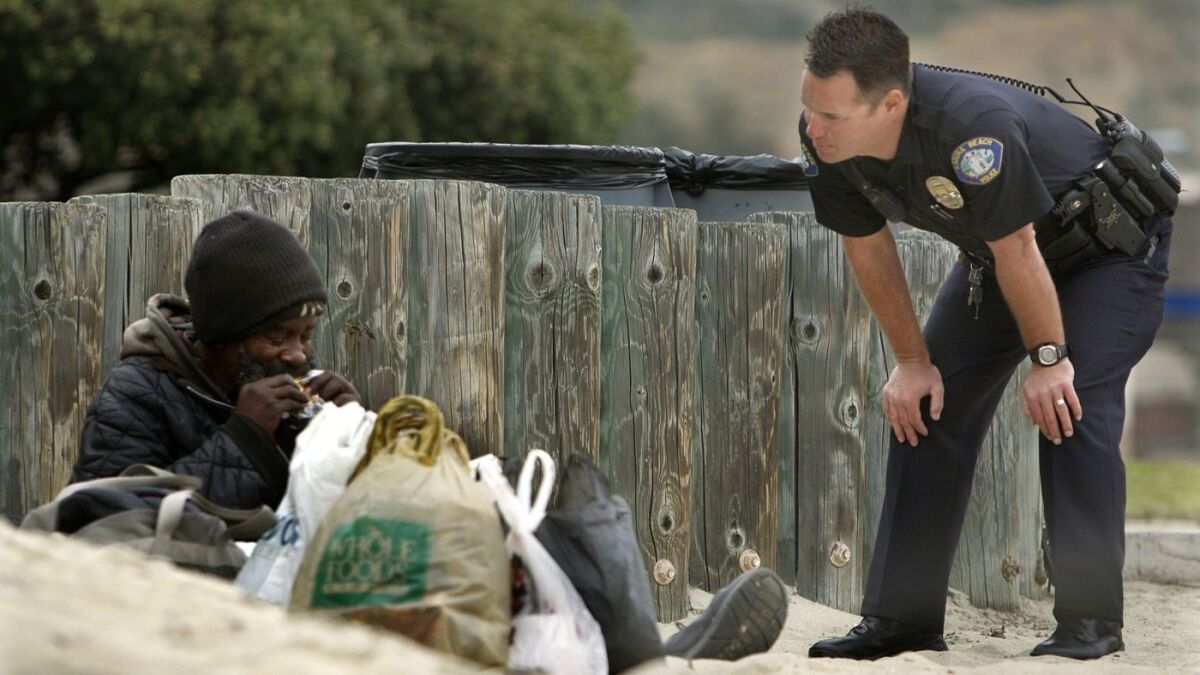 A federal judge this week approved a settlement between Laguna Beach and the American Civil Liberties Union in a 2015 class-action lawsuit involving accommodations for people with disabilities at area homeless shelters, authorities said.
The settlement, filed in federal court in June, outlines changes in accommodations for disabled homeless people at the city's night shelter.
No money was exchanged as part of the settlement, which marked an end to a lawsuit that spanned nearly three years.
Instead, the agreement details changes to area homeless shelters to help disabled residents and expand available accommodations.
Furthermore, language was included that prevents parties to the class-action suit from filing similar future claims against the city, according to Laguna Beach City Manager John Pietig.
"Though we are pleased with the outcome, the money and time we've spent over the last three years defending ourselves against the unfounded allegations in this lawsuit would have been better spent elsewhere," Pietig said in a statement Monday. "We are ready to move on and put this behind us."
Despite the city's enthusiasm to have the case concluded, advocates see the settlement as a symbolic win.
"It's a call to county government to get serious about taking a leadership role in a regional solution to ending homelessness," ACLU homeless policy analyst and advocate Eve Garrow said in June when the document was filed.
The ACLU filed the suit in 2015 on behalf of five chronically homeless people with mental and physical disabilities. The organization accused Laguna Beach of trying to push homeless people — especially those with disabilities — out of the city by not providing adequate accommodations for them.
As part of the settlement, Laguna Beach and the nonprofit Friendship Shelter will create a pilot program including daytime services for shelter residents and a streamlined enrollment process giving priority to local homeless residents and those deemed most vulnerable, the city said.
That includes guaranteeing beds to qualifying people for up to 30 days with the aim of helping to move candidates into transitional housing, the city said.
"There are more than 85 formerly homeless men and women participating in the program who have been placed in housing throughout south Orange County," the city said in a news release Monday.
As part of the settlement, the Laguna Beach City Council agreed to adopt a resolution to affirm its commitment to end homelessness in the city, encourage Orange County to fund and expand affordable housing for unsheltered people and coax other cities in the county to take a similar stance.
The 17-page agreement, signed March 23, focuses extensively on conditions at the shelter in Laguna Canyon called the Alternative Sleeping Location. The site provides shelter nightly for up to 45 homeless people, plus meals, laundry, showers and van service to Laguna's bus depot. The Laguna Beach-based Friendship Shelter has operated the facility under contract with the city since 2009.
The settlement came at a critical time for Orange County communities that have been grappling to find locations for homeless shelters. A civil lawsuit was filed in federal court in January after hundreds of homeless people were removed from encampments along the Santa Ana River.
U.S. District Judge David Carter, who is overseeing that lawsuit, has called for a regional approach to homelessness in which the county would be split into three zones, each with a shelter.
---
All the latest on Orange County from Orange County.
Get our free TimesOC newsletter.
You may occasionally receive promotional content from the Daily Pilot.