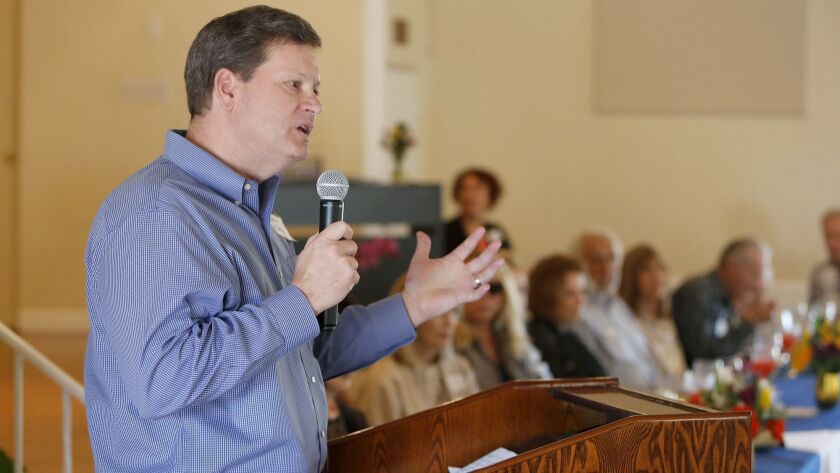 With relative ease, Laguna Beach City Council members approved a two-year citywide budget this week but were divided on boosting the top administrator's salary.
At issue was whether City Manager John Pietig, who took the helm at City Hall in 2010, deserved a one-time 5% "exceptional performance pay" boost on top of his $273,156 annual salary.
A split council decided Tuesday night that he did earn a raise, but rather than taking the "exceptional performance pay" route, the members voted 3-2 to increase his salary by 2.5% for each of the next two fiscal years. Mayor Pro Tem Steve Dicterow and Councilwoman Toni Iseman dissented.
Pietig was approved for another 2.5% raise in each of the next two years as part of salary increases doled out under new contracts for Laguna's municipal and management employee associations.
Beginning July 1, Pietig's new salary will be $23,319 a month, or about $280,000 annually, according to Gavin Curran, the city's director of administrative services. Pietig's current salary includes the contractual increase.
Councilman Peter Blake said the boost was merited considering the countless hours Pietig puts into the job and the work needed to move future developments through the pipeline. Blake credited Pietig for helping his own transition to the dais, providing counsel even at 6 a.m. and on weekends.
"When I look at all this, it makes sense to me to extend this small raise," Blake said.
"It's my view that John has performed at an extraordinarily high level for us," Mayor Bob Whalen said. "He continues to work extremely hard."
Dicterow said he didn't question Pietig's performance but he didn't like the sudden change to give him a salary increase rather than award exceptional performance pay, as had been posted on the agenda.
Still, "there is nobody that works harder," Dicterow said. "There is nobody that's more knowledgeable."
Several residents criticized Pietig's raises, citing a lack of clear formal evaluation criteria. Whalen countered those concerns, saying the council has judged Pietig's performance during closed sessions. He did, however, suggest making the council's reasoning more public in the future.
The overall city budget for fiscal 2019-20, which begins July 1, is about $103.6 million — an increase over the current year's $97-million budget. The 2020-21 spending plan is $108.5 million.
New in the upcoming budget is a city arborist, for an ongoing annual cost of $147,200. That position would help handle tree-related requests.
Earlier this month, a Laguna Beach official noted that the city had removed more than 100 trees in the past three years, with some of those cases requiring extensive testing and as much as 60 staff hours.
Bradley Zint is a contributor to Times Community News.
Support our coverage by becoming a digital subscriber.
---
UPDATES:
This article was originally published at 9:55 a.m. and was updated with additional information.
---