As construction heats up on the city's Village Entrance project, Laguna Beach has added a weekend trolley route and made parking free at the Act V lot on Laguna Canyon Road.
The new bus line shuttles people between Act V and downtown stops at Beach Street and Forest Avenue every 20 minutes on Saturdays and Sundays. It is essentially a special winter version of Route 8, which provides trolley service during the summer.
Hours are 9:30 a.m. to 8 p.m. Saturdays and 11 a.m. to 6 p.m. Sundays.
The free trolley and parking service is directed toward city residents, who have had fewer parking spaces available since the Village Entrance project began in September.
The Village Entrance is intended to create a greater sense of arrival at the city's gateway, where Laguna Canyon Road becomes Broadway at Forest Avenue. The project will bring new trees and shrubs, walking paths and landscaping.
The city has said there will be an overall loss of nine parking spaces among all lots once the project is complete.
After nearly three decades of discussion and debate — including a proposal for a parking structure that was shot down — the City Council approved a construction bid for the $11.1-million Village Entrance last year.
Construction on the first phase of the project, which temporarily closed Lot 10 and the strip between Lots 10 and 11, ended in January on schedule. Phase 1B reopened Lot 10 and closed the neighboring Lot 11 until May.
Work will pause during the summer and resume in September with Phase 2A, which will close the employee lot behind Lot 11. Phase 2B will reopen the employee lot and temporarily close Lot 12. That final phase is expected to begin in January and end in May 2020.
The city already offers two free bus routes along Coast Highway on weekends. The long route runs between the transit depot and the Ritz-Carlton in Dana Point, and the short route runs between North Laguna and Mission Hill. Three other free routes run week-long through the Bluebird Canyon, Top of the World and Arch Beach Heights neighborhoods, and two neighborhood routes run through North and South Laguna on weekdays.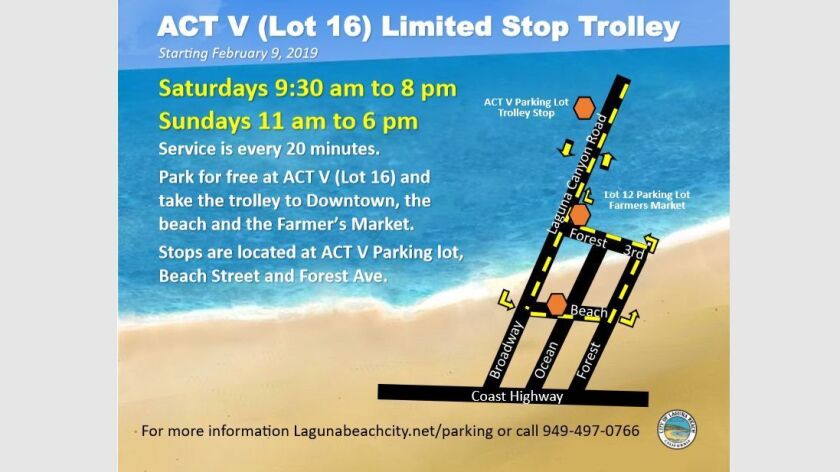 ---