With the first phase of an estimated $17-million campus renovation complete, the Mariners Lions are looking forward to a "Bright Future."
Mariners Christian School in Costa Mesa unveiled a new 900-seat auditorium and a redesigned gymnasium Tuesday afternoon. The buildings, named after their leading donors, are the 6,770-square-foot Argyros Center for Worship and Performing Arts and the Living Legacy Athletic Center, which now has a second-floor spectator section.
"It's an honor for the Argyros Family Foundation and the Argyros family [led by Newport Beach philanthropists George and Julianne Argyros] to be a part of this," George Argyros Jr. said at a ribbon-cutting ceremony Tuesday. "We are privileged to have our name associated with this building, and I just wanted to tell you all that we appreciate everything [the school is] doing and we hope you enjoy it."
The Living Legacy Foundation provided a grant that aided the gym project.
The buildings are part of the private school's "Bright Future" campaign, which is funded entirely by donations to update the 32-year-old campus to a "modern 21st-century learning environment."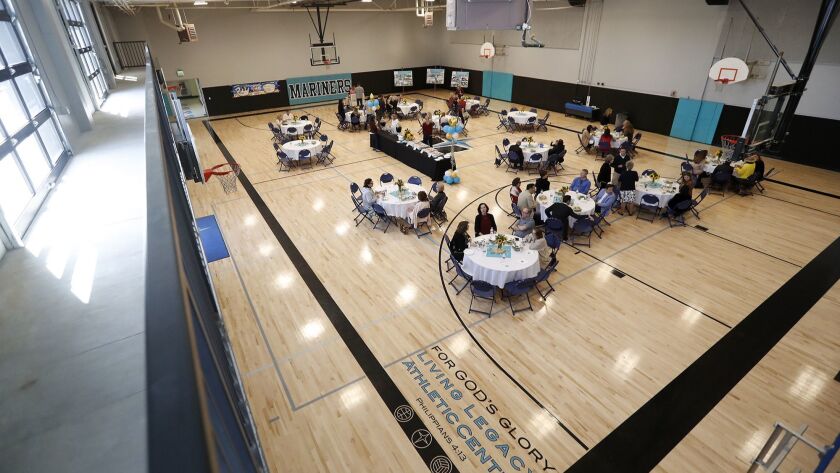 Other amenities added in the first phase are six new classrooms for the Mariners Institute of the Arts, two new classrooms for transitional kindergarten and kindergarten students, new furniture, upper- and lower-level student patios, an upgraded admissions lobby, security fencing, a new woodshop area, new air conditioning units, an elevator and updates to the exterior.
Other donations came from staff, parents, grandparents and alumni, said Julie Hellriegel, director of development and alumni relations for the school, which serves nearly 700 kindergartners through eighth-graders.
"We value the foundation of what Mariners is. This is just a wonderful update for us all," said Robyn Gundlach, president of the Parent-Teacher Fellowship board.
"We wanted to enhance all of our programming. In order to do that, we have to have the right spaces for it," Hellriegel said. "We're committed to the arts. We have a new worship center, art center, a whole arts conservatory. We want to continue to strengthen that aspect of our program.
"Same thing with innovation for our students. We have a 'maker' education program. We needed a top-notch space to do that type of learning. We have a woodshop now. Everything has been driven by the programs we want to offer our students."
The next phase — including two atriums, window installations, a new security system, updated elementary and middle school classrooms and two "maker" spaces — is slated to begin in June, provided the school is able to raise enough donations by the end of March to meet the remaining $5 million of the estimated $8.5 million needed to complete construction.
If not, the second phase will be delayed until the following summer, according to Head of School Troy Moore. He added that other factors, such as construction and materials, will be considered before any decision is made.
An additional $3 million in the campaign's overall $20-million goal would be put toward establishing future financial stability.
"It's been amazing to see how our families here at Mariners Christian School have really stepped forward and given more than they normally would in a given year to see this project come to fruition," Moore said. "It's been amazing to see how much this project and what God is doing here has resonated with our foundations around Orange County."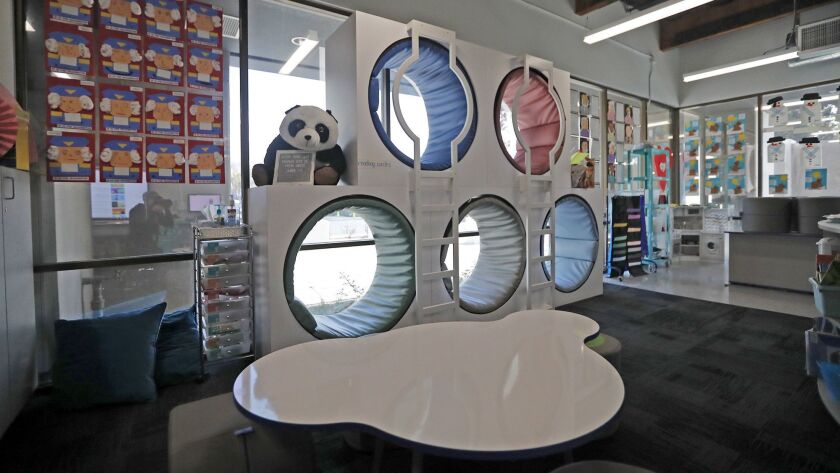 ---