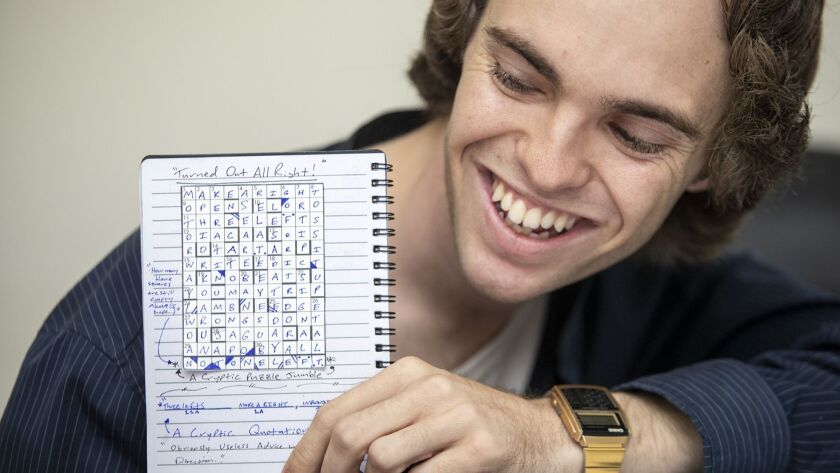 If Michael Whyte could create crossword puzzles as a profession, it'd be a no-brainer for him.
However, he acknowledges that wouldn't be feasible in today's world, where printed puzzles are a fading breed.
Instead, the 23-year-old strives to set the best cryptic crosswords — a British-style puzzle in which each clue is a word puzzle in itself — for fun among his two jobs and classes at Golden West College in Huntington Beach.
Whyte's self-described addiction to such games began years ago when he tried solving cryptic crosswords just like his grandparents. But his grandparents, who have a penchant for riddles and wordplay, suggested he start with easier puzzles in local newspapers, Whyte said.
For the past few months, he's honed his skills — and strengthened his memory — by solving the Daily Pilot's Daily Commuter Puzzle. A newsstand sits outside the Domino's Pizza where he works as a delivery driver in the evenings.
If he dedicated his entire attention to the Commuter Puzzle, the Westminster resident said, he could solve it in one to two hours. But there's always a couple of answers he doesn't entirely get, he said.
"It's challenging," he said. "They're excellent."
With a friend's encouragement, he started creating his own puzzles, initially using the Commuter Puzzle as a template and brainstorming his own riddles. He said his grandparents thought his puzzles were "ace."
Whyte recently mailed his set of five puzzles, called "A Casually Cryptic Compendium," to the Daily Pilot newsroom in hopes that readers would offer constructive criticism and copy and share them with friends and family if they offered a "good mental jog."
Though Whyte would have enjoyed being a professional crossword setter, studying chemistry requires similar skills and influences the type of clues he creates, he said.
"Like chemistry, it's a formula," he said. "You have to find hidden components not apparent and rearrange them and find the answer that you like."
---