Newport arts backers looking for fundraising leadership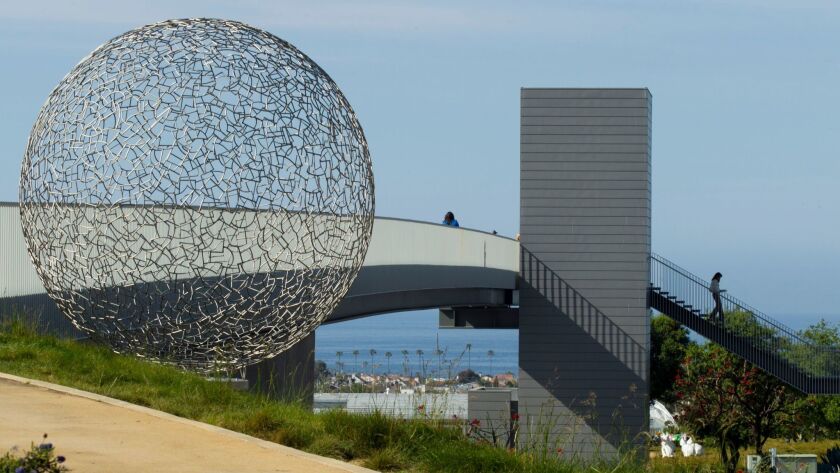 The steel spherical sculpture that is now on permanent display at Newport Beach's Civic Center Park is a dream come true for local arts advocate Lila Crespin.
The Newport Beach Arts Foundation that Crespin has long supported bought the piece this year for $15,000 through private fundraising, then donated it to the city, making the artwork — called "Sphere 112" — a permanent part of the park's sculpture exhibit. It was formerly on loan.
It is the Arts Foundation's first such acquisition and could be an example of the kind of fruit local leaders want to bear more of as appreciation of the arts butts up against the hard realities of funding.
The remedy could be a branching of the Arts Foundation, which now works under the city Arts Commission, to include a semi-autonomous fundraising team led by a paid fundraiser working alongside the group of volunteers that now collects contributions in addition to event planning duties.
Michael Kerr, vice chairman of the Arts Commission, calls the fundraisers "trustees." Carmen Smith, the Arts Foundation president, would call them "angels."
"What we're looking for is what a lot of organizations have — the angels," she said. "The arts angels."
Join the conversation on Facebook »
The all-volunteer Arts Foundation takes its direction from the Arts Commission as the commission's fundraising arm. But Smith said her group has only eight to 10 active members, and at age 72, she is one of the younger ones. She said she will stay involved to work on projects like the annual Art in the Park festival, which she said is more to her nature and energy level.
Though the Arts Commission is not a fundraising arm of the city, if it wants to grow its budget, it has to reinvigorate the foundation, commission Chairwoman Lynn Selich told the panel at its meeting Thursday.
Kerr said he knows the arts are in competition with other priorities for public funds. He said City Council members have told him so and that they would like to see more private partners.
"It's somewhat of a zero-sum game in that there's a limited amount of money in the budget and there's an awful lot of places they could be applying the funds," Kerr said.
He said that the foundation hasn't been a fundraising body, nor is that really how it sees itself. Under his plan, it would be repositioned as the "Arts in Action" crew.
Public art — visual and performance — in Newport Beach is funded by four sources: the city general fund; lodging taxes by way of the Visit Newport Beach visitors bureau; a trust fund of money from private sources that had been intended for renovation of the Balboa Theater; and other private donations.
Since fiscal 2014-15, Visit Newport Beach has allocated $150,000 a year to the city to be granted by the City Council for arts and culture. But "arts and culture" is broadly defined and could include other services such as recreation, Kerr said.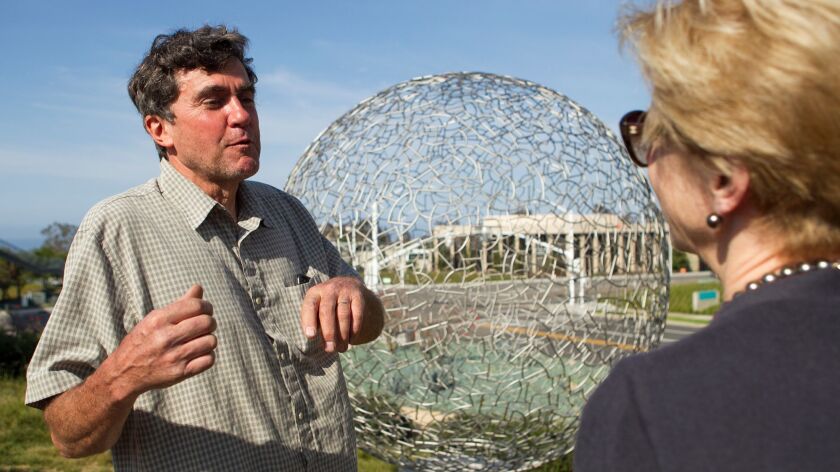 Kerr said the Arts Commission has drawn only about $215,000 from the Visit Newport Beach money — $155,000 for the next phase of the Civic Center Park sculptures and $60,000 for last summer's Pacific Symphony performance. That means the commission theoretically has about $235,000 banked, with $150,000 more to come in the next fiscal year, which starts in July.
"Big asterisk next to that number," Kerr said. "The City Council regards these funds as their funds to do with as they please, and they will give us the money as they desire to fund arts. My very possessive view to say that's our money isn't necessarily quite equally enthusiastically shared by the council."
In the private fundraising column is $23,000. To grow that, the City Council and Arts Commission plan to share the $75,000-a-year cost of a staff fundraiser next year to work with the trustees.
Kerr said he tentatively budgeted another $23,000 in private gifts for next year, but hopes that's a conservative estimate and that soon the fundraiser position will pay for itself.
In approving the roughly $155,000 for the next phase of the Civic Center Park sculpture garden — about $105,000 for a management contract and $50,000 for payments to artists — some City Council members were reticent, returning to the push for private funds that Kerr mentioned.
Councilman Scott Peotter voted for the contract under the condition that the city-owned Ronald Reagan statue that currently stands in Bonita Canyon Sports Park be moved to Civic Center Park. He also said the Arts Commission needs to secure more private support.
Councilman Will O'Neill cast a yes vote "reluctantly" and said he also wants to see more private contributions and is concerned that two-thirds of the allocation is going toward a consultant.
Councilman Brad Avery said, "I know the Arts Commission's working hard on getting some people in there to raise funds, and I know this town will do it."
It did with "Sphere 112."
The installation, so named for its 112-inch diameter, is anchored firmly to a slope on the north end of Civic Center Park, holding and reflecting light through its intricate lace-like network of curved steel rods. It has been a local favorite since it was placed in the park in 2013.
Crespin said she would like to see more patrons sponsor well-liked sculptures to keep them in the permanent collection — like "Cub Triptych," a stylized trio of green bears that, like the park's famous bunnies, was popular with children, she said. (It rotated out of the park's exhibit last year.)
Crespin, a retired art teacher, is a longtime local arts steward. She has been with the Arts Foundation since it started in 1997 and said she has pulled it back from the edge of dissolution before.
Newport Beach, like any community, needs art, Crespin said.
"The arts represent who we are."
Twitter: @Daily_PilotHD
---
All the latest on Orange County from Orange County.
Get our free TimesOC newsletter.
You may occasionally receive promotional content from the Daily Pilot.