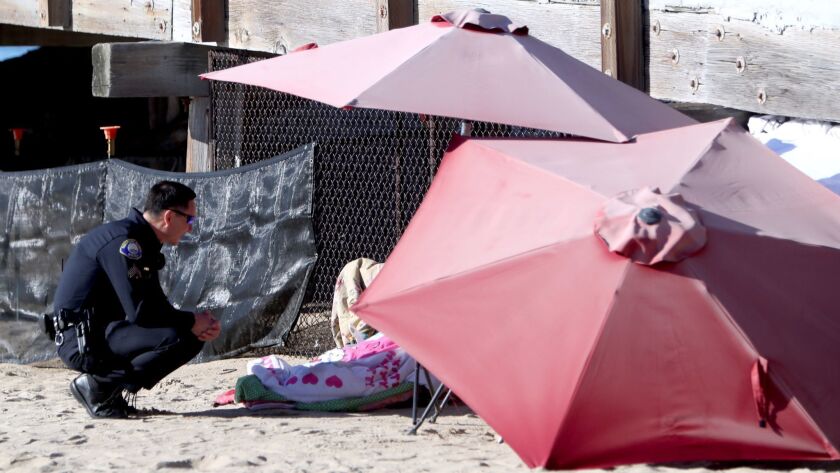 Newport Beach will spend $1 million over the next five years on homelessness outreach and housing placement.
The City Council unanimously agreed Tuesday to a contract with Long Beach-based nonprofit City Net to enhance the social services provided by the Police Department, which already partners with the Orange County Health Care Agency to help homeless people with social, health and housing needs.
The city also plans to launch a homelessness task force.
City Net will coordinate and provide street-level outreach to help people transition into an initial shelter and find and stay in longer-term housing. It also will assist the city with community outreach.
The contract follows a six-month pilot partnership with the city last year, which led to 158 contacts with people who were homeless; 51 people agreed to begin case management to get off the streets. Seventeen made "street exits," the city said.
Eighty-six people were living on the street in Newport as of July, according to the city.
The City Net contract will provide Newport with the equivalent of two full-time employees and on-call service from the organization. The workers will team with the sworn police officer Newport dedicates as a full-time liaison to the homeless.
Deputy Police Chief Dennis Birch said local officers know Newport's unhoused community well but have seen over the years that a strict law enforcement approach to homeless issues isn't the best tactic. However, traditional law enforcement isn't equipped to deal with complexities like health challenges and social services such as veterans benefits, he said.
"Our homeless liaison officer, Tony Yim, has become very educated in that, but he's one person," Birch said. "What we hope to gain from the partnership with City Net is the education, experience and training in the social services. … They add quite a bit to what we do."
City Net provides homelessness outreach in many cities in Orange, Riverside, Los Angeles and Santa Barbara counties. Its vice president, Matt Bates, said the organization has contracts in 17 of Orange County's 34 cities.
Bates said people who get off the streets work hard to stay sheltered, even in initial emergency shelters.
He said his workers who had daily interactions over several months with residents of a sprawling, now-dismantled encampment along the Santa Ana River found that those people didn't want to be there.
Authorities cleared the camp in late 2017.
"Every single one of them said, 'Look, you've gotta get me out of there.' There was not a person that said, 'This is my preferred destination,' " Bates said. "It was not comfortable. It was not safe. People didn't sleep well. Sometimes [on] the exterior people would say, 'I'm fine, I don't need any help.' But over time, every single person at some point … wanted housing."
In addition to the contract, the council backed Mayor Diane Dixon's call for a homeless issues task force. The council will begin forming the task force, which will include council and community members, at its next meeting March 26.
---