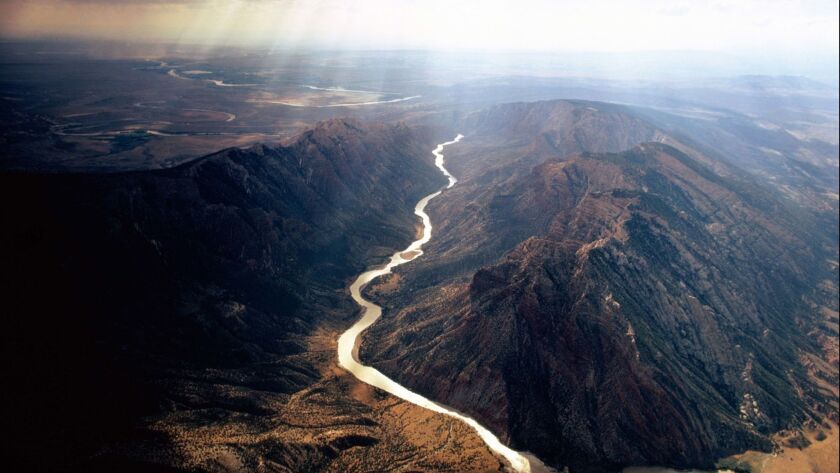 A Newport Beach man who worked for the Newport-Mesa Unified School District died in a rafting accident Saturday on the Green River in Dinosaur National Monument, National Park Service officials said.
Anthony Vasi, 47, was on a commercial rafting trip with family and friends in a remote part of the river, which straddles Colorado and Utah, when their raft got stuck on a rock in the "Birth Canal" among the rapids at Triplet Falls, ejecting Vasi and several other passengers.
A rescue swimmer was able to reach Vasi and move him from behind the rock and into the main current, but he was unresponsive. Vasi was taken to a gravel bar downstream where CPR was performed.
A medical helicopter was called to transport Vasi, who was declared dead at the scene.
Vasi was a registrar at Back Bay/Monte Vista High School in Costa Mesa and had been with the Newport-Mesa school district since 2016, according to district spokeswoman Annette Franco.
Martha Fluor, vice president of the board of trustees, said in a statement Monday that "Tony was extremely involved and supportive of students. He was such a nice man and was truly there for the kids."
The park service said in a news release that Dinosaur National Monument rangers traveled by raft to investigate Saturday's accident and help the rest of the group reach Echo Park, Colo., where they exited the river around noon Sunday.
Park officials said Triplet Falls — which is surrounded by steep canyon walls, doesn't have cell service and has a Class III difficulty rating — had a river flow of about 2,350 cubic feet per second during Saturday's rafting trip.
Alexa Díaz writes for the Los Angeles Times. Lilly Nguyen is a Daily Pilot staff writer.
Support our coverage by becoming a digital subscriber.
---
UPDATES:
This article was originally published at 2:50 p.m. and was later updated with additional information.
---