Olympic bobsledder gets Mariners Christian School's first Distinguished Alumni Award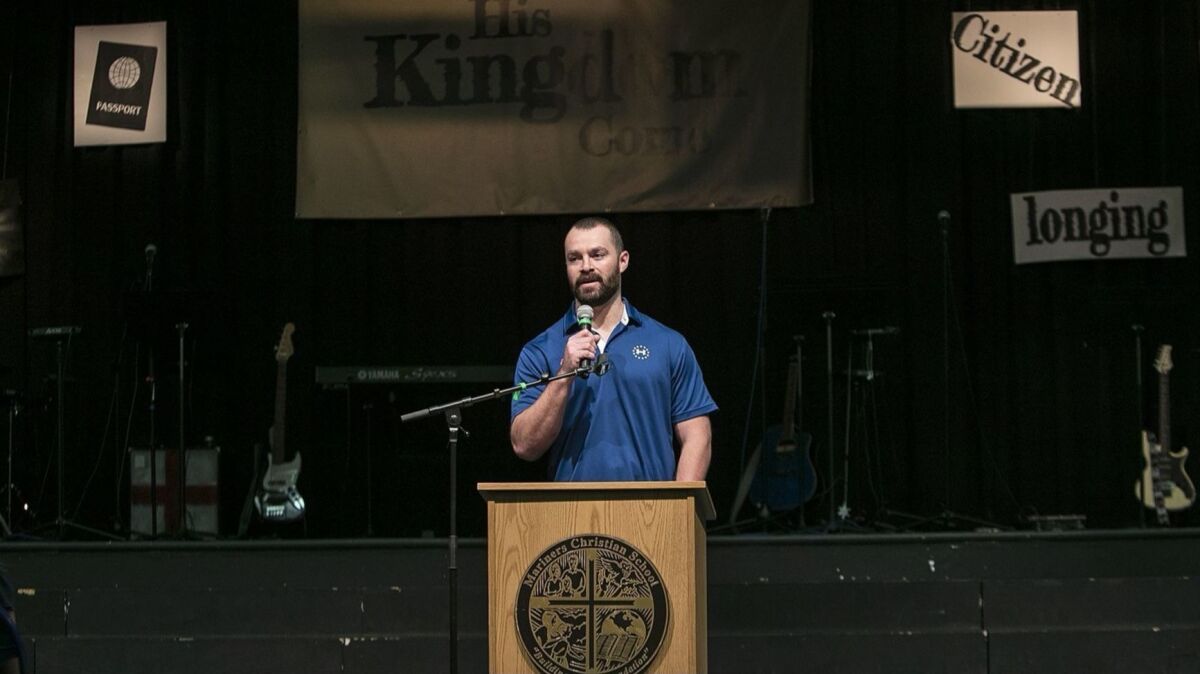 Just two months after competing on the U.S. bobsled team at his first Winter Olympics in South Korea, Carlo Valdes had another special experience Monday, when he received the inaugural Distinguished Alumni Award from Mariners Christian School in Newport Beach.
As might be expected from a native of warm and sunny Newport, Valdes didn't come to bobsledding immediately — in fact, he didn't touch a bobsled until after he graduated from UCLA in 2013 with a bachelor's degree in history.
As a teenager, Valdes dreamed of being a professional football player. But after he suffered a hamstring injury during his first year as a wide receiver at UCLA, he switched to javelin throwing.
Andreas Drbal, a former UCLA javelin thrower and an ex-U.S. bobsled team member, suggested that Valdes — who also was a football player, track sprinter and discus thrower at Mater Dei High School — consider bobsledding, a sport that uses the explosiveness and toughness of a wide receiver or sprinter and the strength of a thrower.
Tami Thurston, who taught Valdes' sixth-grade English class at Mariners in 2003 and now teaches eighth grade, described her former student as an easygoing kid who loved athletics and his friends.
"You don't think when you see a sixth-grader, 'There's a future Olympian,' " Thurston said. "You hope so, but you never know. It's exciting to see what these kids eventually become."
Thurston said she was particularly moved by Valdes' tenacity in bouncing back from his injury.
"You never know what God has planned for you, and sometimes you don't see those detours as something good that will help you," she said.
Valdes' voice cracked as he told about 250 students, staff members and parents Monday about the sorrow his team felt after the death of its pilot, Steven Holcomb, who was captain of the four-man team before he was found dead in bed nearly a year ago at the Olympic training center in Lake Placid, N.Y.
"It was hard to grasp at the time," Valdes said. "Most of us had dealt with it by the time we got [to the Games in Pyeongchang]. It didn't really hit me until we got there, because I had been on his team for the last three years."
The support of his family and teammates helped him push through the emotions, he said. The team eventually placed ninth in the Olympics.
When asked what goes through his mind before stepping off the block at a race, Valdes said he uses a method he learned from a Navy SEAL who visited the U.S. bobsled team while it trained for the Winter Games.
"I turn on the boiler system," he said. "I think about my family, friends and people who have doubted me. You have to find something that really keeps you going."
He also uses the tactic during his grueling training regimen, which requires two- to three-hour workouts two or three times a day over a six-day work week.
Valdes is the only man in his sled who doesn't serve in the Army, which is fodder for teasing by his teammates. But on the bobsled course, they form a cohesive unit that shoots downhill at more than 90 mph.
Valdes said he is still reading through a box of prayer letters shipped to Pyeongchang by Mariners Christian School students. His parting words for them Monday were straightforward:
"Continue to work hard day in and day out."
DANIEL LANGHORNE is a contributor to Times Community News.
Twitter: @DanielLanghorne
---
All the latest on Orange County from Orange County.
Get our free TimesOC newsletter.
You may occasionally receive promotional content from the Daily Pilot.