Newport Beach moves to restrict noisy construction on Saturdays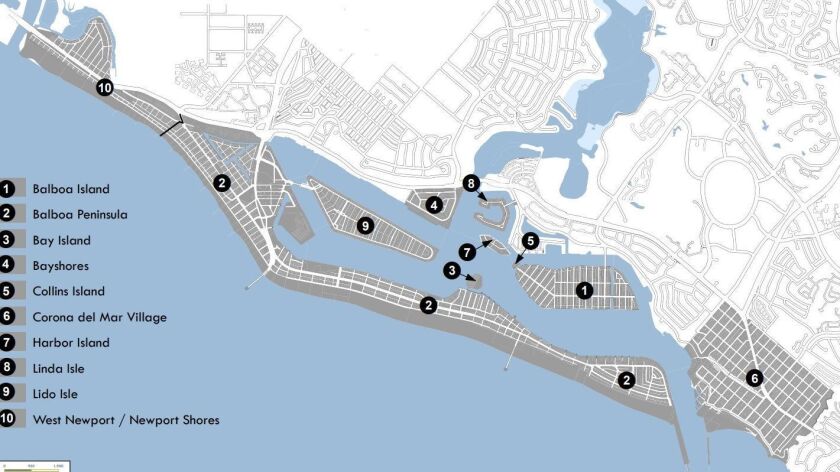 Newport Beach intends to restrict home construction in parts of the city on Saturdays as part of a plan to relieve effects on neighbors in a city where significant home rebuilding and renovations are common.
The City Council voted unanimously Tuesday to pass the first reading of an ordinance to disallow noisy building on Saturdays in dense neighborhoods closest to the water. Those areas tend to have narrow streets, tight lots and greater demand for street parking.
The neighborhoods include Balboa Island, Balboa Peninsula, Bay Island, Bayshores, Corona del Mar, Harbor Island, Linda Isle, Lido Isle, West Newport and Newport Shores.
Work will still be allowed if it doesn't disturb, or could disturb, "a person of normal sensitivity," according to the ordinance. The residential neighborhood noise limit on Saturdays is defined elsewhere in city code as 55 decibels.
The restriction likely would prevent racket like the masonry sawing that Mayor Diane Dixon said marred a recent Saturday on Lido Isle, where she lives. "I mean the entire day," she said. "From 7 a.m. to 6 p.m."
Noise has brought complaints from other residents at other council meetings.
City Community Development Director Seimone Jurjis said the rule is a compromise.
"We did recognize that homeowners need an opportunity to maintain their properties," he said. "You can still have contractors at a job site, but it's that loud noise that's disturbing the neighborhood."
The city already bans construction on Sundays.
The new ordinance, which will get a final vote in June, also requires signage listing contractor and city contact information on fencing at construction sites in those neighborhoods so residents can make complaints to code enforcement.
The regulations are part of a package of new rules the city is implementing in response to neighborhood concerns about parking crunches resulting from home rebuilding and remodeling. The council already has approved limiting homeowners to three years for rebuilding. Newport previously didn't have a time limit.
---
All the latest on Orange County from Orange County.
Get our free TimesOC newsletter, coming in August.
You may occasionally receive promotional content from the Daily Pilot.