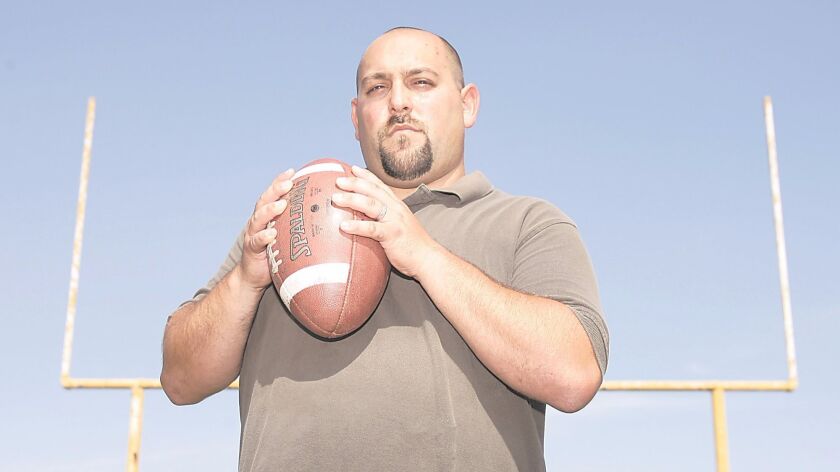 A former Costa Mesa High School football coach was sentenced Wednesday to 270 days in San Diego County Jail and three years' probation for sending messages in an effort to seduce someone he thought was a teenage girl but who actually was an undercover detective.
Jeremy Daniel Osso, 40, also will have to register as a sex offender for the rest of his life, said San Diego County Deputy District Attorney Jodi Breton.
Osso, a Costa Mesa resident, pleaded guilty Aug. 15 to a felony charge of sending harmful matter to seduce a minor, according to San Diego County court records.
Osso was arrested in June after authorities alleged he had been corresponding since May with an undercover Carlsbad police detective posing as a 13-year-old eighth-grade girl, according to the arrest warrant. Some of the correspondence occurred in an online chat room, authorities said.
The detective works with the Internet Crimes Against Children Task Force, which involves thousands of agencies working on child abuse and online exploitation cases.
Authorities say Osso identified himself as a 38-year-old man from Orange County, asked for nude photos and exchanged sexually explicit language with the undercover detective, according to the warrant.
Breton said he also sent the detective a photo of his genitalia and a video of him masturbating in the bathroom at the high school where he worked.
"He was actively engaging in graphic sexual conversation with someone he believed was a minor," Breton said.
Deputy Public Defender Elysia Wilschke, who represented Osso, could not immediately be reached for comment Wednesday. She has previously declined to comment about the case.
Osso, an Estancia High School alumnus, was head football coach for Costa Mesa High from 2006 until he was fired in 2011. The circumstances of his firing are unclear. He was an assistant coach from 2001 to 2003.
Most recently, Osso was defensive coordinator for the varsity football team at University High School in Irvine and an instructional assistant at Irvine High School, according to the Irvine Unified School District.
District officials placed Osso on unpaid administrative leave in June after learning of the investigation. The district has said there is no indication that any students from Irvine Unified schools were involved in the case.
Twitter: @HannahFryTCN
---