Huntington Beach council approves buying building to use as homeless shelter
A planned homeless shelter in Huntington Beach moved closer to reality Thursday when the City Council approved buying a warehouse building for that purpose, despite objections from some residents and business owners who denounced the chosen location as inappropriate and blasted the selection process as opaque and needlessly rushed.
On a 6-1 vote, with Mayor Erik Peterson opposed, the council authorized spending $2.85 million in restricted and one-time funds to purchase an 11,200-square-foot structure at 15311 Pipeline Lane in a light industrial area near Springdale Street and McFadden Avenue.
Some in the sizable crowd at the special meeting applauded, while others shook their heads or yelled, "What's the rush?"
RELATED STORIES: Huntington Beach grapples with homeless issue »
Though council members acknowledged commonly cited concerns — including potential negative effects on public safety, quality of life and property values — the majority said moving ahead with the selected site is the right choice.
"We are in a really tight bind here, and unfortunately there's no good place to put this shelter," Councilwoman Kim Carr said. "There's not a good spot anywhere. There's no 'unicorn' spot that we can put it and everybody's going to be happy. But that said, I think that this spot makes a lot of sense."
Peterson, however, said he felt like "I'm buying a car off the assembly line. I'm going to take it home and I don't have an engine for it yet."
"There's still so many questions, and I don't like buying something or going forward with this without having all the answers," he said.
The 75- to 90-bed homeless shelter — or "navigation center," as the city calls it — would serve pre-screened men, women and couples for up to 90 days. Stays could be extended if clients are awaiting approval for more-permanent housing.
Registered sex offenders and those with outstanding felony arrest warrants would be prohibited.
No walk-ins or walk-outs would be allowed. Shelter clients would be shuttled to and from the site and be connected with services such as job training, healthcare and counseling, according to the city.
Huntington Beach officials said one major benefit of moving ahead with the concept is that it will help clear the way for the city to again enforce its anti-camping laws, which have been on hold in light of a 2018 ruling by the U.S. 9th Circuit Court of Appeals that it is unconstitutional to prosecute homeless people for sleeping on public property when they don't have access to shelter.
"None of us like the spot that we're in, but we know that a tough decision is what's necessary in order to make sure that this doesn't spiral out of control and we end up looking like the Santa Ana River trail at some point," Councilman Patrick Brenden said, referring to large homeless encampments that were established along the river in recent years. "I just think it's important that the public know how seriously we're looking at the concerns that they've raised and we are committed to making sure … that we do it the right way."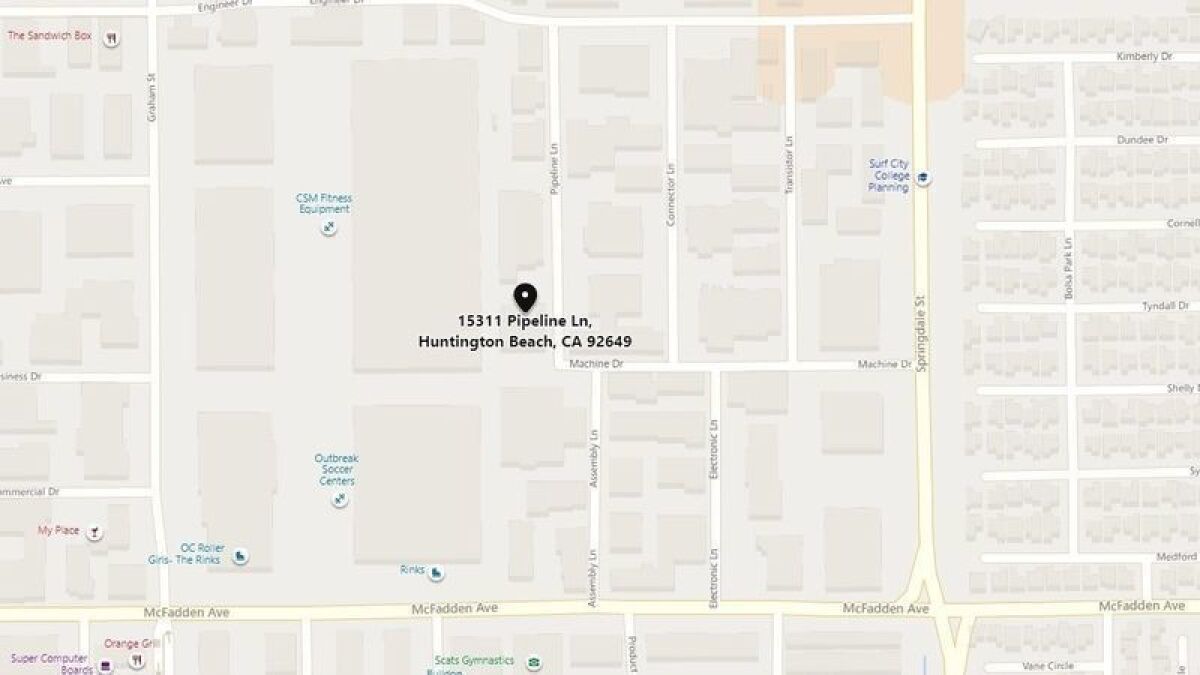 Officials said the shelter — which would aim to primarily serve people with ties to the community, such as those who used to rent property in the city or have children enrolled in local schools — also could help shield Huntington Beach against the kind of litigation that has been filed against other Orange County cities.
U.S. District Judge David Carter, who is presiding over those cases, has repeatedly urged county and city officials to develop plans for expanding the number of emergency shelters.
Costa Mesa opened a 50-bed shelter this month as part of an agreement to settle a lawsuit filed in January 2018 on behalf of homeless people cleared from a former Santa Ana River encampment.
Though Huntington Beach hasn't been sued, City Attorney Michael Gates told the council that "we know on good authority that Huntington Beach is on the list for the next wave of lawsuits."
But dozens of residents and people who own or work at businesses near the Pipeline property filled the council chamber Thursday to speak against the concept.
Resident Mary Jean Piersma asked those in attendance to stand if they were against the proposed shelter or unsure about it. Most of the audience did so.
"This is who you serve," she told the council. "A picture is worth a million words."
Critics said the location is ill-equipped to serve as a shelter and is too close to places where children play and women work. The shelter, they said, had not been sufficiently thought-out and could lead to increases in crime and vagrancy in the area.
Several warned that council members who supported the shelter would pay a political price.
"Recall time," one woman exclaimed at the end of the meeting.
Shelter proponents, however, said it is not only the humanitarian thing to do but also would benefit the city by giving homeless people an alternative to sleeping on the streets and a vital link to services they need.
The city still needs to hire a professional operator for the shelter, retain a security firm for the site and design necessary tenant improvements for the facility.
The city also plans to create an advisory board composed of residents, businesses and representatives of community organizations.
Staff writer Priscella Vega contributed to this report.
---
All the latest on Orange County from Orange County.
Get our free TimesOC newsletter.
You may occasionally receive promotional content from the Daily Pilot.