Costa Mesa settles lawsuit over homeless in riverbed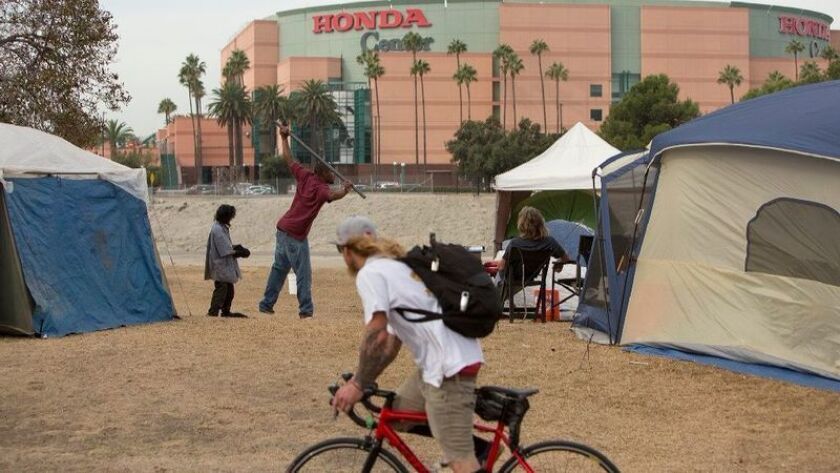 Costa Mesa officially agreed Monday to settle a federal lawsuit filed on behalf of homeless people cleared from a former encampment along the Santa Ana River, bringing the closely watched case to an end after more than a year.
Under the settlement, the city will pay $7,500 to plaintiff Melissa Fields to use for housing and $24,000 in attorney fees to the Santa Ana-based Elder Law and Disability Rights Center, according to a news release.
The most significant part of resolving the case, however, has played out over the past several weeks, in which the city made rapid progress toward opening a new 50-bed homeless shelter.
"This is a historic day for the city of Costa Mesa," Mayor Katrina Foley said in a statement Monday evening. "For nearly 20 years I've heard residents express concerns about the impacts and lack of shelter for individuals experiencing homelessness in our city. I am extremely proud of my City Council colleagues and the city staff who have worked tirelessly for the last three months to find compassionate solutions for those experiencing homelessness while at the same time making a commitment to improve and restore safety in our communities."
The lawsuit — filed in January 2018 in U.S. District Court — alleged that Costa Mesa, Orange County and the cities of Anaheim and Orange had taken actions that effectively forced homeless people to move to the riverbed.
When the county moved to clear encampments in the area early last year, that homeless population would be pushed back into the surrounding cities without a plan to provide adequate housing and shelter, the lawsuit alleged.
"Many people in the riverbed, including our clients, came to the riverbed because they were being criminalized in these cities," Brooke Weitzman, an attorney with the Elder Law and Disability Rights Center, said during a news conference at the time. "They were being stopped for no reason other than being homeless. They were receiving citations for unavoidable acts like sleeping outside or carrying luggage, and they fled to the riverbed hoping for a little bit of stability."
The lawsuit landed in the courtroom of U.S. District Judge David Carter, who made headlines as he pushed for county cities to develop additional emergency and transitional housing beds for the homeless.
He eventually called for cities to develop enough beds to serve 60% of the 2,584 unsheltered people tallied during a 2017 countywide count.
Applying that metric, Costa Mesa was responsible for 62 beds. Twelve of those will be provided through a partnership with College Hospital, an acute-care facility at 301 Victoria St., and made available to people suffering a mental health crisis.
The remaining 50 will be in the new shelter — located initially at Lighthouse Church of the Nazarene at 1885 Anaheim Ave. City officials have said the plan is to operate the Lighthouse shelter for about a year starting in April before moving it to a more permanent site.
The council is scheduled to decide Tuesday whether to purchase property at 3175 Airway Ave. for potential use as a long-term home for the facility.
Opening that shelter will allow Costa Mesa to resume enforcing its anti-camping laws for the first time in months, according to city officials.
Last month, the City Council approved a $280,000 lease agreement with Lighthouse to temporarily host the shelter and retained Mercy House Living Centers to run the facility at an annual cost of up to $1.457 million.
Other anticipated expenses include an estimated $150,000 to rent four modular trailers that would house the shelter's beds, showers and restrooms, and an additional $50,000 for equipment and furniture.
---
All the latest on Orange County from Orange County.
Get our free TimesOC newsletter.
You may occasionally receive promotional content from the Daily Pilot.