Newport picks search firm to help replace city manager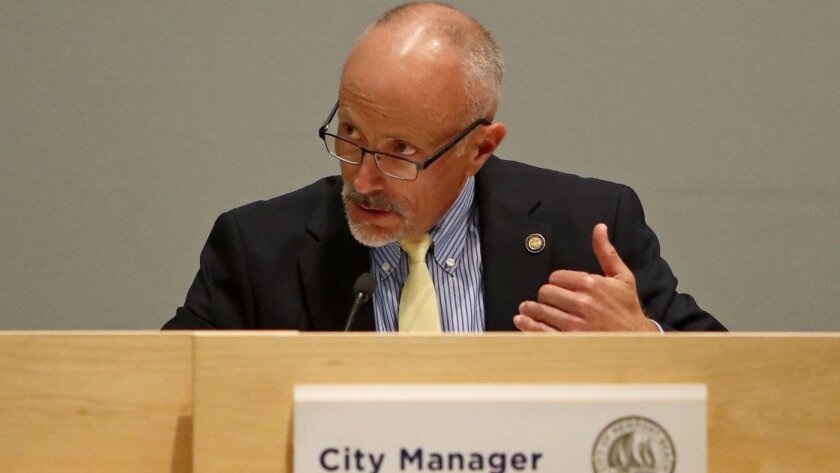 The Newport Beach City Council selected an executive search firm Tuesday to help recruit a new city manager.
Roberts Consulting Group of Rancho Mirage will tackle the work of finding a replacement for Dave Kiff, who is leaving his post as Newport's top administrative official Aug. 31.
Roberts was one of three firms to submit applications. Its $25,000 flat fee was midrange in the group, and its 13-week suggested timeline was the shortest.
According to its proposal, Roberts has led top government executive searches in 29 states. Most of its work has been in California. In Orange County, it has placed city managers or administrators in Huntington Beach, Dana Point, Laguna Niguel, Brea, Cypress and Yorba Linda.
The council voted 5-2, with members Diane Dixon and Jeff Herdman dissenting, to contract with Roberts.
Before the decision, the city canceled a previously planned closed session regarding the recruitment process. The original meeting agenda included the closed session preceding a regular-session item on selecting an executive search firm.
However, after local activists Susan Skinner and Jim Mosher questioned the legality of a closed session on the topic, City Clerk Leilani Brown — whose office is leading the search process — sent a memo to the council recommending that it cancel the closed session to avoid a possible violation of the state open meetings law.
Earlier in the week, Skinner sent a complaint about the planned closed session to the Orange County district attorney's office.
Ray Armstrong, a senior deputy D.A. in the special-prosecutions unit, replied to Skinner and the city attorney's office that "after reviewing the matter, we have determined that there is insufficient evidence to warrant intervention by the district attorney's office at this time."
In the open session Tuesday, Dixon said the council wasn't ready to begin the recruitment process.
"There is confusion at the staff level because there is a sense that they cannot talk to anybody," she said. "The city clerk's office cannot talk to human resources to find out how to conduct a search process … not to get into candidates, but process. So Mrs. Brown is having to literally re-create the wheel using her good judgment, but we're in this little problem here because we're not ready to really begin."
Dixon, who wanted to postpone the selection of a search firm, also wanted Brown to be allowed to consult with the human-resources department and reissue requests for proposals. As the city waited for the proposals, she said, it could begin public engagement to see what residents want in the next city manager.
Instead, Councilman Kevin Muldoon made a motion to go ahead with Roberts while also allowing Brown to work with HR and other city departments.
Mayor Pro Tem Will O'Neill seconded the motion, saying all three of the firms suggested procedures Dixon wanted.
"I think our expectation would be that the consultant we choose tonight would certainly go forward and engage with public members," O'Neill said.
Kiff announced in March that he would be leaving this year. He has worked for the city since 1998 and as city manager since 2009.
The council agreed April 10 to amend his contract with an exit plan allowing an earlier departure than the previous version of his contract, which would expire in April 2019.
The past two council meetings have been thick with outrage and allegations from some residents and council members who believe that Scott Peotter, Mayor Marshall Duffield, Muldoon and O'Neill colluded to force Kiff out. The four have repeatedly denied that.
According to its proposal, Roberts will spend four weeks meeting with the mayor, council members and others to gather background information, develop a brochure and a list of potential candidates and place ads. It will then spend five weeks reviewing resumés and conducting preliminary phone interviews before submitting an interim report to review leading candidates.
In weeks 11 and 12, the firm will verify qualifications and interview top candidates. In week 13, it will submit a report on finalists and begin the interview process with the city.
After the interviews, it will check references, conduct background checks and help with negotiations.
Twitter: @Daily_PilotHD
---
All the latest on Orange County from Orange County.
Get our free TimesOC newsletter.
You may occasionally receive promotional content from the Daily Pilot.