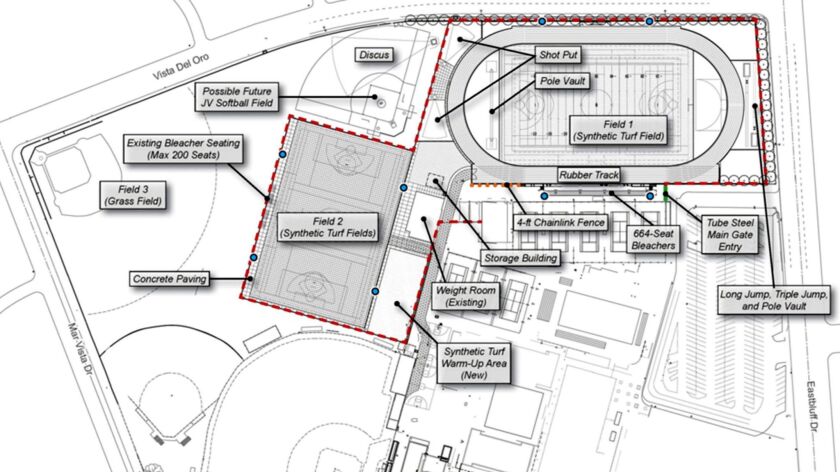 Corona del Mar High School is another step closer to modernized sports fields.
The Newport-Mesa school board on Tuesday approved the $11 million project's final environmental impact report and a proposal, labeled Option B, after collecting community input for over a year.
This option includes two synthetic-turf fields, one rubber track and 80-foot light poles. Seating capacity will remain at 664 in the main field bleachers and 200 at the second field.
Because seating is limited, and varsity games tend to attract a larger crowd, those games will continue to be held at Newport Harbor High School's Davidson Field, school district spokeswoman Annette Franco said.
Tim Holcomb, the district's chief operating officer, described the plan as having fewer "spectator features" but "more field use."
Holcomb said the next step is to meet with the architect and discuss how long it will take to complete the design, which will return to the school board for approval.
During the hour-long public hearing, residents, students and parents spoke on behalf of the option they supported. A majority spoke in favor of Option B.
Bryan Middleton, CdM's girls' soccer coach, said Option B would permit staggered games, allowing him to evaluate players and coaches and make decisions for the program's future.
"Ever since Estancia [High School] got theirs, we've been wanting it," Middleton said. "We want to be on board with the rest of the schools."
Corona del Mar's current field hosts soccer, lacrosse, football and track and field.
Though supportive of Option B, resident Janice Grace said they "conceded quite a lot" to get to this point in the process.
Rob Rubino, president of the Eastbluff Homeowners Community Assn., argued the district didn't evaluate "other viable options" and suggested it collaborate with the city before approving a plan.
With CdM being the last high school in the district slated for sports field renovations, Karen Yelsey, school board president, commended those involved.
"I think we've reached a very good common ground, where we really thought through this quite a lot in discussion, meetings, meeting people in the community and getting a grasp of what's best for the kids," Yelsey said.
More air-quality testing approved for Estancia High
In other business, trustees voted to pass an agreement with an Arcadia-based consultant, Executive Environmental, for additional monitoring of hydrogen sulfide at Estancia High School.
Holcomb said Executive Environmental began installing "more-sensitive equipment" this month.
The new system will identify odors before a person can smell them, which are guidelines suggested by the Office of Environmental Health Hazard Assessment, Holcomb said.
"We are there doing investigations to determine if there are any other locations that need repairs," Holcomb said, adding that an "extensive" report of the findings will be compiled.
Teachers for years have been complaining of foul odors.
The science chair and school administrators also have a portable monitors on hand in case a teacher reports an odor and needs to identify it, he said.
Classroom enclosure project complete at Estancia High
Thirty-two classrooms equipped with folding metal gates at Estancia High School now have doors.
The classroom enclosure project was ratified during the school board meeting. Sun Valley-based CABD Construction completed the project this summer.
The Costa Mesa campus, which opened in 1966, was designed with an "open school" concept in which its hallways feed into rooms through wide openings.
District officials have said open school design was common in the late 1960s and early '70s, but teachers noticed noise could easily travel from the hallways and other classrooms and cause a distraction.
Twitter: @vegapriscella
---