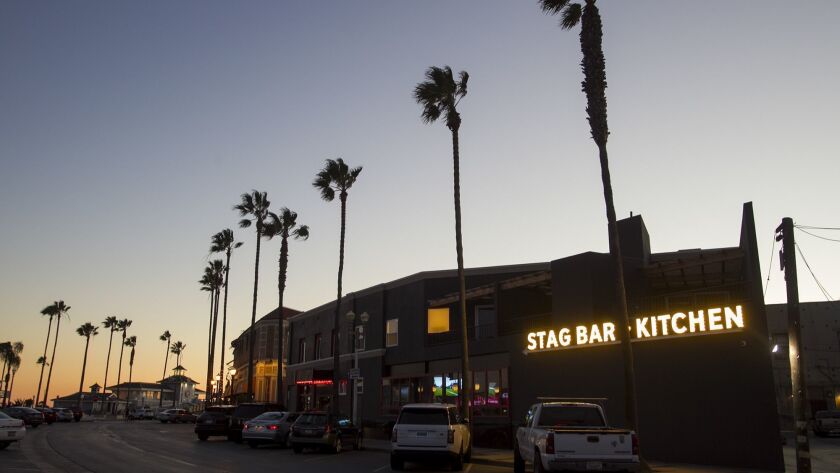 A prominent Balboa Peninsula tavern is cleared to increase its maximum customer occupancy by 25% after the Newport Beach Planning Commission gave its OK on Thursday night.
The commission unanimously approved a 260-patron capacity for Stag Bar + Kitchen at 121 McFadden Place. The footprint of the historical establishment, which previously capped its customers at 207, won't change. But the commission's decision will allow more people inside while giving Stag's proprietor, Orange County restaurateur Mario Marovic, a parking waiver and requiring additional security and the installation of fire sprinklers.
Stag Bar, recognizable by its black exterior walls, is a centerpiece of the wharf area by the Newport Pier and has operated since 1914.
Marovic bought the business in 2006 and renamed it the District Lounge. In 2014, he removed an adjoining liquor store to expand the bar and restaurant and reopened it as Stag Bar + Kitchen in 2015 with a 1940s-style look. He negotiated what he called a "gentleman's agreement" with the Newport Beach Police Department to keep his customer maximum at 207 — though the building can hold up to 321 people under code — to let him establish a track record in the renovated space before asking for an increase.
Marovic said he negotiated the past two years with police and City Hall officials to increase his customer load, starting his request at 308 and settling on 260. He also agreed to an earlier closing time — 1:30 a.m. instead of 2 a.m., with entry cutoff at 1 a.m. — and the addition of one security guard during business hours and two guards outside after closing to reduce loitering.
Marovic, whose Lounge Group portfolio includes 10 establishments, told the commissioners Thursday that he has the support of every property owner within a two-block radius of Stag. He added that his four-star rating on the review site Yelp is no small feat for a restaurant and especially a bar.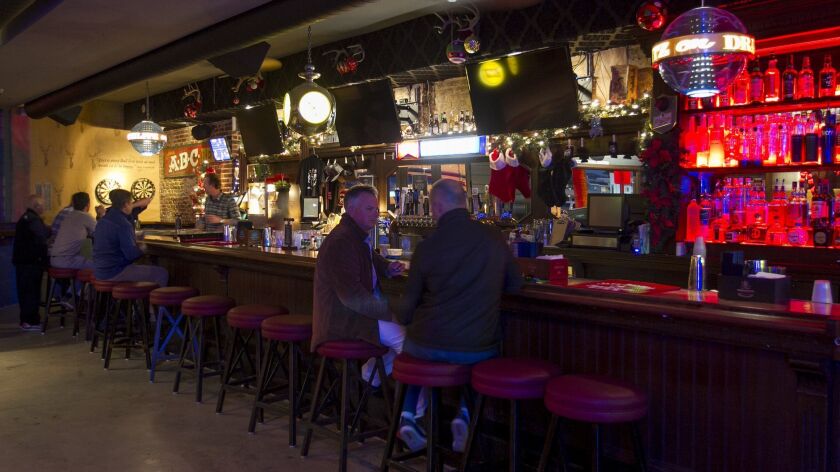 Opponents cited parking problems and drunk and disorderly conduct associated with the bar district as reasons to deny Marovic's plans.
Ken Rawson, a longtime peninsula resident who lives three blocks from Stag, said parking in the Newport Pier area is especially tight and he appealed for a lighter impact on him and his neighbors.
"We are asking you, please think about the quality of life that we have immediately to this area," Rawson said. "You are effectively putting 53 more people in that area. That's like adding another bar."
Without the parking waiver, Marovic would have had to provide 13 spots for the increased capacity. But city planner Ben Zdeba said such waivers are typical for the McFadden Square area, which is served by two large municipal parking lots totaling about 400 spaces. Research shows that visitors to the area usually go to several places per trip, Zdeba said, so it's hard to determine any one business's impact on parking.
Marovic already had a waiver for his previous customer maximum.
Opponents were outnumbered by Marovic's supporters, including two former mayors who attested to his business acumen and corporate citizenship.
Rush Hill, whose real estate advisory firm is about a block away on 22nd Street, wrote a letter saying Stag Bar has improved conditions in the area under Marovic and would further do so.
Steve Rosansky, who heads the Newport Beach Chamber of Commerce, told the commission that Marovic is generous with chamber programs, including serving food alongside his wife and staff at a recent municipal employee appreciation lunch at City Hall.
"If we don't support business owners like this, who are we going to support?" Rosansky said.
The new customer cap triggers the installation of overhead sprinklers required by state building and fire codes. Marovic said he will spend more than $200,000 on the upgrade.
---