After 25 years, Costa Mesa woman is still holding out for a 'fair price' on possible Jackson Pollock original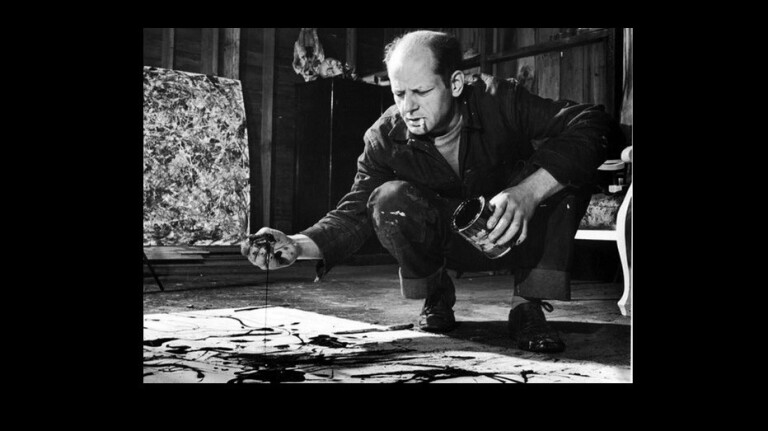 Jackson Pollock paints with the drip technique in this undated photo.
(Martha Holmes / Getty Images)
Teri Horton asserts she's not "greedy" and just wants a "fair price" for her $5 thrift shop find that some believe is an original Jackson Pollock painting.
It's been more than 25 years since the Costa Mesa resident bought the 66-by-48-inch abstract painting that caused a stir in the art world.
Horton, who drove a big rig for 20 years, retired in 1987 after a trucking accident. She took up hunting for bargain treasures, sometimes rummaging in trash bins for objects that stores had discarded — like a genuine Ebel watch worth more than $2,000.
"I can't stand to see stuff thrown away if people can use it," she said.
During one of her thrift shop sprees in 1992, Horton bought the $5 painting as a gift to help cheer up a friend.
Since it wouldn't fit through the front door of her friend's trailer, Horton ended up trying to sell it at a yard sale. A local art teacher came by and suggested the painting could be an original by Pollock, a late American abstract expressionist known for his "drip and splash" style.
Horton, not having a clue who Pollock was, began researching. Her son helped her hire Paul Biro, a forensic art specialist from Canada. Thus began her quest to authenticate and sell the painting.
The forensic expert, using triple fingerprint recognition, analysis of paint splatters from Pollock's studio and a side-by-side comparison to the painter's work "No. 5, 1948," concluded that the painting was real.
"No. 5, 1948," by the way, sold for $140 million in 2006.
However, Biro's scientific findings weren't enough to convince art connoisseurs or the International Foundation for Art Research that the painting was authentic. Among the obstacles was the fact that it had been purchased at a thrift shop, was unsigned and was without a record of its history.
Since Pollock had been known to discard several of his paintings, it would have been impossible to keep track of every piece. His brother once lived in the Inland Empire. It wasn't far-fetched, then, that the painting could have ended up in the San Bernardino thrift shop where Horton bought it.
The problem was the shop had been torn down and the proprietor was dead and there was no paper trail of ownership or a way to trace how it had gotten there.
With the lack of recognition from IFAR, Horton used a different strategy and hired art dealer and marketer Tod Volpe to sell the painting as a work that had been authenticated by science. She declined $2 million from a dealer and later $9 million from a Saudi art collector.
"I'm not sure it was on the level, since the offer was made over the telephone to Volpe," Horton said. "I know what it's worth and I'm not gonna sell for something less than it should go for."
Horton's persistence earned her celebrity status of sorts, including being the subject of a 2006 documentary titled "Who the $&% Is Jackson Pollock?" (her initial response to the art teacher in 1992).
According to director Harry Moses, the film became more about class in America than whether the painting was real. "It's a story of the art world looking down its collective nose at this woman with an eighth-grade education," Moses said in a New York Times interview.
"The way the so-called art experts authenticated any fine art was by visual and mystical feelings they would get that told them it was or wasn't," Horton said. "I was at an art showing in New York with a producer with '60 Minutes' and I heard some art experts standing close by discussing the different feelings they each got."
Horton appeared on several talk shows, including David Letterman's, and also on "60 Minutes." Her story was published in newspapers and magazines.
Horton's quest for acknowledgment of the painting's authenticity has become her life journey. Her son, Bill Page, said in the documentary: "Not too many people would have fought it like she has; you gotta give her credit. She never stopped from day one. She lives, breathes and eats the project."
In an email this month, Horton said: "The authentication by Biro proves it is by Pollock. I have been the 'cog in the wheel' that has most likely prevented a sale because I dared to attempt to pierce the veil of secrecy that covers those that dictate how the 'fine art' market is run."
Still, at age 85, her perceptions are shifting.
Given her current living situation, with her savings depleted and her mobile-home space rent climbing from $250 to $1,000 per month in the past 17 years, her $929 Social Security check doesn't stretch far. Page helps with her finances, but Horton said she has found herself resorting to panhandling to make ends meet, even though her son told her to stop.
"I hate doing it, but I have to do what I gotta do," Horton said. "It's demeaning, but it's better than living under a bridge."
Page said his mom is open to a reasonable offer for the painting.
"The painting has its own notoriety with the movie that has been shown around the world," he said.
Page pointed to two more-recent pieces of evidence supporting its authenticity.
First, the sons of late Pollock expert Nicolas Carone were quoted in a 2012 article by Fine Art Investigations that Carone felt the painting was real but was "nervous" about saying so publicly.
Second, Page said, Charles Wang, an independent researcher, determined that the painting is one of Pollock's missing works.
Contacted on Friday, Wang said he believes Horton's painting is actually the original version of "No. 5, 1948," which he said was damaged and returned to Pollock to be repaired, but Pollock instead painted a new one that became the one that sold for $140 million.
"I'm not gonna stay around forever," Horton said, "but I'd like to see the painting sold and give some of it to the people who have helped me over the years.
"I truly believe I have been influenced by Pollock … don't give up."
SUSAN HOFFMAN is a contributor to Times Community News.
---
All the latest on Orange County from Orange County.
Get our free TimesOC newsletter.
You may occasionally receive promotional content from the Daily Pilot.