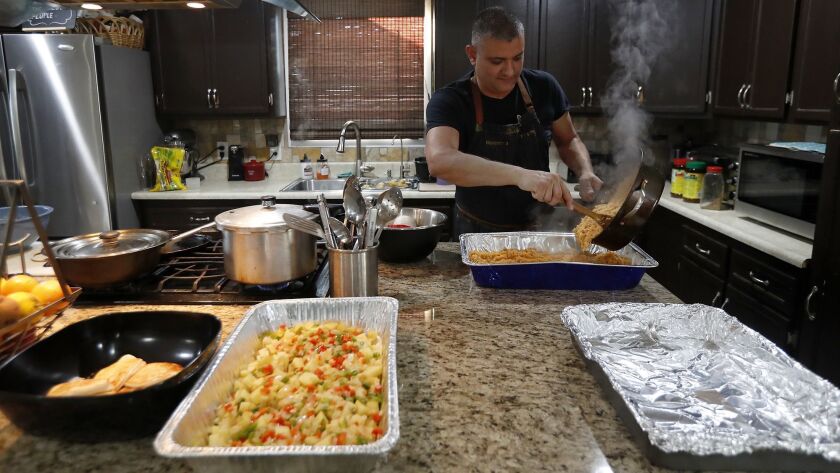 Steve Rivera works an early shift — 4:45 a.m. to 1:15 p.m. — as a Transportation Security Administration agent at John Wayne Airport. These days he's been pulling overtime for his co-workers, but not at the airport.
On Thursday afternoon, Rivera, 43, of Garden Grove, chopped peppers and onions for Potatoes O'Brien after getting home from work. On the counter sat six dozen eggs, a couple of pounds of chorizo and bunches of cilantro green onions waiting to be transformed into a Mexican-inspired breakfast Friday.
As his children arrived home after school, he was spooning a batch of Spanish rice into a large aluminum tray.
What began as Rivera taking lunch dishes to share with his fellow unpaid colleagues in Terminal B during the recent 35-day partial federal government shutdown morphed into a routine that has brought nearly all the airport's TSA workers together for midday meals, which he hoped would serve as a brief respite in the face of missed paychecks.
When he noticed some agents going to work without lunches, he said, "Oh, don't worry, I'll bring something."
Before a temporary food pantry for federal workers was installed at the airport by Second Harvest Food Bank of Orange County, Rivera brought smaller dishes to share with other agents at his checkpoint.
But when word got around, he started upping his quantities.
"I made food and it was gone fast," he said. "I could tell there was a need."
When the pop-up pantry opened, Rivera — "The Chef," as others call him — started making even larger quantities and working with ingredients it had in stock.
Soon, managers were allowing TSA agents from across the airport to go to his terminal to enjoy the lunch offerings, which have included stir fry, chicken and pasta and a Thanksgiving-style meal complete with ham, mashed potatoes, green beans and stuffing. Colleagues often fill out the feast with their own dishes, like a salad or cake, Rivera said.
Rivera loves to cook, and his wife and kids are often with him in the kitchen.
The family is used to cooking for a crowd, regularly preparing meals for homeless people and for gatherings with their small Costa Mesa church.
So when Rivera realized some TSA agents were going to work without lunches, he asked himself, "Why am I helping others and not helping my own co-workers?"
Though the end of the shutdown Jan. 25 was a relief, many of his colleagues are still struggling to get caught up on their finances, he said.
By Thursday, Rivera said, most workers had received a check covering partial back pay — about three weeks' salary. Employees were still waiting on two more weeks of pay and possibly overtime worked over the holidays, he said.
Rivera hasn't always been such a skilled chef. Growing up in Garden Grove, his mother was the cook of the house and he was the "eater," he said. But when his mother developed dementia, the roles changed.
Working as a busser and a prep cook in sports bars and restaurants as a teenager also exposed him to the kitchen.
Rivera learned to cook in earnest after meeting his Tahitian wife. Tahitian cooking is hard to come by outside the South Pacific island, and to enjoy it at home in Garden Grove required mastering the cuisine himself.
Rivera has worked with the TSA at John Wayne Airport for more than eight years, beginning as a part-time employee while running a travel business alongside his wife.
He transitioned to a full-time TSA role about six years ago but still helps with the home business after his shift.
Because of the business, he hasn't felt the crunch caused by missed pay as much as some other workers, so he gives what he can to help.
Rivera said he chips in about $30 worth of ingredients for each day's meal while supplying enough to feed the approximately 100 shift members on duty.
Even with the help of the food pantry and his wife and two daughters, cooking for a daily crowd has been a large undertaking. Pallets of canned tomatoes and boxes of stuffing mix and other dry goods take up a corner of his family's kitchen.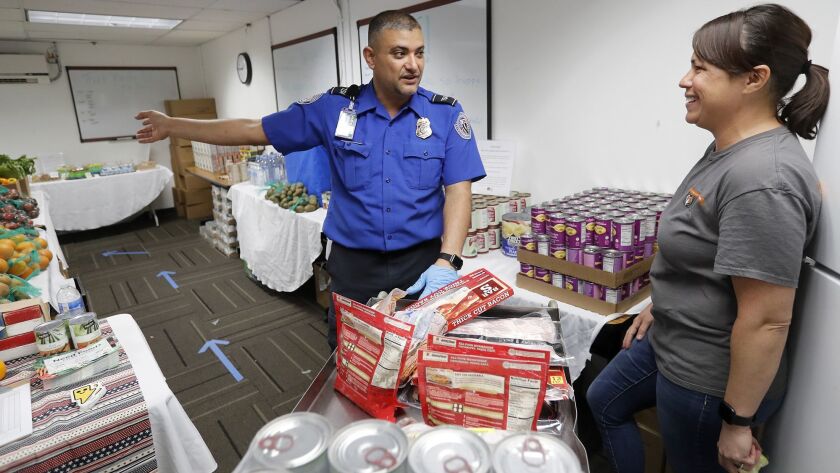 Rivera describes himself as a "master of making use" and relies on bulk purchases and stretching his ingredients to fill out the meals, which are often themed, he said.
He visits the food pantry in the morning to see what's available and plans meals accordingly. Though many of the dry goods come from the pantry, he supplements produce and proteins as needed.
Nothing goes to waste, he said — rare leftovers are gladly consumed by the afternoon crew.
Rivera thinks the meals have helped build camaraderie. While some other airports across the country saw high rates of TSA employees calling in sick during the shutdown, Rivera said that wasn't an issue at JWA and that security-line wait times didn't take a hit.
Though the food pantry will operate until it's deemed no longer necessary, Rivera has committed to cooking through Monday and then reassessing the need.
"Today was the first day I didn't cook," Rivera said Thursday. A co-worker headed up a pasta bar complete with Chicken Alfredo and spaghetti marinara, he said.
---