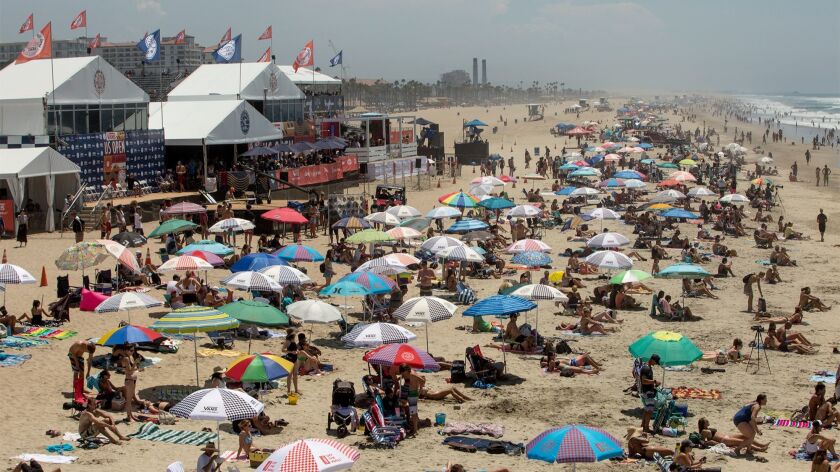 People of all ages, in swimming garb or plain street clothes, strolled Huntington Beach on Thursday morning, soaking in everything the U.S. Open of Surfing has to offer.
While many watched the surfing from the sand, others claimed prime viewing spots on the pier. Among them was Ekolu Komomua, 23, who said he traveled from Oakland to catch his first Open, which will wrap up Sunday.
As professional women's surfers battled it out during the quarterfinals, Komomua said the weeklong event has met all his expectations.
Other fans sat in the stands overlooking the Vans BMX Pro Cup area, where professional BMX bike riders blazed through tricks.
Dan Lundmark, 43, of Long Beach said he and a few friends rode their bikes from Sunset Beach to watch some of the world's best BMX riders. He said he attends the annual Open regularly.
Lundmark beamed as he pointed out BMX star Ryan Nyquist as he started a practice run.
The Open provides a platform for the public to view some of the best in action sports for free. But some believe the decades-old event has changed for the better since a riot broke out soon after the 2013 edition.
Lundmark said the Open has since evolved into a more sport-focused event rather than the party environment that may have contributed to the melee.
Graham Stapelberg, the World Surf League's executive vice president and general manager of tours, has said there's been a concerted effort to create a more family-friendly atmosphere at the Open. Security has been increased and live music eliminated, among other changes.
On Thursday, security workers checked bags for alcohol, and the only music came from loudspeakers.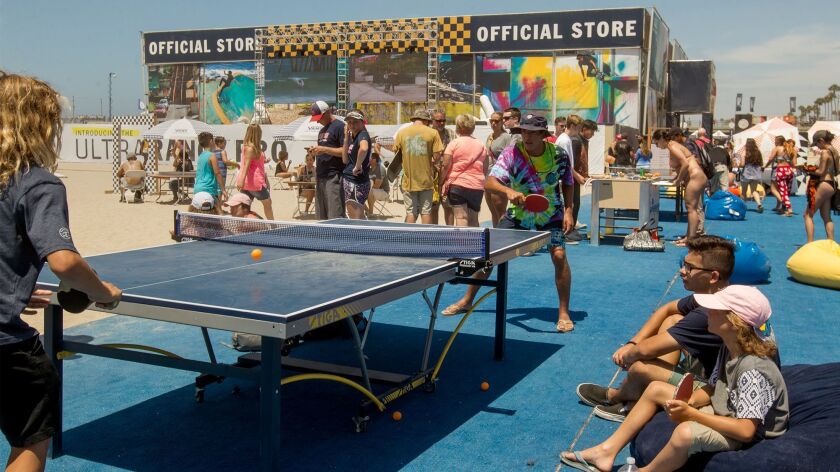 One area that is particularly family-oriented is the interactive games section next to the Vans Park Series skateboarding ramps. There, visitors can play ring toss, learn guitar at a workshop or try to roll skateboard wheels into holes in skateboard decks in a modified form of Skee-Ball.
While in line with her children to play one of the games, Julie Draeger, 40, of Temecula said the Open has changed, citing the lack of live music. She said her family attends every year.
Huntington Beach police spokeswoman Angela Bennett said the increased security has helped prevent public safety issues.
Off the beach, crowds are taking the opportunity to visit downtown businesses.
Huntington Beach local Owen Fust, 27, said restaurants and stores have been packed, as is usual during the Open. He said he had to park several blocks from his downtown home because of a lack of spaces.
Main Street was particularly full Thursday morning as people gathered for the annual Surfing Walk of Fame induction ceremony.
U.S. OPEN EVENTS
Note: The surfing schedule for Friday through Sunday will be based on surf conditions.
Friday
10 a.m. to noon: Vans BMX Pro Cup qualifier
2 to 4 p.m.: Vans Park Series skate qualifier
Saturday
2 to 6 p.m.: Vans Park Series skate semifinals, final and awards
Sunday
To be determined: Women's and men's surfing finals
3 to 5:15 p.m.: Vans BMX Pro Cup final and awards
For more information, visit vansusopenofsurfing.com.
Twitter:@benbrazilpilot
ALSO
Huntington's Surfing Walk of Fame welcomes new inductees
---