Judge rules evidence is enough for Newport Beach man to stand trial in slaying of Blaze Bernstein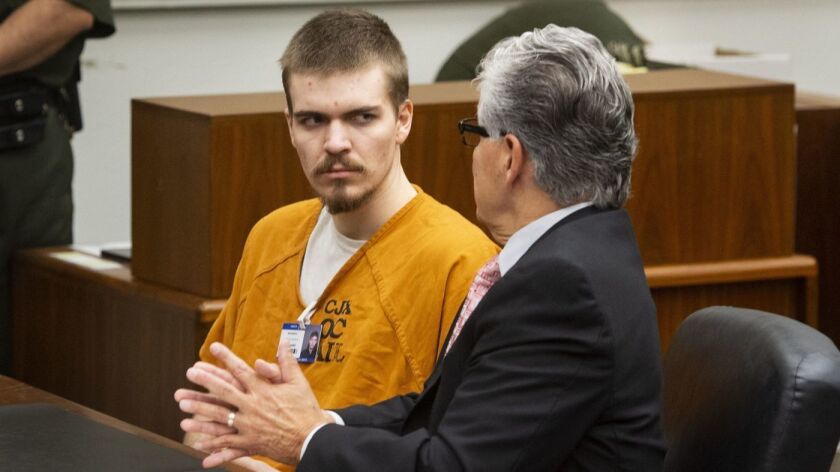 An Orange County Superior Court judge ruled Tuesday that there is enough evidence for Newport Beach resident Samuel Woodward to stand trial on a charge of murder in the January stabbing death of his former high school classmate Blaze Bernstein.
Judge Karen Robinson's decision followed an hours-long hearing at Harbor Justice Center in Newport Beach in which prosecution witnesses detailed evidence against Woodward, 21, who has pleaded not guilty to the murder charge and has denied sentencing enhancement allegations of a hate crime and personal use of a knife.
The evidence presented includes DNA that prosecutors say links Woodward to the crime, a blood-spotted knife found in Woodward's bedroom and the presence of several anti-gay messages and images on his cellphone, as well as material related to a neo-Nazi organization.
Prosecutors believe Woodward killed Bernstein, 19, because Bernstein was gay.
Woodward — clean-shaven and wearing a blue suit and white button-down shirt — was in the courtroom throughout Tuesday's testimony, occasionally scribbling something on a notepad or exchanging words with his attorney, Edward Munoz.
Craig Goldsmith, an investigator with the Orange County Sheriff's Department, testified that investigators recovered "quite a few" images from Woodward's phone that were homophobic in nature.
Goldsmith also said investigators found more than 100 items on his phone related to Atomwaffen Division, which authorities say is an armed fascist organization that seeks to overthrow the U.S. government using terrorism and guerrilla tactics. The wallpaper on Woodward's phone was an insignia for the group, Goldsmith added.
According to a report published in January by nonprofit news organization ProPublica, three people who knew Woodward said he was part of Atomwaffen Division.
However, Munoz said Tuesday that "it is not a crime to have reprehensible or objectionable material in a person's diary. It is not a crime to download literature that is offensive or, in some cases, despicable."
Prosecutors allege Woodward stabbed Bernstein and buried him in a shallow grave at Borrego Park in Foothill Ranch in early January. Bernstein's body was found Jan. 9 with more than 20 stab wounds, including 19 to his neck area, according to testimony Tuesday.
Bernstein, a pre-med student at the University of Pennsylvania, was visiting his parents in Lake Forest during winter break when his family reported him missing Jan. 3.
On Tuesday, investigators testified that Woodward told them he picked up Bernstein from his parents' house around 11 p.m. Jan. 2 after a conversation on Snapchat and drove him to the parking lot of a shopping center in Foothill Ranch. Woodward later drove Bernstein to Borrego Park, according to authorities.
Investigator Dylan Jantzen testified that Woodward said Bernstein kissed him that night while they were sitting in the parked car.
Jantzen said Woodward told him the kiss was unwanted and that he pushed Bernstein away. Woodward added that he wanted to call Bernstein a "faggot," Jantzen testified.
According to Jantzen, Woodward told investigators that after he and Bernstein arrived at Borrego Park, Bernstein walked off alone, ostensibly to find another, unidentified person.
Woodward told investigators he waited for Bernstein for some time but eventually grew frustrated and left to see his girlfriend in Tustin.
When pressed, however, Woodward could not provide the last name or address of the woman he said he visited, Jantzen said.
After a court hearing last month, Munoz said his client has been diagnosed with Asperger's syndrome — a developmental disorder that can hinder a person's ability to socialize or communicate — and claimed "there's going to be some evidence that comes out to say he's very confused" about both his sexual identity and "his own identity."
Woodward is being held in Orange County Jail with bail set at $5 million. If convicted as charged, he could face up to life in state prison without parole.
His next court appearance is scheduled for Sept. 17.
Twitter @LukeMMoney
---
All the latest on Orange County from Orange County.
Get our free TimesOC newsletter.
You may occasionally receive promotional content from the Daily Pilot.